Fri. Dec. 31 -- New Year's Eve features The Gene Taylor Blues Band -- the legendary boogie-woogie pianist accompanied by . . . well, the Blasters: Dave Alvin, Johnny Bazz, Bill Bateman and host Phil Alvin. I hope Mr. Taylor doesn't remember that, preparatory to a downtown L.A. gig, I once helped procure for him probably the worst piano he ever laid fingers on. Frank Fairfield opens. At the Redwood Bar & Grill, 316 W. Second St., downtown; (310) 245-0273; www.theredwoodbar.com.
Sun. Jan. 2 -- Big recommendation from me and Sunday Evening Concerts curator Alex Cline: Cosmologic, a California quartet (drummer Nathan Hubbard, saxist Jason Robinson, trombonist Michael Dessen, bassist Scott Walton) that reshapes jazz in wild ways but makes it go down real easy. Opening is an extremely artful guitar-sax-bass trio of the most spherically tuned-in local vets: Jim McAuley + Andrew Pask + Scott Walton. At Center for the Arts, 2225 Colorado Blvd., Eagle Rock 90041; 7pm; $10; (626) 795-4989.
Wed. Jan. 5 -- Prettier sounds than you'd think shoot outa the fresh-thinking Slumgum, plus the Michigan quartet Moyindau, which tempers its angular modernism with near-tunefulness. Did I forget to say that it's jazz? Sorta. At the Blue Whale on the third floor of Weller Court Plaza, south of East First Street between South Los Angeles Street and South San Pedro Street, Little Tokyo 90012; 9pm-midnight; $10; validated parking on Second Street; (213) 620-0908; www.bluewhalemusic.com.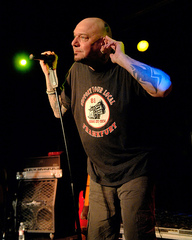 Wed. Jan. 5 -- Paul DiAnno was the first recorded singer with Iron Maiden, and for my money his bluesier barfly attitude made for a product by no means inferior to the lineup fronted by the more blustery Bruce Dickinson. His band plays Maiden's first album in its entirety, plus some of the second. At the Key Club, 9039 Sunset Blvd., West Hollywood 90069; doors 7:30pm; $15; 15+; www.keyclub.com; (310) 274-5800.
Read Brick Wahl's jazz picks in LA Weekly here, Don Heckman's jazz picks here and MoshKing's metal listings here. Read John Payne's plutonic Bluefat.com here.