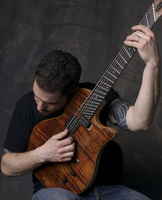 Fri.-Sat. Dec. 3 -- Charlie Hunter sticks an extra string or two on an electric guitar and plays bass & guitar at the same time, in every conceivable style. Scary and humiliating. With bass trumpeter (!) Michael R. Williams and drummer Eric Kalb. At the Mint, 6010 Pico Blvd., LA 90035; 8pm; $25; (323) 954-9400; www.themintla.com.
Sat. Dec. 4 -- Tool drummer Danny Carey jams heavy with Volto, featuring keysman Kirk Covington, bassist Lance Morrison and guitarist John Ziegler. At the Baked Potato, 3787 Cahuenga Blvd. West, Studio City 91604; 9:30 & 11:30pm; $25; (818) 980-1615; www.thebakedpotato.com.
Sun. Dec. 5 -- Charlie Hunter plays solo this time; he just SOUNDS like he's four or five guys. They're calling this a seminar, which I guess means he'll talk more than usual. And play. At McCabe's, 3101 Pico Blvd., Santa Monica 90405; 12:30pm; $20; (310) 828-4497; www.mccabes.com.
Sun. Dec. 5 -- Portland tenor man Rich Halley has a tone and an attack you can't help but dig; his ensemble with bassist Clyde Reed and drummer Carson Halley shades things in a bluesy Ornettish direction with the valuable addition of onetime Coleman cornetist Bobby Bradford. Pick up their fine new live CD while you're there. Also: Do Tell, featuring Albuquerque avantists Mark Weaver (tuba) and Dave Wayne (drums), along with the always soulful local genius Dan Clucas on cornet. At Center for the Arts, 2225 Colorado Blvd., Eagle Rock 90041; 7pm; $10; (626) 795-4989.
Sun. Dec. 5 -- What a fine idea to pay tribute to Alice Coltrane, the late pianist who made such early strides in bringing jazz and Indian music together. You got pianist McCoy Tyner (whom Alice replaced in the John Coltrane Quartet in 1966), omni-guitarist Nels Cline, the great Dutch drummer Han Bennink, violinist Michael White and a bunch more, including my favorite artists, Special Guests. A UCLA Live presentation at Royce Hall; 7pm; $28-$48; www.uclalive.org.
Sun. Dec. 5 -- Keyboardist Marco Benevento writes instrumentals you can hum. On MySpace, I just listened to the title cut of his current "Between the Needles and Nightfall" album -- rather magnificent in a Procol Harum sort of way. Then it was Led Zeppelin's "Friends," a hip cover that doesn't get played that much. Benevento is kinda pop, but not obnoxious. Two bands open. At the Mint, 6010 Pico Blvd., LA 90035; doors 7pm; $18; (323) 954-9400; www.themintla.com.
Tues. Dec. 7 -- Screentime with the documentary "Icons Among Us: Jazz in the Present Tense," a presentation of the Jazz Bakery's Movable Feasts. The Bakery, by the way, is soliciting contributions in a kind of fund drive, and if KCRW can do it, why not Ruth? Pony up for a worthy cause; a permanent club site, to be constructed according to Ms. Price's specifications, is in the works but "many months" away. At Barnsdall Art Park, 4800 Hollywood Blvd., Hollywood 90027; 7:30pm; $20, students $15; www.jazzbakery.org.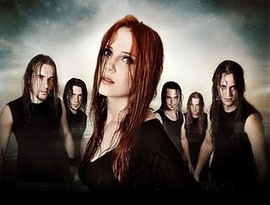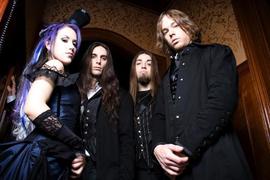 Tues. Dec. 7 -- How do European operatic metallians Epica (top picture) get their hair to hang down in fine separate tendrils like that? With growlin', thrashin' melodic powermen Scar Symmetry, Blackguard, The Agonist (bottom picture; my pick on this bill for their midtempo bigness and sharp songwriting) and Novareign. At the Key Club, 9039 Sunset Blvd., West Hollywood 90069; doors 6pm; $23; 15+; www.keyclub.com; (310) 274-5800.
Wed. Dec. 8 -- Local all-stars The Wisdom of Goats are spontaneous painter Norton Wisdom plus violinist Jeff Gauthier, windman Andrew Pask, bassist Steuart Liebig and percdude Brad Dutz. Relax with a libation and chomp some of the "eclectic tacos" they'll be offering from 6pm onward. This art-gallery back room has proved most hospitable to sensitive art. At Royal-T, 8910 Washington Blvd., Culver City 90232; 8pm; $10; $5 students; (310) 559-6300; www.royal-t.org.
Thurs. Dec. 9 -- Wanna be stunned with the complexity and intensity a vibraphonist and pianist duo can muster? Try Nick Mancini & Otmaro Ruiz. And mark your calendar for Saturday December 11, when Mancini presents a 12-hour benefit blowout for the first anniversary of this here club, headlined by the incredible trio of Jim Black, Chris Speed and Trevor Dunn. At the Blue Whale on the third floor of Weller Court Plaza, south of East First Street between South Los Angeles Street and South San Pedro Street, Little Tokyo 90012; 9pm-midnight; $10; validated parking on Second Street; (213) 620-0908; www.bluewhalemusic.com.
Thurs. Dec. 9 -- The Bad Plus (bassist Reid Anderson, pianist Ethan Iverson and drummer David King) were on the ground floor of this accessible jazz thing where capable improvisers cover '60s/'70s rock tunes and make their own modern statements. Great notion; nobody knows Gershwin anymore. Credit also Cassandra Wilson (who's got a new album by the way) and Brad Mehldau. At the Mint, 6010 Pico Blvd., LA 90035; 8pm; $30; (323) 954-9400; www.themintla.com.
Thurs.-Sun. Dec. 9-12 -- Guitar geeks step up: The slick & funky Mike Stern is back, leading an ace quartet with drummer Dennis Chambers, trumpeter Randy Brecker and bassist Anthony Jackson. At Catalina Bar & Grill, 6725 Sunset Blvd., Hollywood 90028; 8 & 10pm; $22-$30; (323) 466-2210; www.catalinajazzclub.com.
Read Brick Wahl's jazz picks in LA Weekly here, Don Heckman's jazz picks here and MoshKing's metal listings here. Read John Payne's plutonic Bluefat.com here.