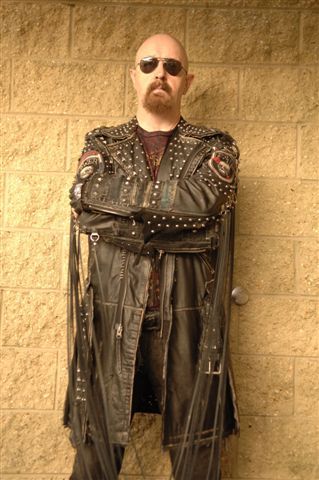 Time to disneglect some more semirecent releases, old-skool first.
Halford, "Made of Metal" (Metal God). Crazy over-the-top masterful. Singer Rob Halford of Judas Priest has crafted five albums with his "Halford" project: straight old-school metal, followed by modern metal, live, Xmas (!), and now something like omnivorous glam metal. The Metal God rarely besieges the citadels of good taste, but when I first experienced "Made of Metal," I thought its flamboyant excess must be some kind of joke. Then it became clear that he was simply determined to pack every song with somerassaultive hooks that would showcase his range and power, while turning up the flame under his shredtastic band (Roy Z, Mike Chlasciak, Bobby Jarzombek, Mike Davis) to match metal's energy if not its form. Think back: He's done the same in different ways with Two (industrial), Judas Priest's "Nostradamus" (opera) and Halford's 2009 "Winter Songs" (a-caroling); Rob is simply a creative force that can't be contained. So when you hear strains of Iron Maiden, Led Zeppelin, Pat Benatar, Andres Segovia, Blind Boy Hellford and, I dunno, Neil Diamond ("Twenty-Five Years"), don't be confused, just amazed. Still, in songs such as "Speed of Sound" and "Heartless," the heavy blessing of classic Priest persists. The lyric concerns: Partying? Paranoia? Politics? No, pal, the dominant theme is love: "Hold me now, before my heart takes flight." Rob Halford: one complicated artist.

Halford play the Wiltern on Friday, December 17.

Iron Maiden, "The Final Frontier" (Sony). Riffing like teenagers and grooving like adults, Iron Maiden rock out with their rawest, most relaxed and most human album in 30 years; aside from many thoroughly composed and brilliant solos, they sound as if they just slammed several pints and whipped out the whole thing live in their basement. Producer Kevin Shirley got The Sound as always, and "The Final Frontier" rolls with variety, pace and furry guitars; you won't want to take it off. Okay, the lyrics could have used some finishing, but words are for sissies; (s)words are for men.
Heaven & Hell, "Neon Nights: Live in Europe" (Eagle DVD or CD). The Ronnie James Dio-fronted lineup of Black Sabbath here maintains the Olympian level set by last year's "Live From Radio City Music Hall." You get six songs that weren't on that one (including the standouts "Bible Black," "Time Machine" and, on the DVD, "Country Girl"), sharp visuals, punchy sound, revealing bonus interviews and magnificent performances -- nary a hint that Tony Iommi's hand was killing him or that Dio would be in heaven 10 months later.
King's X, "Live Love in London" (Inside Out CD/DVD). You might not think the heavy Texas trio are world-famous until you hear the Brit audience singing the entirety of "Goldilox," from King's X's 1987 debut, without any help from the band (and quite well). Maybe two double live recordings in six years wasn't such a bad idea.
Yngwie Malmsteen, "Relentless" (Rising Force). As the speediest guitarist in the world has slimmed down, his music has grown more bloated. Despite several instrumentals to distract us from the ever-flatulent bawling of Ripper Owens (bring back Doogie!), Malmsteen's songwriting, which shone in the millennium's first half-decade, now plods. Download the dynamic title instro and leave it at that.
The Crinn, "Dreaming Saturn" (Nuclear Blast). Truly progressive Minnesota metal, "Dreaming Saturn" crashes, clashes and tangles, switching beats every four seconds and going at it with all the intensity of the unalterably alienated. A real cerebrum-scrubber.
Kylesa, "Spiral Shadow" (Season of Mist). Mighty double-drummer snake music, cetacean riffs and Martian canyon shouts -- this Georgia unit keeps coming up with new angles and textures. Kylesa (pictured) rocks with the righteous and, after nearly a decade, oughta be bigger.

Melechesh, "The Epigenesis" (Nuclear Blast). The combination of metal and Middle Eastern music is natural to an Israel-born band that includes an Armenian and a Palestinian. Raspy vox, edgy riffs and hard-ass rhythms keep the bad blood boiling, yet melody rules. Resume hostilities!

HALFORD PHOTO BY EDDIE MALLUK.

* * *
I will be reviewing fewer records for the immediate future.
Happier new year,
Greg Burk