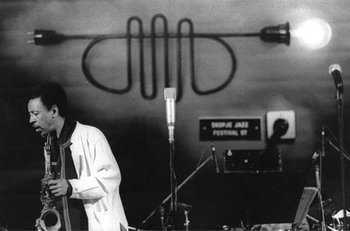 Some records I've heard in the last few months that I just couldn't ignore.
Marc Ribot, "Silent Movies" (Pi). The Tom Waits-John Zorn-Lounge Lizards guitarist shocks the world with a solo acoustic album of gorgeous simplicity -- truly deep, sensitive and human. Wonderful Xmas music, largely because it's not intended as such.
Henry Threadgill Zooid, "This Brings Us To, Volume II" (Pi). The compositional challenge of an avant founding father mixes with a samba-like cool: Threadgill (pictured) has never dumbed it down, yet he's communicating more clearly than ever.
Wadada Leo Smith & Ed Blackwell, "The Blue Mountain's Sun Drummer" (Kabell). Classic Ornette Quartet member Blackwell (who passed in 1992) was one of those few drummers you could listen to all by himself; his grooves and colorations grew outward from New Orleans to encompass Africa and the human soul. With Smith's confident trumpet smearing and fanfaring along, this fortuitously unearthed session becomes much more than a duo.
Ches Smith & These Arches, "Finally Out of My Hands" (Preposterous Bee). Drummer Ches Smith (Nels Cline, Good for Cows) has been dropping records like pine cones in a storm. This one stands out for the eerie Sahara feel of the writing and for the gas-gauzy textures generated by his choice ensemble: saxist Tony Malaby, guitarist Mary Halvorson and accordionist Andrea Parkins. Fresh.
Headless Household, "Basemento" (Household Ink). Celebrating their 25th anniversary, the Santa Barbara quartet & friends raise up a double disc that's like a random shuffle mix from some extreme eclecticist's record collection, except all played by one very subtle and adventurous house band. Although H.H.'s taproots range from polka to Stockhausen, the program flows with remarkable consistency and ear-friendliness. They'd probably be legends if they were from New York.
Mike Keneally & Marco Minnemann, "Evidence of Humanity" (Exowax). Zappa axman Keneally and metaljazz drummer Minnemann (Paul Gilbert, Necrophagist) rock out on extreme compositions and oddball interludes, with M.K. overdubbing keyboards and what-all. It's actually quite disciplined till the bonus DVD, where the two just jam for an hour, and that's pretty damn fun too.
Omar Hakim & Rachel Z Trio of Oz (Ozmosis). Classic melodic fusion gets an update as pianist Z, drummer Hakim and bassist Maeve Royce pile forward with vigor and zest. Hardly a household name, the wide-ranging Hakim (Weather Report, Dire Straits, David Bowie) sounds as if he's living his dream -- scurrying, accenting and driving on a whole album of jazz interpretations of unlikely sources: Alice in Chains, Coldplay, Stone Temple Pilots, etc. What the hell, it works.
Miles Davis, "Perfect Way: Miles Davis Anthology, the Warner Bros. Years" (Warner/Rhino). Most of Miles' 1986-93 output was funkish silk-sofa pap. Excise most of the dross to assemble a double-disc set, though, and you get something slightly better than easy listening. Best: his turn with John Lee Hooker & Jack Nitzsche and, improbably, his hip-hop collab with Easy Mo Bee. Three previously unreleased live cuts from '86 are unlikely to make posterity forget the Plugged Nickel.
I will be reviewing fewer records next year.
Peace,
Greg