Fri. Jan. 14 -- Without any Cavaleras remaining, what are original Brazilian deathsters Sepultura? Still intense thrashin' hardcore metal, but to these ears, somewhat lacking in dimension. Plus old-skool twin-guitar power metal from Brazil's Angra. At House of Blues, 8430 Sunset Blvd., West Hollywood 90069; 8:30pm; $27.50; (323) 848-5800; www.livenation.com.
Fri. Jan. 14 -- All the ginchiest guitar tones without getting detached from the bloodstream: The Michael Landau Group, featuring the axman plus bassist Andy Hess and drummer Gary Novak. At the Baked Potato, 3787 Cahuenga Blvd. West, Studio City 91604; 9:30 & 11:30pm; $25; (818) 980-1615; www.thebakedpotato.com.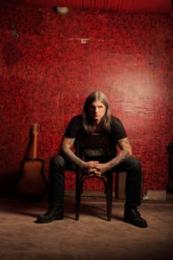 Sat. Jan. 15 -- Wino Weinrich has gone acoustic, dudes. The heavy guitarist and grouchily melodic singer from Obsessed, Hidden Hand, Spirit Caravan, etc. is performing "+ friend" in support of his new "Adrift" and making a limited number of vinyl copies available at this invitation-only free show. He also plays the Viper Feb. 5. Tonight at Volcom L.A. (a hep clothing/art store), 128 S. La Brea Ave., L.A. 90036, 6pm; FREE; get on the list with an RSVP at www.scottweinrich.com.
Sat. Jan. 15 -- Pianist Tigran Hamasyan can get pretty damn metallic in a group context; here he'll still go wild doing the world-influenced solo thing that got him the Thelonious Monk Jazz Piano Award in 2006. At the Edye Second Stage in Santa Monica College, 1310 11th St., Santa Monica 90401; 7:30 & 9:30pm; SOLD OUT; www.thebroadstage.com
Sat. Jan. 15 -- Visiting from NYC, Patrick Cornelius plays alto with a dry bamboo tone and swings in classic wide-open '60s-Shorter style with pianist Ruslan Sirota, bassist Daniel Seef and drummer Kevin Kanner. At Royal-T, 8910 Washington Blvd., Culver City 90232; 7:30pm; $10; $5 students; (310) 559-6300; www.royal-t.org.
Sun. Jan. 16 -- Gotta hand it to trumpeter Elliott Caine, he's been pushing his relaxed soul/Latin jazz groove for a passel of years, and keeping the customers at the bar satisfied. His sextet celebrates the release of its new "Hippie Chicks on Acid" by stretching out on the brunch shift, sponsored by KJAZZ and hosted by Bubba Jackson. At the Twist Restaurant in the Renaissance Hotel and Spa, 1755 N. Highland Ave., Hollywood 90028, 11am-2pm.
Mon. Jan. 17 -- Led by saxist Michael Session, The Pan Afrikan Peoples Arkestra (founded by the late great Horace Tapscott) blow a mighty blast in celebration of MLK day with Dwight Trible & the Great Voice of UGMAA, as well as spoken word from Kamau Da'aood and an opening salvo from J.J. Kabasa & His African Drummers. Great way to experience a hefty slice of the South Los Angeles liberation tradition all in one place. At LACMA, 5905 Wilshire Blvd., LA 90036; sets at noon and 2:45pm; FREE.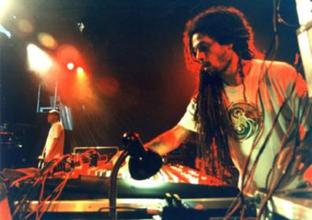 Wed. Jan. 19 -- For pro electronic dub & toasting, hard to beat UK vets Zion Train. If you feel like coming early, the house reggae DJs are awesome, and they're here every durn Wednesday. Dub Club at the EchoPlex, 1154 Glendale Blvd., Echo Park 90026; doors 9pm; $10; www.attheecho.com.
Wed. Jan 19 -- Now here's an intriguing local electronified abstractionist combo: Polarity Taskmasters, featuring percussionist Brad Dutz, flutist Emily Hay, pianist Motoko Honda and keyboardist Wayne Peet, wizards all, plugging their new record. Read Matt Duersten's fascinating and wide-ranging interview with Honda here. At the Blue Whale on the third floor of Weller Court Plaza, south of East First Street between South Los Angeles Street and South San Pedro Street, Little Tokyo 90012; 9:15pm; $10; validated parking on Second Street; (213) 620-0908; www.bluewhalemusic.com.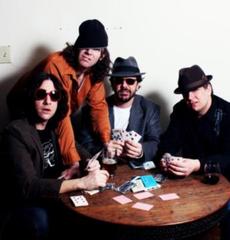 Wed. Jan. 19 -- NYC's Rudder is about the trippiest, most melodic and heaviest-grooving instro quartet since MMW; drummer Keith Carlock whams it till the floorboards crack to boost the expressive efforts of saxist Chris Cheek, keyboardist Henry Hey and bassist Tim LeFebvre. At the Baked Potato, 3787 Cahuenga Blvd. West, Studio City 91604; 9:30 & 11:30pm; $25; (818) 980-1615; www.thebakedpotato.com.
Wed. Jan. 19 -- Seattle's Reptet assail just about any genre with improvisational energy. Jazz, sorta. In the bar of Taix Restaurant, 1911 Sunset Blvd., Silver Lake 90026; 10:30pm; free; www.taixfrench.com.
Thurs. Jan. 20 -- Hold on to yer hat for a big, blustery night headlined by the duo of Inventionmother Don Preston (keys) and Elliott Levin (extreme winds), plus Reptet (see Wed.) and the electronified duo of Damon Holzborn + Hans Fjellestad (the latter a monster on analog synth who also books this superb monthly series). ResBox at Steve Allen Theater, 4773 Hollywood Blvd., Hollywood 90027; 8pm; $10; BYO.
Thurs.-Sat. Jan. 20-22 -- Kenny Burrell is back putting on a virtual clinic on the origins of jazz guitar. And considering that he's made albs with John Coltrane, Jimmy Smith and Stanley Turrentine (for short instance), and has chaired UCLA's jazz department all these years, few possess more gleaming credentials. At Catalina Bar & Grill, 6725 Sunset Blvd., Hollywood 90028; 8 & 10pm; $30-$40; (323) 466-2210; www.catalinajazzclub.com.

Read Brick Wahl's jazz picks in LA Weekly here, Don Heckman's jazz picks here and MoshKing's metal listings here. Read John Payne's plutonic Bluefat.com here.