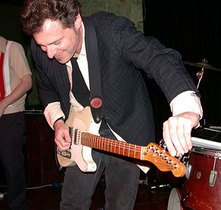 Fri. Jan. 21 -- Moris Tepper is always worth hearing cuz of his bent but real songwriting, his distinctive singing (new alb: "A Man Called Shotgun Throat") and his weird guitar sounds. In the bar of Taix Restaurant, 1911 Sunset Blvd., Silver Lake 90026; 11:30pm; free; www.taixfrench.com.
Fri. Jan. 21 -- Lynch Mob pits axman George Lynch against his Dokken legacy, and the buff shredder comes out on top. With three other bands. At the Key Club, 9039 Sunset Blvd., West Hollywood 90069; probably around 11:30pm; $18; 15+; www.keyclub.com; (310) 274-5800.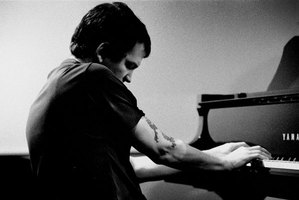 Fri. Jan. 21 -- If pianist-composer Brad Mehldau has ever crapped out, I ain't heard it. Now he and producer Jon Brion have delved into semiclassical worlds (think boiled-down Copland) with his "Highway Rider," which showcases his more tuneful, less abstract side, and he's invading the palaces of High Culture. Scary, but bettable. With Scott Yoo conducting a chamber orchestra to complement Mehldau's jazz pals: saxist Joshua Redman, bassist Larry Grenadier, drummer Jeff Ballard and drummer Matt Chamberlain. At Walt Disney Concert Hall, 111 S. Grand Ave., downtown 90012; 8pm; $46-$118; (323) 850-2000; www.laphil.org.
Fri.-Sat. Jan. 21-22 -- Kenny Burrell is back putting on a virtual clinic on the origins of jazz guitar. And considering that he's made albs with John Coltrane, Jimmy Smith and Stanley Turrentine (for short instance), and has chaired UCLA's jazz department all these years, few possess more gleaming credentials. At Catalina Bar & Grill, 6725 Sunset Blvd., Hollywood 90028; 8 & 10pm; $25-$30; (323) 466-2210; www.catalinajazzclub.com.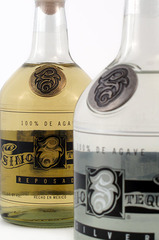 Sat. Jan. 22 -- Forgit "literary journalism," all it means is having fun with writing, so Slake puts the pub in publication. The daring L.A.-based chronicle (edited by former L.A. Weekly editors Laurie Ochoa and Joe Donnelly) celebrates its second issue tonight with readings from contributors as well as an art/photo sale, deejaying by Justin Warfield, a $5 food menu from Border Grill, cake, and tequila (a subject dear to this contributor's liver). At Track 16 Gallery in Bergamot Station, 2525 Michigan Ave., Santa Monica 90404; doors 7pm; free; be a citizen and RSVP here or just show up.
Thurs. Jan. 27 -- Trumpeter Daniel Rosenboom's sextet has a line on the pleasantly atmospheric modern comprovisational intelligence, Fred. At the Blue Whale on the third floor of Weller Court Plaza, south of East First Street between South Los Angeles Street and South San Pedro Street, Little Tokyo 90012; 9pm-midnight; $10; validated parking on Second Street; (213) 620-0908; www.bluewhalemusic.com.
Thurs.-Sat. Jan. 27-29 -- When you just wanna rock your beer off and cry into your socks, Mike Ness and Social Distortion should never be far from your fingers. At Hollywood Palladium, 6215 Sunset Blvd., Hollywood 90028; 7pm; $38.50 (Sat. sold out); www.livenation.com; (323) 962-7600.

Read Brick Wahl's jazz picks in LA Weekly here, Don Heckman's jazz picks here and MoshKing's metal listings here. Read John Payne's plutonic Bluefat.com here.