Fri. Jan. 28 -- Original Inventionmamas Don Preston & Bunk Gardner (keys & sax) freak out on a mess of the early Zappa bowlbusters they helped thrust into the world back around '67 to '71. At South Pasadena Music Center and Conservatory, 1509 Mission St., South Pasadena 91030; 8pm; $10; free parking behind; (626) 403-2300; events page here.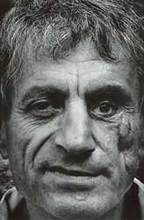 Fri.-Sun. Jan. 28-30 -- The 10th anniversary of Iannis Xenakis' death provides an excuse for a festival dedicated to one of neoclassical music's most extreme edge-skaters, along with compositions inspired by the great Greek. Xenakis' conceptual theorizing, orchestral upsidedownsmanship, percussion intrusions and electronic inventions have left a deep but little-acknowledged stamp. Oh, and listen to the silences. Different program every night. At REDCAT, 631 W. Second St., downtown 90012; 8:30pm Fri.-Sat., 7pm Sun.; $25; www.redcat.org.
Fri.-Sat. Jan. 28-29 -- When you just wanna rock your beer off and cry into your socks, Mike Ness and Social Distortion should never be far from your grubby mitts. At Hollywood Palladium, 6215 Sunset Blvd., Hollywood 90028; 7pm; $38.50 (likely sold out); www.livenation.com; (323) 962-7600.
Sat. Jan. 29 -- Just saw The Daniel Rosenboom Septet at the Blue Whale. I'll review soon, but for now let's just say it's an angular, modernistic hyper-update of Gil & Gerry's '50s cool jazz. Sure, you can disagree. With Rosenboom on trumpet; Vinny Golia, Gavin Templeton and Brian Walsh on winds; David Rosenboom on piano; Dominic Thiroux on bass; Caleb Dolister on drums. Also see Thursday. At POPtART Gallery, 3023 W. Sixth St., downtown 90020; 8pm; free; www.lapoptart.com; (323) 314-7779.
Sat. Jan. 29 -- Trumpeter Elliott Caine's neotrad jazz is perfect for knockin' back a few; grab a copy of his new "Hippie Chicks on Acid." With saxist Carl Randall, pianist Scott Oakley, bassist Tomas Gargano and drummer Kenny Elliott. At Jax, 339 Brand Blvd., Glendale 91203; 8pm onward; no cover; (818) 500-1604.
Sat. Jan. 29 -- Anna Homler puts together voice and sound in spontaneous patterns that restructure molecules. Along with Helen van der Neer and Elaine Parks, she's doing an installation of bottles & objects with the theme of healing ("Pharmacia Poetica"), and Homler performs to vibrate the tar out of your lungs. In the Blue Building of the Pacific Design Center, 8687 Melrose Ave., Room B261 (second floor), West Hollywood 90069; performance 11am; free; installation up thru March 4.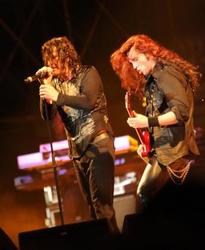 Tues. Feb. 1 -- The greatest entertainer in melodic metal: Ozzy Osbourne. Read my review of his current "Scream" here. And opening you got Slash, who never fails to rock. At Gibson Amphitheater, 100 Universal City Plaza, Universal City 91608; $52-$106; 8pm; www.ticketmaster.com.
Tues. Feb. 1 -- You got kids in elementary school? Want to pervert their minds with jazz before they become boring American consumers? During Black History Month, the Los Angeles Jazz Society is fielding a great program of performances in 45 L.A. schools, with combos led by Washington Rucker or Delbert Taylor or the whirlwind Charles Owens. (Horace Tapscott used to do this kind of thing all the time 40 years ago; dunno if Owens was in the band yet back then.) Today's the first day; check the schedule to make sure your little Klingon doesn't eat too much ghak the night before. You can go too by prior arrangement.
Wed. Feb. 2 -- To go with the art and the fine modernistic food, an awesome avantian trio: the winds, drums and bass of Vinny Golia, Alan Cook & Steuart Liebig. At Royal-T, 8910 Washington Blvd., Culver City 90232; 8pm; $10; $5 students; (310) 559-6300; www.royal-t.org.
Thurs. Feb. 3 -- Daniel Rosenboom Septet. See Saturday. At Salon de la Plaza, 1866 E. First St., downtown 90033; 7pm; free.
Thurs.-Sat. Feb. 3-5 -- I'd never heard of vet bohemian George Herms, and have no idea what to expect from a multimedia "free-jazz opera," but I'm applying the Bobby Bradford principle -- nothing the ex-Ornette cornetist is involved in ever sucks. At REDCAT, 631 W. Second St., downtown 90012; 8:30pm; $20; www.redcat.org.
Thurs.-Sun. Feb. 3-6 -- For tone on the alto sax, I'd pick Kenny Garrett's thick, bluesy poke over most anybody's. Good on soprano, too, when he lays off the goo. Garrett leads a quartet. At Catalina Bar & Grill, 6725 Sunset Blvd., Hollywood 90028; 8 & 10pm; $20-$30; (323) 466-2210; www.catalinajazzclub.com.
Read Brick Wahl's jazz picks in LA Weekly here (note his Steven Isoardi plug for Saturday afternoon), Don Heckman's jazz picks here and MoshKing's metal listings here. Read John Payne's plutonic Bluefat.com here.