Fri.-Sat. Feb. 11-12 -- Larry Karush is an all-embracing pianist who takes in not only every cultural expression, but the physical mechanics and electronic implications of his acoustic instrument. Intellectually feverish. He plays solo on Friday, and with his quartet (bassist Chris Colangelo and percussionists Brad Dutz and Randy Gloss) on Saturday. At the Blue Whale on the third floor of Weller Court Plaza, south of East First Street between South Los Angeles Street and South San Pedro Street, Little Tokyo 90012; 9pm-midnight; $10; validated parking on Second Street; (213) 620-0908; www.bluewhalemusic.com.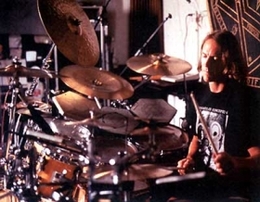 Sat. Feb. 12 -- For wild-ass fusionistic jamming that ain't forgot the blues, you'll get a jolt outa Volto, featuring Tool drummer Danny Carey, guitarist John Ziegler, bassist Lance Morrison and keysdude Kirk Covington. At the Baked Potato, 3787 Cahuenga Blvd. West, Studio City 91604; 9:30 & 11:30pm; $25; (818) 980-1615; www.thebakedpotato.com.
Mon. Feb. 14 -- Miss Pamela Des Barres hosts a Valentine's Day birthday bash for her friends, stoked by music from Frank Fairfield, Phil Alvin and Lucky Otis. At the Redwood Bar & Grill, 316 W. Second St., downtown; (310) 245-0273; www.theredwoodbar.com.
Tues. Feb. 15 -- No surprise that Susan James has a rope around that spaced-out country thing, since she's backed by the hands from I See Hawks in L.A. She celebrates the release of her new record on a bill with Tony Gilkyson, Double Naught Spy Car, Old Californio and many of the usual suspects. At the Echo, 1822 Sunset Blvd., Echo Park 90023; doors 7pm; $5 ($10 bags you admission plus James' CD); (213) 413-8200; www.atthecho.com.
Wed. Feb. 16 -- Argentinian bassist Pablo Motta kicks into that hip-flickin' samba-jazz-tango (touch o' Monk, too) with his trio featuring pianist Dan West and drummer Derek Syverud. Rocco booked it, so you know it's on point. At Royal-T, 8910 Washington Blvd., Culver City 90232; 8-11pm; $10; $5 students; (310) 559-6300; www.royal-t.org.
Thurs. Feb. 17 -- Al Di Meola's World Sinfonia, led by the Return to Forever guitarist (one of Zakk Wylde's faves), hushes into a moody Spanish-Italian acoustic thing (virtuosic of course). Looks like the Sinfonia will include guitarist Kevin Seddiki, accordionist Fausto Beccalosi and drummer Peter Kaszas, but don't quote me. At the Canyon Club, 28912 Roadside Drive, Agoura Hills 91301; 8pm; $29; (818) 879-5016; www.canyonclub.net.
Read Brick Wahl's jazz picks in LA Weekly here, Don Heckman's jazz picks here and MoshKing's metal listings here. Read John Payne's plutonic Bluefat.com here.