Fri. Feb. 18 -- You won't believe so much intergalactic jazzfunk can pour out of a trio till you experience Maetar. Industry Café and Jazz, 6039 Washington Blvd., Culver City 90232; 10pm-1:30am; $7; (310) 202-6633; www.industrycafeandjazz.com.
Fri. Feb. 18 -- Dunno if I totally buy The Red Quartet's vision of jazzy vox mixed with classical chamber music, but they've put together an inventive program wherein they collaborate in various combinations with the prestigious Borodin Quartet (sawin' the Beethoven & Shostakovich), skyrocket vocalist Dwight Trible and pan-Latin DJ Mando Fever. It's partly a charity, art exhibit and silent auction, too. Borodin Quartet also plays Pasadena's Beckman Auditorium on Sunday. At Santa Monica Bay Woman's Club, 1210 Fourth St., Santa Monica 90401; 7pm; $30.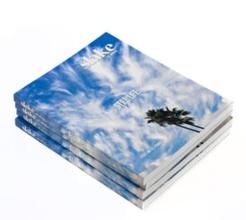 Sat. Feb. 19 -- Surely only the most benighted illiterate doesn't know by now that Slake magazine has for the second time cast its sprung journalism, todaysville fiction/poetry and eye-blasting photography at the feet of a slowly awakening city. Contributors reading tonight include John Albert (on Van Halen), Greg Burk (that's me, slobbering about cheap tequila AND READING FIRST), Hank Cherry (on the New Orleans flood) and five more of equal mettle. Pick up some heavyweight squarebound copies for about $20 each, which is hardly more than a Vogue fulla ads. At Stories Bookstore, 1716 Sunset Blvd., Echo Park 90026; 7:30pm; free; space is limited, so RSVP here.
Sat. Feb. 19 -- Got a kid age 5-11? Beg his dope dealer to take him to "Jazz and the Orchestra," cuz if YOU tell him jazz & classical are cool, he'll run like a jackelope. Rising pianist John Beasley hosts explanations and demonstrations; the ace jazz ensemble includes drummer Roy McCurdy, bassist Carlos del Puerto, saxist Bob Sheppard and trumpeter Bijon Watson; and the L.A. Phil steps up. The program includes compositions by Dvorak, Horace Silver, Leonard Bernstein and Duke Ellington as well as, yes, "The Itsy Bitsy Spider." At Walt Disney Concert Hall, 111 S. Grand Ave., downtown 90012; 11am; $28; (323) 850-2000; www.laphil.org.
Sat. Feb. 19 -- The Killer Clown of Gothic Metal, Fifi Larue, reanimates Kiss on the 1982 Sunset Strip and flushes the evil creation down the sewer in a river of Kool-Aid. Uniquely serious and hilarious; right before the Faces tribute band. At the California Institute of Abnormalarts (CIA), 13334 Burbank Blvd., North Hollywood 91401; 10pm; cheap; (818) 506-6353.
Sun. Feb. 20 -- The Pan Afrikan Peoples Arkestra celebrates its 50th anniversary with a tribute to late founder Horace Tapscott, along with vocal testifyin' from Dwight Trible & the Great Voice of UGMAA. Always a major treat; read my review of a recent manifestation here. At Bryant Temple AME Church, 2525 W. Vernon Ave., South L.A. 90008; 5pm; $20.
Sun. Feb. 20 -- Fred Katz was one of the first jazz cellists back in the late '50s, in Chico Hamilton's group alongside Buddy Collette. Since then he's done just about everything in his 90-some years; he'll have some stories. At the Skirball Cultural Center, 2701 N. Sepulveda Blvd., LA 90049; 4pm; $15; www.skirball.org.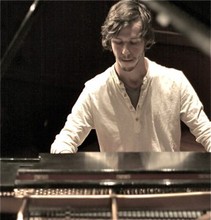 Sun. Feb. 20 -- Keyboardist Richard Sears' futuristic jazz band Rick offers tuneful writing, dark washes of atmosphere and young animalistic rhythms splurged forth by drummer Kevin Yokota. An exciting and different sound, brightly documented on the group's new CD; pick up a copy. Photo by Dario Griffin. At Bootleg Theater, 2220 Beverly Blvd. near Alvarado, LA 90057; 10pm; cheap.
Sun. Feb. 20 -- Support local jazz presence in a valuable venue by chuggin' to the neotrad-plus sounds of trumpeter Elliott Caine's quintet. At the York Bar and Restaurant, 5018 York Blvd., Highland Park 90042; 7:30-10pm; (323) 255-9675.
Tues. Feb. 22 -- You get something extra in composition and concept when Ben Wendel blows the sax; here he's got a supersensitive group featuring saxist Walter Smith III, guitarist Larry Koonse, bassist Hamilton Price and drummer Steve Hass. At the Blue Whale on the third floor of Weller Court Plaza, south of East First Street between South Los Angeles Street and South San Pedro Street, Little Tokyo 90012; 9pm-midnight; $10; validated parking on Second Street; (213) 620-0908; www.bluewhalemusic.com.
Tues. Feb. 22 -- Except for a decade's furlough in midcareer, Death Angel have been thrashin' the Bay Area metal since the early '80s with the same singer & guitarist, Mark Osegueda & Rob Cavestany. Hey, they're from Concord, where I lived 'fore they were born; I bet there are no more creeks and crayfish there anymore. Solid bill with Lazarus AD, Bonded by Blood, Velosity, AfterTayste. At the Key Club, 9039 Sunset Blvd., West Hollywood 90069; 7pm; $23; 15+; www.keyclub.com; (310) 274-5800.
Wed. Feb. 23 -- Whodat singin' the sweet Jamaican harmonies behind Bob Marley, Jimmy Cliff, Gregory Isaacs, Junior Murvin, et al.? Why, The Meditations, named after one of my favorite Coltrane platters and paying tribute to Mr. Marley's "Confrontation" album, to which they contributed mightily. With L.A.'s Arise Roots and the awesome house DJs. Dub Club at the EchoPlex, 1154 Glendale Blvd., Echo Park 90026; 9pm; $15, $10 before 10pm; www.attheecho.com.
Thurs. Feb. 24 -- For flash and technical monstration, piano lovers line up to hear Keiko Matsui. At the Canyon Club, 28912 Roadside Drive, Agoura Hills 91301; 8pm; $25; (818) 879-5016; www.canyonclub.net.
Read Brick Wahl's jazz picks in LA Weekly here, Don Heckman's jazz picks here and MoshKing's metal listings here. Read John Payne's plutonic Bluefat.com here.