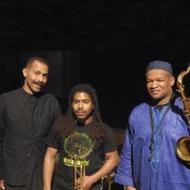 Fri. Feb. 4 -- Major event: Drummer Kahil El'Zabar heads Ethnic Heritage Ensemble, the groovinest African outstalkers this side o' Morocco (via Chicago). With saxist Ernest Khabeer Dawkins and trumpeter Corey Wilkes. A presentation of the Jazz Bakery's Movable Feast at the Musicians Institute, 1655 N. McCadden Place, Hollywood 90028; 9pm; $25, students $15; www.jazzbakery.org.
Fri. Feb. 4 -- Violist Miguel Atwood-Ferguson's adventurous yet listenable modern ensemble builds textures with the aid of 11 other local luminaries including trumpeter Daniel Rosenboom, saxist Kamasi Washington and bassist Edwin Livingston. At the Natural History Museum, 900 Exposition Blvd., LA 90007; 8pm; free; www.nhm.org.
Fri. Feb. 4 -- The junction of techdance, art and chamber music: former Stereotaxic Device leader George Sarah. With Icelandic hurdle jumper Olafur Arnalds. At the EchoPlex, 1154 Glendale Blvd., Echo Park 90026; doors 8pm; $17; www.attheecho.com.
Fri. Feb. 4 -- Kristian Hoffman reigns as the perennial doge of sophisticated pop; his vassals, including Ann Magnuson, Prince Poppycock, Todd Lowe, Maria McKee and many special guests, pay tribute to him tonight. Read my review of his astounding new "Fop" here. At Steve Allen Theater, 4773 Hollywood Blvd., Hollywood 90027; 8pm but come early, SRO; $10; BYO.
Fri.-Sat. Feb. 4-5 -- I'd never heard of vet bohemian George Herms, and I have no idea what to expect from a multimedia "free-jazz opera," but I'm applying the Bobby Bradford principle -- nothing the ex-Ornette cornetist is involved in ever sucks. Read Brick Wahl's LA Weekly blurb at the link below. At REDCAT, 631 W. Second St., downtown 90012; 8:30pm; $20; www.redcat.org.
Fri.-Sun. Feb. 4-6 -- For tone on the alto sax, I'd pick Kenny Garrett's thick, bluesy poke over most anybody's. Good on soprano, too, when he lays off the goo. Garrett leads a quartet. At Catalina Bar & Grill, 6725 Sunset Blvd., Hollywood 90028; 8 & 10pm; $25-$30; (323) 466-2210; www.catalinajazzclub.com.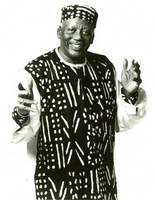 Sat. Feb. 5 -- Here's a super opportunity to meet the great Afrocentric pianist Randy Weston, have him sign his new autobiography and listen to him perform. Little known as Weston may be outside of musicianly circles, I believe history will enshrine him as one of the major dudes; he's 80-something and still rockin' the keys. Read my review of Weston's latest record and book here. At UCLA's Fowler Museum, Lenart Auditorium; 7:30pm; $25, $45 (VIP with post-concert reception) and $10 (student); parking at Lot 4, Sunset Blvd. & Westwood Plaza; www.ticketmaster.com.
Sat. Feb. 5 -- Nels Cline Singers With Yuka Honda. Guess I don't gotta tell ya who Nels Cline is, since Jeff Gauthier says reservations for this disappeared in five minutes. The Singers include drummer Scott Amendola and bassist Devin Hoff. At the Getty Center in the Sepulveda Pass; 7:30pm; www.getty.edu; (310) 440-7300.
Sat. Feb. 5 -- Wino Weinrich with Scott Kelly of Neurosis. I just can't love it enough that the baddest guitarist in the land is pluckin' acoustic (and still very down). At the Viper Room, 8852 Sunset Blvd., West Hollywood 90069; 8pm; $15; (310) 652-7869; www.viperroom.com.
Sat. Feb. 5 -- The incredible circular-breathing saxist Phillip Greenlief exinhales quite appropriately at a yoga center, along with electroman-composer Jon Armstrong and, in the second set, a bunch of wind-blowing auxiliaries. At Peace Yoga, 903 Main St., downtown 90015; 8pm; $10.
Sun. Feb. 6 -- The abovementioned Phillip Greenlief plays solo, plus you get a most intriguing quiet combo featuring Jie Ma (Chinese flute), Will Salmon (multi-instruments and voice), Maggie Parkins (cello) and Alex Cline (drumperc). If I wasn't gonna be too wasted after the Super Bowl, I'd be there for sure. At Center for the Arts, 2225 Colorado Blvd., Eagle Rock 90041; 7pm; $10; (626) 795-4989.
Mon. Feb. 7 -- Well, the Mark Dresser Trio is named after possibly the most technically prestidigitational acoustic bassist in the world, but also corrals Denman Maroney, who attacks the piano like a precise cyclone hailstorm, and multiflutist Matthias Ziegler, who's on the forefront of the Euro scene. So yeah, this will be great. At REDCAT, 631 W. Second St., downtown 90012; 8:30pm; $20; www.redcat.org.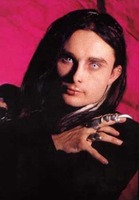 Tues. Feb. 8 -- Wat's dis, Dani Filth is singing some actual notes now instead of always flaying yer hide with his incredible screeches and belches? Folks have been saying for a decade that English black metallians Cradle of Filth were selling out with more and more accessible guitar riffs, choruses, gymnasts, stilt walkers and everything, which can only mean they're better than ever. At Club Nokia, 800 W. Olympic Blvd., downtown 90015; 6:30pm; $25-$30; www.ticketmaster.com.
Tues. Feb. 8 -- The Finns beat all with the pagan folk-metal thing, so reel & spiel with Finntroll, Ensiferum and four more. Make sure you have Wednesday off from work, cuz you're gonna be quaffing hard. At the Key Club, 9039 Sunset Blvd., West Hollywood 90069; doors 6:30pm; $30-$50; 15+; www.keyclub.com; (310) 274-5800.
Wed. Feb. 9 -- Wanna give up playing music? Just once, catch the vibes & piano duo of Nick Mancini & Otmaro Ruiz, and you'll realize only a few can truly do the impossible. At the Blue Whale on the third floor of Weller Court Plaza, south of East First Street between South Los Angeles Street and South San Pedro Street, Little Tokyo 90012; 9pm-midnight; $10; validated parking on Second Street; (213) 620-0908; www.bluewhalemusic.com.
Wed. Feb. 9 -- Trumpeter Daniel Rosenboom and Plotz! (featuring Brian Walsh and Gavin Templeton from DR's Septet) whip up the Balkanized folk-jazz mayhem. At Royal-T, 8910 Washington Blvd., Culver City 90232; 8pm; $12; $8 students; (310) 559-6300; www.royal-t.org.
Thurs. Feb. 10 -- Post-cool jazz from Daniel Rosenboom Septet. Read my live review here. At Salon de la Plaza, 1866 E. First St., downtown 90033; 7pm; free.
Read Brick Wahl's jazz picks in LA Weekly here, Don Heckman's jazz picks here and MoshKing's metal listings here. Read John Payne's plutonic Bluefat.com here.