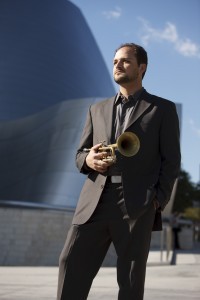 Guess I shouldn't be surprised to see Vinny Golia anywhere. An hour early, I walk into the dark modern-angled comfort of Little Tokyo's Blue Whale, and there's the white wizard warming up his tubax; that B-flat contrabass sax (way bigger than a bari) requires some stoking, since it's got as much cold metal as a battle cruiser. Then I remember Golia's enduring connection with trumpeter Daniel Rosenboom -- taught him at CalArts, put out a couple of D.R. records on the Nine Winds label, played with him in a few bands (apparently including this septet).
Rosenboom's all over town lately, plugging his new "Fallen Angeles," and he's got a righteous crowd buzzing about it tonight: guys in little plaid cowboy shirts, older hipsters, even young women. Kio Griffith will add the multimedia edge with video projections of rotating architectural imagery and Star Wars latticework. Abstraction lives.
This is all composed stuff played from sheet music, without much improvising, yet it carries the feel of jazz because of the rhythmic complexity and the instrumentation -- Golia, Gavin Templeton and Brian Walsh on winds; David Rosenboom on piano; Dominic Thiroux on bass; Caleb Dolister on drums. It quickly becomes clear that Daniel Rosenboom knows a lot of African, Arabic, jazz and classical music, mixing 'em up so none dominates.
Golia's tubax sets up a mystery mood along with the piano, then we're off into some kind of Afro-tango with a cracked time signature as Templeton's alto wails and instruments overlap. Next, it's as if the Miles Davis Birth of the Cool Nonet had been hurled into a speedier, more nervous century; the quick, layered writing for the horns would have lesser musicians soaking their hankies. On a slower number, Golia switches to flute and plunges us into a lonely magic forest. The first set closes with "Ideology," whose glitchy, twisty beboppery grooves with Dolphyish intellectual fire; the trumpet goes wild and the piece ends with jagged staccato insistence.
It's some kind o' composing, all right, and Golia's influence frequently crops up in the alien riffs and the stretchy harmonies. I like it, and it goes well with the bitter/sweet challenge of the Black Dog beer I'm drinking. My only objection is that despite its beat motivation, it stays in the head and fights the heart. Well, a lot of my favorite music does that. The heart can take it.

The Daniel Rosenboom Septet plays Salon de la Plaza (1866 E. First St., downtown 90033; 7pm; free) on two Thursdays, February 3 & 10; as a member of the related group Plotz!, he plays Royal-T (8910 Washington Blvd., Culver City 90232; 8pm; $10) on Wednesday, February 9.