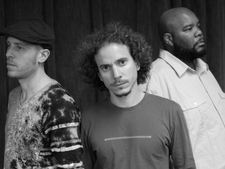 Fri. April 15 -- Proverb Trio totally pulls off something new. Jazz-poetry fusion? Always a risky bit, but I hadn't counted on the poet, a big black dude named Kokayi, being a skilled melodic singer as well as a machine-gun rapper. Dafnis Prieto has racked up plenty of points as drummer for Steve Coleman, Henry Threadgill, Michel Camilo, et al.; the man keeps this trio driving with Afro-Cuban fire. And keysman Jason Lindner concentrates the sound with simple taste -- Larry Young one minute, a church organist the next. Ruth made a gutsy call on this one; back her up. A presentation of the Jazz Bakery's Movable Feast at the Musicians Institute, 1655 N. McCadden Place, Hollywood 90028; 9pm; $25, students $15; www.jazzbakery.org.
Fri. April 15 -- A couple of wide-ranging jazz guys who also write high-profile soundtrack music -- keyboardist Michael Wolff and trumpeter Mark Isham -- form a natural alliance in a quartet with bassist John B. Williams and drummer Michael Barsimanto. Intriguing. At Vitello's Restaurant, 4349 Tujunga Ave., Studio City 91604; 8 &10 pm; $20 cover plus $13 minimum; (818) 769-0905; www.vitellosrestaurant.com.
Sat. April 16 -- Trumpeter Elliott Caine's ear-friendly post-trad quartet fills up the cannelloni. At Colombo's Restaurant, 1833 Colorado Blvd., Eagle Rock 90041; 9:30pm-midnight; no cover; (323) 254-9138.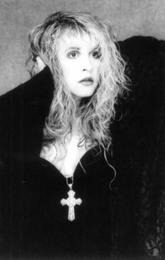 Sun. April 17 -- Rod Stewart and Stevie Nicks. How could this fail to be really entertaining? Wear corpsepaint; the headliners will. At the Hollywood Bowl, 2301 Highland Ave., Hollywood 90068; 7pm; $48-$320 (some seats still available); parking by shuttle only, if you haven't bought a Bowl parking ticket already, details at (323) 850-2000; www.ticketmaster.com.
Tues. April 19 -- San Diego's Cage have been bashing out that glamorous '80s "power thrash" almost since the '80s. And they're bringing their "mini-Maiden stage set"! With Evil Dead and two more. At House of Blues, 8430 Sunset Blvd., West Hollywood 90069; doors 8pm; $7.50; (323) 848-5800; www.livenation.com.
Thurs. April 21 -- Another supercontiguous ResBox. From NoCal, The Angelica Sanchez Trio is the playful abstractive pianist plus mind-blowing saxist Phillip Greenlief and drummer Sam Ospovat; grab her alb "A Little House." And wotta local outquartet: Andrew Pask + Wayne Peet + Steuart Liebig + Alex Cline = absolutely guaranteed spiritworld astronomy. Plus: Osaka percussionist Tatsuya Nakatani, who put on a wild & deep demonstration when I saw him here a couple years back. ResBox at Steve Allen Theater, 4773 Hollywood Blvd., Hollywood 90027; 8pm; $10; BYO; free parking lot behind.
Read Brick Wahl's jazz picks in LA Weekly here, Don Heckman's jazz picks here and MoshKing's metal listings here. Read John Payne's plutonic Bluefat.com here.