A dozen, just becuzzin'. Over the last few months, as the records piled up (many from right here in SoCal), I began to marvel at the vernal vitality of American improvisational music, a form most fokes have declared dead, probably because they're not listening. Well, listen.

Adam Rudolph's Moving Pictures, "Both/And" (Meta). Hand drummer Rudolph lays down a multihued jungle bedspread streaked with moody light and mystic photoelectronic vibrations. A naturally grooving distinctiveness and balance springs from the amazing ensemble: trumpeter Graham Haynes, trombonist Joseph Bowie, world omniman Brahim Fribgane, bassist Jerome Harris, windman Ralph Jones, guitarist Kenny Wessel.
Danny Frankel With Nels Cline & Larry Goldings, "The Interplanetary Note/Beat Conference." Funky groove, spacy solemnity, quiet drama, a bit of comedic soundtrackery -- sounds like a drummer, a guitarist and an organist who know how to have fun. Dig Nels' vintage sitar effects; I bet he's got the same device the Box Tops used on "Cry Like a Baby."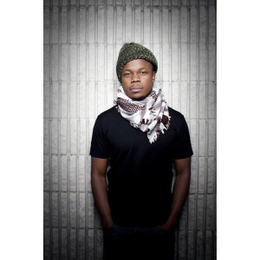 Ambrose Akinmusire, "When the Heart Emerges Glistening" (Blue Note). Occasional shades of the '60s mottle a low-coasting ride that balances intellect and sensuality, pride and melancholy. Although headmaster Jason Moran co-produced, trumpeter Akinmusire has more crossover potential, not because he's friendly (he even radiates a touch of menace), but because he breathes.
Matthew Shipp, "The Art of the Improviser" (Thirsty Ear). A live trio disc and a live solo disc from a most human icon of the 88 -- pensive and probing, drawn from decades of compositions that melt into one another like clouds. New bassist Michael Bisio bows with the flow; old pard Whit Dickey frays the edges on drums. And yeah, Shipp cements his status as a main man, a dude with roots and branches.
Open Graves With Stuart Dempster, "Flightpatterns" (Prefecture). More drone and 'bone recorded in the Dan Harpole Cistern, where an echo is an Echo and a trombone is the breath of a dozing god.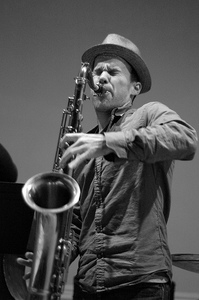 "Endangered Blood" (Skirl). Slammin' comprovisation from the accessible side of avant supergroupdom: Drummer Jim Black, bassist Trevor Dunn, windman Oscar Noriega and saxist Chris Speed (pictured). Speed's warm melodic and harmonic aesthetic flavors the broth, but Black gives it that peppery kick.
"Polarity Taskmasters." Feels like eavesdropping on a reunion of old friends. Flutist/main writer Emily Hay instigates; pianist Motoko Honda and percman Brad Dutz keep things bouncing around; engineer/keyboardist Wayne Peet is the waiter who makes 'em feel at ease. Emotional and convivial.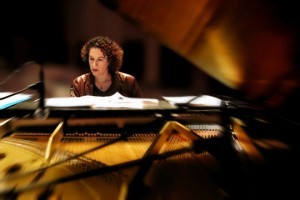 Roberta Piket, "Sides, Colors" (Thirteenth Note). What a gorgeous surprise. The retro feel engendered by a few gently loved standards expands via keyboardist Piket's subtle string and wind arrangements, and you just go aah. That's the first half; the second half's mostly devoted to trio interpretations of perky tunes by Billy Mintz, the world's most skin-tickling drummer.
Harris Eisenstadt, "Canada Day II" (Songlines). Though he puts the emphasis on tunefulness here, the world-seasoned Eisenstadt rolls his skins like a stoned jazzman. Chris Dingman's vibraphone pours three fingers of scotch; Nate Wooley's trumpet and Matt Bauder's sax drape the satin.
The Daniel Rosenboom Septet, "Fallen Angeles" (Nine Winds). Cultured fury, stalking night blossoms, sensitive doldrums -- trumpeter Rosenboom writes music that DEVELOPS, and however sophisticated the scapes, they don't strain your brain.
Richard Sears, "Rick." Beauty mixed with violent youthful energy, the bash bursting largely from drummer Louis Cole, who can't sit still behind keyboardist Sears' idyllic compositions; Adam Ratner's distorto guitar tosses grit into the pastel. Music that grabs, strokes and shakes ya -- strongly recommended.
Slumgum, "Quardboard Flavored Fiber" (Accretions). The quartet's sweaty name stands at odds to its civilized musicality; just when you think Jon Armstrong's sax is about to go nutz, pianist Rory Cowal sprays the stage with stardust. All's clear, true & finely wrought in Slumgum's world, and I hope they're elected president.