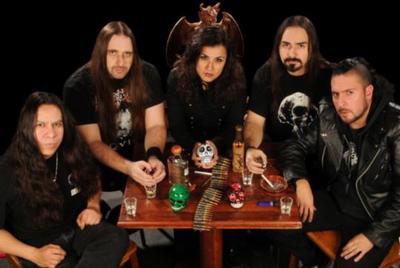 Guitarist Ramón Ortiz conceived Ankla as a festival band. While the current lineup pounded big & bold at the Whisky, and a break focusing on the hot interplay between trapsman Oscar Santiago and Latin hand drummer Dantai Lopez kicked them into party mode, something about the night and the confinement stifled them a bit. Another factor was lanky new vocalist Nick Moreno's dusted/disconnected vibe, which did not proceed entirely from his schizoid face paint. An excellent rhythm-up metal outfit, though, and always killer in the studio.
Despite having been pre-hammered by Dia de los Muertos' startling new "Satanico Dramatico" (produced by Roy Z and available for free download here), I was not fully tenderized for the devourment they executed live. DDLM have flipped instrumentation since I saw them a year ago, uploading the drums-guitar team of Alfonso Pinzon and Andrés Jaramillo from the Colombian band Agony along with guitarist Adrian Villanueva and bassist Alejandro Corredor. All super chopsters, they slammed with ritualistic atmosphere and flexible power through a set that encompassed grind, sludge, death and punkish thrash. Lead roarer Loana dP Valencia locked audience eyeballs -- swaying Christlike under a mike stand thrown across her shoulders, making a slow sign of the cross during "Plague Mass" and whipping her wild mass of black hair. When she closed ranks with the axmen to scream directly into the faces of the stagefront crowd, it was like a Roman phalanx, united and deadly. Dave Lombardo of Slayer was there; spread the word, dude.
Soulbleed, fronted by big bad Dave Rubenhold, brought a casual rapport to go with the band's meaty metal. On bass, truck-stop tuffie Elaina Bangma gave the boys something to look at, while stoneracious Steve Marshall cranked rippin' wah leads on his Confederate-flag guitar. And drummer Jimmy Schultz made the start-stop arrangements groove, applying double-kick sparingly -- this bad mother could play with anybody, and listening to him was a show in itself.
If every Tuesday rocked like this, workplaces would be graveyards on Wednesdays.
PICTURED: DIA DE LOS MUERTOS