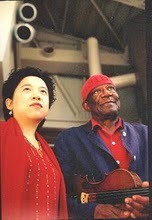 Violinist Michael White had a wild decade in the 1970s: starting with some arty Afro stuff, getting funkier as the winds changed, and wrapping up with a fruitless hack at the commercial piñata. He'd made little noise after that until he started cropping up around L.A. a few years back, and I was curious what he'd been up to.
The answer is an unusual samba sound, the kind of thing that makes you wiggle in your seat and long to twirl a parasol in your tropical cocktail. It's not the kind of fare that Alex Cline and Will Salmon usually present at their bristling monthly Sunday Evening Concerts series, but fun.
Chromedome drummer Danny Frankel, who's played with everybody from Stephen Bernstein to Eleni Mandell, was handing around his latest trio CD with Nels Cline & Larry Goldings, an indicator that the dude was unlikely to be overmatched by the material. He locked right into an effortless groove with the strangely coiffed standup bassist Jon Ossman, and never slipped out of it even when he was messing around, which was quite a bit. Youthful bearded guitarist Timothy Young stroked jazzy chords with a warm clean tone and plucked lightly echoing leads that were just unpredictable enough. A truly reliable and enjoyable trio.
Meanwhile, I kept looking around for the clarinet, which turned out to be Michael White's violin. (There's a Dr. Michael White who's a New Orleans clarinetist; maybe they've merged.) Dunno how he's done it, but White has eliminated virtually every trace of resin from his sound, leaving a dense polish that suits the sweetness and economy of his bowing. This music didn't insult the intelligence, more like it rendered intelligence irrelevant.
Small and round, perched on a stool and shamelessly clad in pink shirt and pink skull cap, White introduced the songs with easy humor, as before the 1974 nugget "O Ancient One": "I wonder who that's talking about?" The group's samba feel extended even to standards such as "Daydream" and "My One and Only Love," partly due to the cool translucency of pixie-cropped Leisei Chen's croon; though not always pitch-perfect, Chen communicated a casual intimacy that connected.
Most appropriate to the room was "Mechanical Man," a strange extended number with a plucky guitar arpeggio, a jumpy marionette melody, a minor-key bass walk and a dreamy interlude. Progressive, dude! White concluded with "Let Love Be Your Magic Carpet," a catchy mantric repetition akin to Sun Ra's hypnotic vocal trips of a similar early-'70s vintage.
Glad I caught him. Next time I wanna be clutching that cold cocktail, though. (No spirits in this old railway station, but the Spirit pervades.)
LAMVP cellist-vocalist Jessica Catron, making multiple stops this weekend, showed up with the opening trio, Missincinnati, which I refuse to spell the way they do. You've never heard old folk songs of sailors and miners performed the way Catron, guitarist Jeremy Drake and drummer Carey Fogel do: stark, eerie and building to dark emotional crescendos. It was like a modern electronic version of Procol Harum's "A Salty Dog," Catron's childlike voice cutting straight to the heart. You know Jimmy Dean's version of the mining song "Big John"? Almost cheerful, right? Missincinnati's take introduced us to the quiet stranger so vividly that when he met his fate, we felt a real chill. That's art.