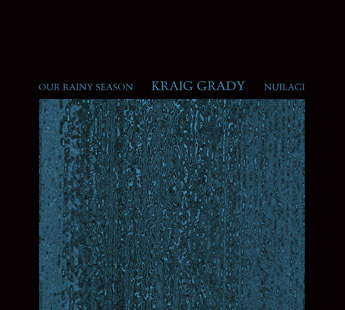 An Anaphorian outrigger glided up to my house the other day during a heavy rain, and an oarsman in a puka necklace tossed me this CD attached to a coconut. I threw him a hand mirror and a bag of mini-Snickers, and the crew paddled off.
White men always get the better of such exchanges. Kraig Grady, a microtonal composer who explores the exotic leafy regions between our ears, left Los Angeles for Australia three years ago, so if a recording is the only way I can currently engage with his music, I'll hoard it with greed. As always, it turned out to be a wonderful trip.
"Our Rainy Season" involves the interaction of heat rising from the ground and water falling from the sky. For 45 minutes, it drones and drips, creating a local climate in which you can breathe. This multitracked "improvisation" between Jim Denley (bass flute, alto sax, wooden flute) and Mike Majkowski (upright bass) is improvised in that the players weren't told when to play, just what notes to play, and Grady cut up and arranged the notes later. In Grady's world, the blend of different frequencies within his scales means a lot -- when the notes rub against one another, they also rub against our ears, removing us to a place outside standard Western harmony and urbanized experience. In a jungle, the sound of a fly's wings must harmonize with the sound of the wind, for instance; it can't be any other way. When we talk about dissonance, we usually mean sounds that remind us of machines -- car brakes, blenders, rivet guns. Those combined noises can tweak our nerves in exciting ways, but they're not natural. Being a man of peace, Grady tunes in to nature, and here he has walked away from his self-built metallophones and organs to employ instruments and musicians in fresh-air ways. To get the players focused on exactly the right pitches, he set them up with visual aids, like a guitar tuner. The process guided them into simplicity and concentration; the music became a meditation. You will fall into it.
The second piece, the 26-minute "Nuilagi," took me back to Grady's microtonal xylophone music. It was recorded live a few years ago at "Thesm Ell" (L.A.'s bare-bones downtown club The Smell), so the creaking footsteps here might even have been mine. The gamelan-like clonks, plengggs and hollowing echoes, overlapping and joining, emanated a gentle physicality and a more than stereophonic sense of motion. I pictured the quizzical calm of tall, bushy-browed Grady, along with Erin Barnes and Jonathan Marmor, as they wristed their mallets and drifted between instruments across the cement floor. Old acid molecules dislodged from my salivary glands; I felt blobs of rain chilling into icicles as throbbing alien voices called me home. I looked at label head Dale Lloyd's textured downpour artwork and felt quiet.
Is there such a thing as being lulled awake? Yeah, there is.

This CD can be ordered here.
Check out Kraig Grady's philosophy and music, including free streams, here.