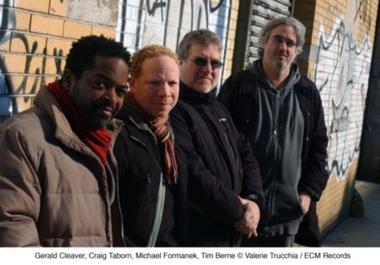 So I'm sitting at the bar before the show. To my right sit Michael Formanek (the bassist leading tonight's group) and Tim Berne (the unit's alto saxist), sipping pints of amber ale. We talk about the Formanek Quartet's West Coast tour to promote their exciting current ECM album, "The Rub and Spare Change," and about whether there's really jazz in Bellevue, Washington. (There is.) Formanek probably gets tired of being described as a more compact John Goodman. Tall, bearish Berne has the kind of relaxed focus you hope to find in the seat next to you at a baseball game. I find out that Formanek prefers sticky rosin on his bow, and that Berne, who runs his own Screwgun label, knows a lot about distribution. These two have been plying the avantier waters of jazz with lots of respected names since the '80s.
The guy to my left, violinist Jeff Gauthier, prefers lighter rosin. On his Cryptogramophone label, he's just released a rambunctious new album by BB&C -- Jim Black, Tim Berne and Nels Cline. He's got another one by his own Goatette in the pipeline, too. Throughout the night he'll tap out the quartet's time signatures for me: This one's three bars of four plus one bar of three; this other one is three bars of three and one of five. Pianist Wayne Peet stops by to say hi to Gauthier, who points out the other keysmen in the room -- Larry Karush, Steve Lockwood -- probably here to check out the quartet's ECM-staple pianist, Craig Taborn. Rocco Somazzi, who booked this gig, is doing triple duty as sound man (great bass presence, dude!) and chef. He brings Gauthier a bowl of hot sweet-potato fries; Berne has ordered sliders for the band's intermission consumption. Blue Whale proprietor Joon Lee is doing the door and jawing with knots of patrons. The whole time, a painter by the back wall works at his easel, detailing a semicartoonish urban female nude. Fits right in.
I present this scene just to give a hint at what kind of place Little Tokyo's Blue Whale has become in a year and a half: a hub for adventure-seeking musicians and fans from all over the city. The booking is shared by Lee, vibraphonist Nick Mancini and singer Cathy Segal-Garcia, each providing a particular slant. I always see people I know here. Even Westside hangs such as Nels Cline's '90s Monday nights at the Alligator Lounge and Gauthier's 2000s CryptoNights at Club Tropical didn't have quite the same universal vibe; the Whale's central location makes it an easier stop. Awesome club -- cheap admission, modular seating and not too crowded for claustrophobes (yet).
But this is supposed to be a review; let's get on with it.
Tonight it's almost crowded in front, with a couple dozen listeners standing on the back platform, where they can see pretty well. The sound is balanced and clear.
The quartet roll with easy spontaneity, even though Formanek's compositions come from the album and the players knock out quite a few complex unison passages like the jagged ones in the first number, which travels on for about a half hour, ranging through walking-bass passages, a spooky chordal waltz and several solo breakdowns. Now and then the gents steam up a Coltrane vibe via Berne's wails and Taborn's openminded chord structures, but drummer Gerald Cleaver has a more aggressively contrapuntal, less grooving approach than Elvin.
Cleaver acts more as a colorist than a timekeeper, in fact, etching subtle but edgy stimulations on skins and hardware. Taborn flings his hands across the keys, slops chords like a bucket of tar and engages in wild group collisions while somehow maintaining a touch like felt. The tune factor derives largely from Berne's modernistic and occasionally boppish riffs, although he shows his tonemaster side too, varying his usual dry grain with lovely flutish moments and precise overblowings -- one time his reed squeezations and Formanek's bowed overtones converged for a wonderfully textured harmony.
Formanek is truly a marvel on bass: his tone centered, his method intuitive yet deliberate -- musical, in other words. He journeys all around the neck, keeping perfect intonation even when jamming on those hard-to-wrangle high notes.
The group feel encompasses 1960s-style freedom and mathematical intellectuality, but the quartet also goes for the heart at the end of the first set with "Twenty Three Neo," which draws deep, quiet emotion from a droning bowed desert soundscape and builds quietly to anguished yearning. No immediate applause erupts after the fade -- not because we don't know it's over, and not because we don't love it. We just don't want to break the spell.