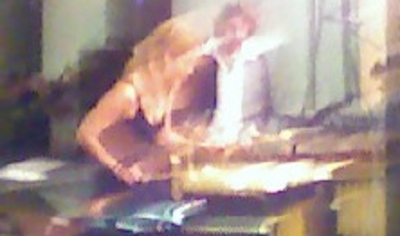 Whether standing at their instrument or at a bus stop, vibraphonists tend to have a certain stoop: You notice that after seeing a dozen or so step up and ding the metal plates one after another at the L.A. Jazz Society's annual Vibe Summit. As musicianly afflictions go -- tinnitus, squashed lips, neck issues, mental illness -- a bit of a tilt ain't bad. And mastering the vibraphone requires lowering the head in more ways than one: It's an exercise in humility.
So up they trooped, every age but mostly not so young, because this was jazz. "I'm usually the oldest at these things," observed 87-year-old Terry Gibbs, the 1997 Summit honoree. "Thank God for Howard Rumsey." The legendary Lighthouse All-Stars bassist, age 93, didn't bother to wince.
But event organizer Steve Tarango, taking over MC duties when James Janisse had to split early on, wanted everybody to know about the Jazz Society's youth movement. He took credit for shoehorning this afternoon's honoree, Nick Mancini, into a Summit performance slot eight years ago, when Mancini was 29. And today the LAJS planted seeds by sprinkling the lineup with fresh faces: bush-topped Jonah Glickman (with Mancini comping on Rhodes during the TV-theme-song-worthy Nick tune "Pasadena"), lovely Lolly Allen (with Mancini boiling marimba on an ever-stormier "A Night in Tunisia"), journeyman Mancini student Steve Neweissman (crisp Bird bop) and skilled teenager Jeremy Moses (swaying blues).
Mancini assaulted FOUR instruments when you factor in the drums on "Blue Bossa" behind Dave Johnson and Jay Garret. And oh yeah, he lighted up a sensitive side of the marimba, lilting "Skylark" with Andre Earles, a subtle vibesman out of Chicago.
The only attendee sporting a sportjacket (and red shoes!) in the heat of the ultracasual San Fernando Valley, Mancini drew big thunder from the capacity crowd for his own spotlight performance. Working his stubbled jaw in rhythm, he whisked up and down the plates in difficult yet brightly swinging semichromatic runs, and finished with an exquisite arrangement of the Beatles' "Blackbird" that ascended skyward via awesome fluttering counterpoint. He was only waiting for this moment to arise.
The backing trio -- pianist Dave Mackay, bassist Richard Simon and drummer Paul Kreibich -- were selected for their ability to knock out damnwell anything on command without benefit of sheet music. The frail Mackay especially seemed to be channeling his muse, tilting an ear to the keyboard as if to hear its instructions. Beautiful player.
With over two dozen vibists on the roster, the talent kept on coming: veterans such as Joe Locatelli, Gino Antonacci and Larry Keller paying tribute to the tradition of Milt Jackson; an Afro-garbed Onaje Murray hammering the marimba bars till they jumped like a cartoon; an energetic Maia in a flowery dress pulling out flavorful dissonances and extreme echo effects while mining Monk. The one deeply felt absence was the name on everyone's lips: Vibe Summit founder Mal Sands, who died in 2007.
Four mallets or two, hard-tipped or fuzzy, the vibraphonists and marimba players celebrated their undercelebrated instruments with panache and good humor. The party feeling got a boost from the Remo drum maker's decorative facility: a U.N. of world flags hanging from the ceiling, hundreds of exotic hand drums racked against one wall, and colorfully painted drum heads mounted opposite. You might not have guessed that Los Angeles could draw a couple hundred devotees who'd feel the vibes this strong.
Mancini spoke now and then with casual authority; it was good to see him reaping the hugs and backslaps. Since arriving in L.A. from New York almost a decade ago, the guy has made a significant impact: writing and performing with numerous groups, opening up gig opportunities for adventure-minded jazzers, teaching the next generation. His mom and sis flew in for the occasion, and he tipped the hat for their support over the years.
"Mom said I should go ahead and do music. She knew I'd suck at anything else."



* * *
PHOTOS OF THE PERFORMERS (MAIN PAGE) AND LOLLY ALLEN WITH NICK MANCINI (ABOVE) BY FUZZY BROK.