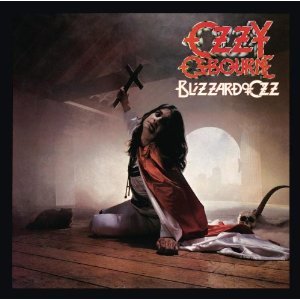 Thirty years, and what storms these fundamental metal masterpieces have weathered.
Kicked out of Black Sabbath for being the band's biggest wastrel, Ozzy Osbourne was dragged from under a pile of pizza boxes in his West Hollywood hotel room in 1979 by his manager's daughter, Sharon Arden, who flogged him into the studio. They came up with an awesome supporting cast. Randy Rhoads, a brilliant classically trained pixie from L.A.'s Quiet Riot, ripped on guitar. Drummer Lee Kerslake from Brit rockers Uriah Heep brought pro ballast. Handsome bassist Bob Daisley, who'd sojourned in Widowmaker with Spooky Tooth guitarist Luther Grosvernor and in Rainbow, showed a knack for lyrics.
The mixture exploded minds worldwide. Ozzy's "Blizzard of Ozz" and "Diary of a Madman" albums, recorded in 1980 and 1981, set the bar for mainstream metal: "Crazy Train," "Mr. Crowley," "Over the Mountain," "Flying High Again." In dramatic blowback, Ozzy got sued for inciting a California teen to kill himself in 1984 after the youth repeatedly spun "Suicide Solution," which is actually a warning against the perils of drink. (If the kid needed a push off the bridge, he was more likely to get it from the "Diary" track "S.A.T.O.": "Is this voyage coming to an end?" Contrary to speculations that the title stands for Ozzy's concurrent loves, Sharon Arden & Thelma Osbourne, the words clearly refer to a doomed "Ship At The Ocean.")
In the middle of the 1982 "Diary" tour, Rhoads was killed in Florida when his pilot pulled a stupid aerial stunt. Though devastated by the loss of his friend, Ozzy hardly slowed down, and has remained one of the top-drawing concert attractions for three decades.
So: three decades of "Blizzard"/"Diary" masterings. I'm gonna attempt a little comparison now.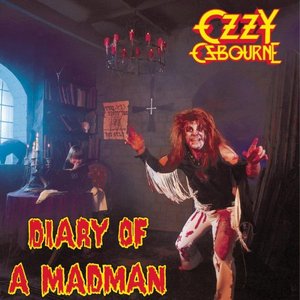 Early-'80s analog. (There warn't no CDs at the time.) It was the fashion for rock artists to retire to the relaxed environs of multitrack-tape-equipped English country villas, and Ridge Farm in Surrey, previous host to Bad Company and Roxy Music, got the Ozzy nod. After Chris Tsangarides (Judas Priest, Gary Moore) was fired as producer midway, house engineer Max Norman took over primary knob control for both "Blizzard" and "Diary." The situation must have been chaotic, with a still quite unsober Ozzy privately entertaining both Sharon and his wife, and Sharon (as she admits in the current Guitar World) also sharin' the sheets with Rhoads. Nevertheless, the initial "Blizzard" vinyl, issued on Don Arden's Jet Records, struck the perfect balance of heft, richness and depth.
Late-'80s CD. The first compact discs used to warn haughtily that they might reveal the limitations of their sources. And the 1988 Jet Records "Blizzard" CD does reveal that Rhoads used some cheesy phasing effects and ugly, noisy, non-harmonic solid-state amplifier distortion, deficiencies largely masked by the LP's frequency curve. However, the CD also reveals its own digital limitations, typical for the time: thinness, tinniness and excessive sibilance. I used to hate this breaking-in period of CD technology, but it has grown on me, because the mastering allowed for more spaciousness, definition and dynamic range than the modern mode, where the primary thrust is just loudness. I find these days that if I just crank the volume on an elderly CD like the Jet "Blizzard" and roll off some of the treble, it can sound really good, especially on smaller speakers.
1995 22-bit conversion. Remasterers Brian Lee and Bob Ludwig employed Sony's analog-to-digital method to produce an mp3-like transparency whose spookiness serves the music well. The sound is big, sensual and rockin', if a bit squashed in the peaks of a quiet-to-loud tour-de-force such as the song "Diary of a Madman." Although I appreciate the whole 1995 Ozzy reissue line, it loses points for horrible design: cover art shrunk down to nothing, and song titles printed in a circle of tiny type that's impossible to read whether you're stoned or not. I've resorted to typing out the titles on white paper and sticking them in the package.
2002 remixes. This terrible mistake enraged Ozzy fans for nearly a decade. In 1998, Kerslake and Daisley sued the Osbournes (Sharon Arden married Ozzy in 1982) for unpaid royalties -- and also for failure to credit them, because, to add to the 1995 packaging fiasco, those remasters had listed touring members Tommy Aldridge and Rudy Sarzo rather than the drummer and bassist who actually played on "Blizzard" and "Diary." To make sure Kerslake and Daisley would reap no performance royalties, the Osbournes removed the litigants' parts and replaced them with attempted sound-alike efforts from then-current band members Mike Bordin and Robert Trujillo. Musically, the result wasn't a complete disaster: The groove sounded different but not bad, and the mastering by Stephen Marcussen (Rolling Stones, Alice in Chains) rocked huge and heavy. But the moral and historical failure left a bad smell.
2011 remasters. So here we are, where we should have been nine years ago. Kerslake and Daisley are back in the mix, thumping along with their particular tight power. The credits are in order. The packaging, with lyrics and new pix, looks terrific. Mastering engineer George Marino went back to the original tapes and pulled out a thick, gnarly, evil impact comparable to the 2002 versions. Although the emphasis on loudness boxes in the sound too much for my ancient vinyl-weaned ears (and I'm no fan of quiet metal), it's a sonically valid if not historically faithful aesthetic.
The "Blizzard" bonuses -- the non-LP B-side "You Looking at Me, Looking at You," a scratch guitar-and-vocal take of "Goodbye to Romance" and a minute of Rhoads randomly shredding -- add little. But who's to sniff at the "Diary" bonus disc? It's a set's worth of material from the 1981 "Blizzard" tour, and even though it comes from the same period, features the same Aldridge-Sarzo lineup and encompasses almost exactly the same tunes as the more dynamically recorded 1987 live disc "Tribute," the performances are hot, with Ozzy singing spot-on and Rhoads sounding comfortably loose.
Also available: LP versions, which I did not acquire. Beyond the desire for a more physically giftable product, maybe someone can offer any reason to purchase modern vinyl pressings of 30-year-old recordings or anything else. I talked to a professional who knows a lot about mastering, and who described much of today's widespread remastering practice as "murdering the dynamic range." He opined that completely analog records are now quite rare. Say an engineer wants to "restore" music from tapes, as advertised with these Ozzy albums. That means he's probably dealing with drop-outs and deterioration inevitably associated with the magnetized source's age, and the most effective way to deal with that is to digitize.
Since the analog vinyl is therefore getting pressed from a digital source, what makes it any different from the CD? The fetish for vinyl can claim some substance when it comes to picking up old records; with new pressings, not so much. (I couldn't reach Marino for comment.)
Obviously I'm not talking about mp3s; if you're just gonna download, you aren't reading this.
After the loudness craze fades, there may be room for one more phase of "Blizzard"/"Diary" remasters that exploit the music's full range. Any further, and we'll be encroaching onto the territory of the endless Doors reissues. And that kind of process, as a friend observes, "is getting to be like Michael Jackson's face."