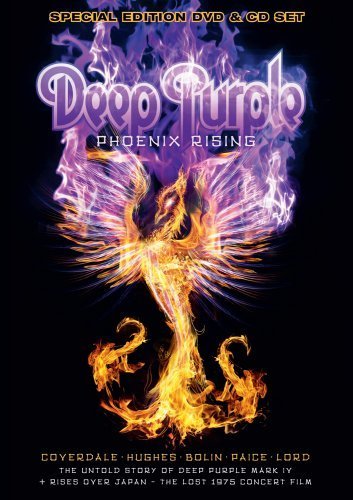 A hell of a drama was getting staged under the Deep Purple proscenium in late 1975. Founding guitarist Ritchie Blackmore had split, besnooted against the funkay groove the band had rolled into since enlisting bassist Glenn Hughes and singer David Coverdale a couple of years before. After the Purpmen filled Blackmore's platforms with the blues-fusion feet of Tommy Bolin (Zephyr, James Gang, Billy Cobham) and manufactured the enjoyable "Come Taste the Band," Hughes and Bolin began to prefer partying to performing.
While touring the Pacific, Deep Purple (still one of the planet's biggest attractions following their early-'70s explosion) ran into even heavier weather. In Indonesia, a local money dispute led to the death of a Purple road minder, hurled down an elevator shaft by gangsters. The band were held hostage on their airplane, extorted and nearly incarcerated.
Bolin subsequently passed out on dope and awoke with a dead left arm. When Purple hit Tokyo, hotbed scene of their hit "Made in Japan," he could barely finger an A chord.
So it's little surprise that until now, nobody has bothered to restore the 30-minute concert film "Deep Purple Rises Over Japan," recorded just then. All its song versions (including the extra tracks on the package's optional CD) have seen previous audio-only release. The camerawork -- with the spotlight tight on Coverdale flipping the mike between his legs during one of Bolin's few decent improvisations, for instance -- won't win any awards. And the impaired Bolin performs in name only, sashaying a bit but buried in the mix except when diddling two-note solos.
Still, consider the good reasons, not all of them musical, to shell out your mizrable 15 bucks for "Phoenix Rising." One is the historic nature of the rare "Rises Over Japan" film. Another is the film's sound, which rocks thanks to original recording by longtime Purple engineer Martin Birch. (Hughes' bass cuts better than on any other Purple live document I've heard, and his personalized lines add dimension to old classics such as "Smoke on the Water.") Another is the chance to see how Jon Lord, Ian Paice and David Coverdale power their way to a strong performance despite having to carry their guitarist. Another is the inclusion of two worthy tunes from "Come Taste the Band" -- the sludge-riffer "Love Child" and the moody soul rocker "You Keep on Moving." And the DVD's unusually substantial booklet photographically reproduces a big fat load of articles from a contemporary Record World special supplement.
That might have been enough. But the disc also includes the feature-length documentary of the period, "Getting Tighter." The band members tell the story, often in interviews taped soon after the events, and it's a shock to behold their unsmiling faces: They can't believe all this sh*t really happened. In latter-day bonus footage, a repentant Hughes (always a master of hype) shows flair in describing "snorting coke off strippers' bottoms" and talking about how "I'd been up all night with Bowie -- maybe a couple of nights." Lord plows forward with special bluntness, insight and candor. I learned a lot.
The mid-'70s: Nixon gets kicked out of Vietnam, Deep Purple get shanghaied in Indonesia, "Apocalypse Now" begins filming in the Philippines. A tough time for unwary Caucs to poke into Southeast Asian jungles. But an interesting time.