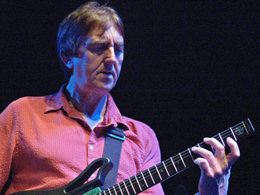 Fri. July 15 -- The bass & guitar gods of fusion, Bunny Brunel & Allan Holdsworth, join forces with keysman Dennis Hamm and drummer Ronald Bruner Jr. for the finger-blurrinest casually scorching head trip on the planet. At the Baked Potato, 3787 Cahuenga Blvd. West, Studio City 91604; 9:30 & 11:30pm; $25; (818) 980-1615; www.thebakedpotato.com.
Fri. July 15 -- Celebrating the Top 50 status of his current "Perseverance," veteran Detroit trombonist Phil Ranelin lavishes feelgood post-bop, Latin & soul with exceptional pals Kamasi Washington (tenor), Mahesh Balasooriya (piano), Trevor Ware (bass) and Don Littleton (drums). At the Culver's Club for Jazz in the Radisson Los Angeles Westside Hotel, 6161 W. Centinela Blvd., Culver City 90230; 7:30 & 9:30pm; $10 cover plus $15 minimum; (310) 649-1776 x4137; reservations recommended; validated parking.
Sat. July 16 -- The most un-Valley fusion around (even if former Megadeth guitarist Chris Poland is from the SFV): Ohm, with bassist Rob Pagliari and this time drummer David Eagle. At the Baked Potato, 3787 Cahuenga Blvd. West, Studio City 91604; 9:30 & 11:30pm; $20; (818) 980-1615; www.thebakedpotato.com.
Sun. July 17 -- Pianist Motoko Honda and friends dip into classical music in a benefit for the Japanese tsunami victims; the slate includes Mozart, Poulenc, Dvorak, Schubert, etc. A well-chosen program. At Brand Art & Music Library, 1601 W. Mountain St., Glendale 91207; 3pm; $20 or give as much as you can.
Sun. July 17 -- The quintet of trumpeter Elliott Caine sets up good semitrad jazz for drinkin' and smokin', but you'll have to do the latter beforehand. With big-toned saxist Carl Randall, clever pianist Mahesh Balasooriya (second pick this week!), bassist Trevor Ware (ditto) and drummer Kenny Elliott. At the York Bar and Restaurant, 5018 York Blvd., Highland Park 90042; 7:30-10pm; (323) 255-9675.
Mon. July 18 -- That Todd Rundgren is one unpredictable mofo. A few years back he was playing with the Cars, and his current album is a tribute not exactly to Robert Johnson, but to Robert Johnson as we white boys discovered him by way of electronified Cream, Stones and Butterfield. Here he's giving a talk about his career, fielding questions (I want to know if the Dolls wore 8-inch platforms in the studio when he produced them) and performing a bit. Bound to be fun. At the Grammy Museum, 800 W. Olympic Blvd., Suite 200, downtown 90015; doors 7:30pm; $25; (213) 765-6803; www.grammymuseum.org.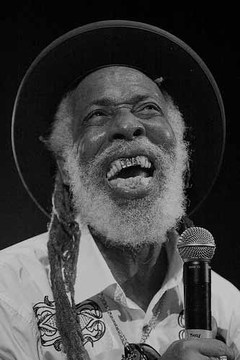 Wed. July 20 -- Big Youth was right there toasting the muffins in the crucible of 1970s reggae, and tonight the roughshod voxman is backed by the Fully Fullwood Band, featuring bassist Fullwood and guitarist Tony Chin, who both own similar pedigrees. Plus you get true-blue Malian desert songstress Khaira Arby and Senegalese drummers Sabar All-Stars. And the ace house DJs, of course. They're using both the upstairs and downstairs rooms for this one, and they'll need 'em. At the EchoPlex, 1154 Glendale Blvd., Echo Park 90026; doors 9pm; $15 ($10 before 10pm or via ticketweb.com); www.attheecho.com.
Thurs. July 21 -- Never thought I'd see Kim Fowley guest-hosting ResBox. No, I'm not kidding -- Hollywood's legendary sultan of sleaze himself. Let's see what kind of spin he puts on a bunch of very serious extreme musicians: the beauty, intelligence and adventure of modern jazzers Slumgum; the conceptual experimental duo of Ted Byrnes & Han-Earl Park; and the electronified guitar-synth-pipa trio G.E. Stinson, Hans Fjellestad & Jie Ma. ResBox at Steve Allen Theater, 4773 Hollywood Blvd., Hollywood 90027; 8pm; $10; BYO; free parking lot behind.
Thurs. July 21 -- Nick Mancini's new series continues as the omnivorous vibraphonist joins windman Katisse Buckingham's quartet to bend standards just enough with drummer Chris Wabich and bassist Jerry Watts. And: the sextet of singer-guitarist Jay Matsueda, which features Buckingham, Mancini, Wabich and Watts plus trumpeter Dayna Richards. At Curve Line Space Gallery, 1577 Colorado Blvd., Eagle Rock 90041; 8pm; $10; (323) 478-9874.
Thurs. July 21 -- Technical power-metal deathstars Conducting From the Grave headline the Summer Slaughter Tour, which also stacks up superjagged harm from The Contortionist, thoughtful instro dynasoaring from Scale the Summit AND Rings of Saturn, Volumes, Structures, Thrown Into Exile, Dawn of Ashes. At the Key Club, 9039 Sunset Blvd., West Hollywood 90069; doors 5:30pm; $12; 15+; www.keyclub.com; (310) 274-5800.
Thurs. July 21 -- Cathleen Pineda & Beth Schenck are a piano & wind duo exploring the more inviting side of adventure. "Playful . . . artful logic," wheezes MetalJazz.com in reviewing Brooklyn-based Schenk's CD. At Royal-T, 8910 Washington Blvd., Culver City 90232; 8pm; $10, $5 students; (310) 559-6300; www.royal-t.org.


Read Brick Wahl's jazz picks in LA Weekly here (he's got great mainstream and Latin selections), Don Heckman's jazz picks here and MoshKing's metal listings here. Read John Payne's plutonic Bluefat.com here.