Fri. July 22 -- The Summer Slaughter Tour incarcerates the heaviest: the beer-gut abstractions of The Black Dahlia Murder, the terroristic original Florida deathrot of Chris Barnes' Six Feet Under, the punky horror of Whitechapel, plus Darkest Hour, Dying Fetus, Powerglove, etc. At House of Blues, 8430 Sunset Blvd., West Hollywood 90069; 7pm; $39-$49; (323) 848-5800; www.livenation.com.
Fri. July 22 -- Pianist John Beasley brings his rhythm-heavy, summerjazzy unit into the sunshine and not-so-fresh air. At LACMA, 5905 Wilshire Blvd., LA 90036; 6-8pm; FREE; Friday summer jazz schedule here.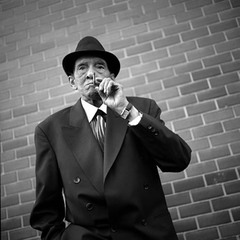 Fri. July 22 -- Singer Jimmy Scott, whose roots go back to the '40s (he recorded with Terry Gibbs for Savoy as early as 1952!), has authored some of the most magical and disturbing performances I've ever witnessed. At the EchoPlex, 1154 Glendale Blvd., Echo Park 90026; 9pm; $17-$22 (the extra fiver gets you a reserved seat); www.attheecho.com.
Fri. July 22 -- What, does guitar legend Kenny Burrell have a cot in this joint now? Good. With pianist Tom Ranier, saxist Tivon Pennicott, drummer Clayton Cameron and bassist Trevor Ware. At Catalina Bar & Grill, 6725 Sunset Blvd., Hollywood 90028; 8 & 10pm; $22-$30; (323) 466-2210; www.catalinajazzclub.com.
Fri. July 22 -- Even if guitar city slicker Jeff Kollman ain't got Chad Smith tonight, don't sneeze at the stomp of drummer Kenny Aronoff behind the funky Bombastic Meatbats (with bassist Kevin Chown and keyboardist Ed Roth). At the Baked Potato, 3787 Cahuenga Blvd. West, Studio City 91604; 9:30 & 11:30pm; $20; (818) 980-1615; www.thebakedpotato.com.
Sat. July 23 -- Psychedelic '70s improvisational choppery abounds with Tool drummer Danny Carey and Volto, featuring keysman Kirk Covington, bassist Lance Morrison and guitarist John Ziegler. At the Baked Potato, 3787 Cahuenga Blvd. West, Studio City 91604; 9:30 & 11:30pm; $25; (818) 980-1615; www.thebakedpotato.com.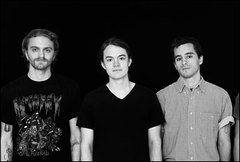 Sat. July 23 -- Dude, Brooklyn black-metal hoodsmen Liturgy really pour it on. I mean, is that even a beat? Waves of sludge, too; stand back. With Chelsea Wolfe, Ides of Gemini. Early show! At the Echo, 1822 Sunset Blvd., Echo Park 90023; 5pm; $10; (213) 413-8200; www.attheecho.com.
Sun. July 24 -- Coulda sworn that I got a message about a saxist named Littletree whom I dug, and I've been wanting to plug this homey storefront restaurant, with its mom-tested soul food and Ethiopian wot-all, beer & wine. But I can't find the mail. Give 'em a call about the music, but the food's worth the trip anyway. Industry Café and Jazz, 6039 Washington Blvd., Culver City 90232; 7:30 & 9:30pm; pay what seems right; (310) 202-6633; www.industrycafeandjazz.com.
Sun. July 24 -- The Slake magazine boosters get all literary on yer ass with another fun reading/party. The readers: Marc Cooper (a raving pinko, at the least!), Natasha Vargas-Cooper, James Greer, Erica Zora Wrightson, Brendan Schallert. At Vroman's Bookstore, 695 E. Colorado Blvd., Pasadena 91101; 3pm; FREE; (626) 449-5320.
Wed. July 27 -- Drummer Stanton Moore lays down the fatback with his greasy New Orleans trio featuring organist Robert Walker and bassist Will Blades. He also puts on a free drum clinic beforehand at 7pm. At the Mint, 6010 Pico Blvd., LA 90035; 9:30pm; $20; (323) 954-9400; www.themintla.com.
Wed. July 27 -- Modern grooves get mighty smart when saxist Ben Wendel's around, and he's got a whale of a band: attitudinous saxist Walter Smith III, cool california guitarist Larry Koonse, bassist Billy Mohler and drummer Steve Hass. At the Blue Whale on the third floor of Weller Court Plaza, south of East First Street between South Los Angeles Street and South San Pedro Street, Little Tokyo 90012; 9pm-midnight; $10; validated parking underneath off Second Street at the sign of the P in a circle; (213) 620-0908; www.bluewhalemusic.com.
Thurs. July 28 -- World Ambient Symphony take you on a coloristic undulating ocean voyage of electronic cyclations via guitarist Matt Piper, percussionist Koorosh Daryaie, bassist John von Seggern and electroman Benatos Thompson of Cursed Chimera. They're in the 9:30 slot, surrounded by five other artistic expressions. At Good Hurt, 12249 Venice Blvd., West L.A. 90066; FREE.
Thurs. July 28 -- I'd tell ya what Nick Mancini has got booked this week, but I dunno yet. Gonna be good, cuz good is what he prefers. At Curve Line Space Gallery, 1577 Colorado Blvd., Eagle Rock 90041; 7:30pm; $10; (323) 478-9874.


Jazz Times just laid out a thorough and well-written story on metal & jazz. Check it out here.


Read Brick Wahl's jazz picks in LA Weekly here (he's got great mainstream and Latin selections), Don Heckman's jazz picks here and MoshKing's metal listings here. Read John Payne's plutonic Bluefat.com here.