Fri.-Sat. July 8-9 -- John Doe & Jill Sobule just forged an album together, and they're taking the rooted singer-songwriter thing on the road; gonna be some good harmonies and dusty longing. Opening is the duo of Sean Wheeler & Zander Schloss. Punk never dies, it just goes acoustic. At McCabe's, 3101 Pico Blvd., Santa Monica 90405; 8pm; $22.50; (310) 828-4497; www.mccabes.com.
Sat. July 9 -- There's something about the combination of that Doe dude I just mentioned and poet-musician-artist-preacher Exene Cervenka that I can't quite place. Pop another gingko. Anyway, she's part of this anarchy-themed variety show hosted by my ol' newsweekly comrade Rubén Martínez and "cultural activist" Raquel Gutiérrez and directed by Colin Campbell. The lineup also includes early East L.A. punk demiurges Los Illegals, locutor Richard Montoya (Culture Clash), "interdisciplinary artist" Marcus Kuiland-Nazario and a bunch more poets, radicals, historians, filmmakers and suspicious types. Not yer usual nightclub event. At the Echo, 1822 Sunset Blvd., Echo Park 90023; 5-9pm; $7; all ages; (213) 413-8200; www.atthecho.com.
Sat. July 9 -- Melodic/thrash/etc. L.A. metal stalwarts Armored Saint still rock the stage with basically the same lineup they had in 1982. With Hirax, Hammering Process, the aptly named Scarred, and Intensity. At the Key Club, 9039 Sunset Blvd., West Hollywood 90069; doors pm; $20; 15+; www.keyclub.com; (310) 274-5800.
Sat. July 9 -- With no Ozzfest this year, you could do a lot worse than Mayhem Fest. Megadeth omit this stop in favor of the only 2011 performance (11:10pm) by the actually quite entertaining "Metalocalypse"-inspired post-cartoon band Dethklok, featuring Brendon Small, Gene Hoglan, Bryan Beller and Mike Keneally (to soak up the other Zappa-Utopia-fusion-metal mischief guitarist Keneally can get into, tap his new live "Bakin' at the Potato"). Aside from the popular bands whose merits elude me (Disturbed, Godsmack, In Flames, All Shall Perish), there's plenty of artistic ear-crushing by versatile & surprising Bay Area vets Machine Head (7:10), supertwiddlers Trivium (6:15), classic melodic-thrash Oaklanders Testament (5:40) and wildly tuneful punk-bash songwriters Unearth (5:10). My advice is to go early, drink a lot, pass out before sunset, take a nap, and split while traffic permits. And just because Jägermeister happens to be a sponsor doesn't mean you have to puke and act like an idiot. San Manuel Amphitheater, 2575 Glen Helen Parkway, San Bernardino 92407; 2:15pm; looks like only the premium $80 tickets are left for the amphitheater but there are two other stages for the earlier bands; (909) 880-6500; www.ticketmaster.com.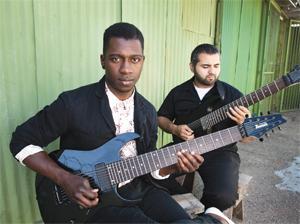 Sun. July 10 -- Animals As Leaders bring variegated headbanging tech instru-metal with sprung time signatures, pretty damn metaljazzy! Swell pairing with local prog-metal conceptualists Intronaut, plus four more. At the Key Club, 9039 Sunset Blvd., West Hollywood 90069; doors 6pm; $13; 15+; www.keyclub.com; (310) 274-5800.
Sun. July 10 -- This week's Grand Ole Echo country barbecue features kangaroo wrangler Matt Ellis, community roots troublemakers The Singers & Players Society, low & lonesome acid twangers I See Hawks in L.A., and The Coals. At the Echo, 1822 Sunset Blvd., Echo Park 90023; 5-9pm; FREE; all ages; (213) 413-8200; www.atthecho.com.
Tues. July 12 -- If yer in the nabe, why not catch Brian Auger's Oblivion Express, featuring the jazzrocky organist with roots in the '60s? Got cheep wine tasting and all. At Hollywood & Highland, Hollywood, 7pm; FREE.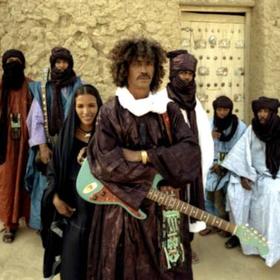 Wed. July 13 -- Malian desert music that fookin rocks: Tinariwen. At the Troubadour, 9081 Santa Monica Blvd., West Hollywood 90069; doors 8pm; $26; all ages; www.troubadour.com.
Thurs. July 14 -- Nick Mancini is gearing up a weekly jazz series, and that means quality. Up first tonight is the piano-drums-bass Raymond/Pineda/Johnson Trio, which I can recommend unheard on the basis of bassist Johnson, the J in the penetratingly inventive MTKJ Quartet. Next it's City Bird, described as indie folk with harmonies and noisemakers. Support the newness. At Curve Line Space Gallery, 1577 Colorado Blvd., Eagle Rock 90041; 8pm; $10; (323) 478-9874.
Thurs. July 14 -- Heroes of Black Jazz are an ensemble of artists who cut underground records on Gene Russell's soul-avant Black Jazz label back in the early '70. Associates Henry "The Skipper" Franklin, Calvin Keys and Carl Burnett are joined by George Harper and Bobby Pierce. Barbara Morrison Performing Arts Center, 4305 Degnan Blvd., Suite 101, Leimert Park 90036; 8pm; $20 ($10 tix at www.goldstar.com); (323) 296-2272; www.barbaramorrison.com.
Thurs.-Fri. July 14-15 -- The bass & guitar gods of fusion, Bunny Brunel & Allan Holdsworth, join forces with keysman Dennis Hamm and drummer Ronald Bruner Jr. for the finger-blurrinest casually scorching head trip on the planet. At the Baked Potato, 3787 Cahuenga Blvd. West, Studio City 91604; 9:30 & 11:30pm; $25; (818) 980-1615; www.thebakedpotato.com.
Read Brick Wahl's jazz picks in LA Weekly here (he's got great mainstream and Latin club selections), Don Heckman's jazz picks here and MoshKing's metal listings here. Read John Payne's plutonic Bluefat.com here.