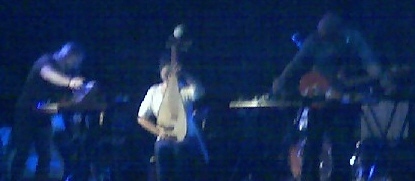 Glory be -- Kim Fowley did indeed guest-emcee the monthly outmusic series ResBox at the Steve Allen Theater. Gonna blab about that, but lest the sideshow usurp the big top, I'll run down the featured artists first.
On the left, hairy swain Hans Fjellestad (the dangerous spy who curates Resbox) stoops over one of the vintage analog synthesizers in which he specializes. On the right, shorn guru G.E. Stinson runs an incidental guitar through a mess of essential FX machines. In between sits Jie Ma, a youngish Chinese woman with a pipa (lute-like four-string) perched vertically on her lap. Fjellestad and Stinson have often intersected on the L.A. scene, while we're a more distant orbit for Frisco resident Ma. Her middle stage placement casts her acoustic instrument as a bridge between two extremely electric ones, a situation that requires some tuning in for everybody, and it sounds pretty random at first. Soon, though, Ma's subtle, multi-timbred plucking becomes a meditation in a grotto garden where Fjellestad's burbles and whooshes act as the earthly waterfall, while Stinson's space drones, imperial echoes and toothbrush-strummed chords imply the unforeseen amplifications of an alien presence. We're all aliens here.
Next, drummer Ted Byrnes and electric guitarist Han-Earl Park launch into fast, busy abstraction. Byrnes tosses kitchen equipment around his kit, keeping up an ever-changing lightheaded commentary. Park applies every technique to his detuned ax -- tapping, sliding, muting, twisting the machine heads. It's simultaneously disciplined and barbaric. For the second time in a week, I witness a guitarist (the other was Allan Holdsworth) sounding as if he's playing backward, and this time it's clear that the method involves heavy pumping of a volume pedal. Between assaults, Park re-detunes his guitar. Ever ready for audience participation, Stinson yells, "Dude, why bother?" Park explains that he's careful to avoid accidental tonality.
Having admired Slumgum's record, I'm stoked to experience their artful simplicity in person. They coast through long composed suites, grooving easily in oblique tribute to 1974 Miles and breaking down into improv sections that leave plenty of elbow room. It's a bit distant, but beautiful, and they pull you in. On tenor and soprano, the indifferently confident Jon Armstrong applies his strong technique to trancy circular arpeggios and sustained gentle overblowing, often resorting to an Ayleresque bathetic vibrato that at first seems sarcastic but isn't. Rory Cowal lays down softly decisive chords on electric piano. Drummer Trevor Anderies and bassist Dave Tranchina are big listeners who forsake not the beat. The general rule of counterpoint gives way to a single steaming crescendo. Memorable.
Before and after and between the sets, Frankensteinian Kim Fowley spends more total time onstage than anybody else. Fjellestad, who's also a documentary filmmaker, tells me he met Fowley while directing an upcoming doc on the history of the Sunset Strip from the 1958 Ciro's Rat Pack days onward. (Fowley's involvement in the '70s Strip scene with bands such as the Runaways, the Hollywood Stars and the Quick is of course legend; we used to see him everywhere with short sidekick Rodney Bingenheimer of Rodney's English Disco.) So Fjellestad and Fowley became friendly, and Fowley demanded to host this show on the very occasion of his 72nd birthday.
Waving a cane (which he now needs), Fowley wears a dark suit with a gaudy plaid shirt, his face streaked with silver makeup, his hair dyed sorta blond. He keeps giving a perked-up English partner named Claire orders for start-stop gypsy-country-boho violin accompaniment as he improvises poems about lesbians, masturbation and the gleam of dried cum on the floor. He solicits audience requests for encyclopedic commentary on whatever -- Steuart Liebig offers "pineapple"; I contribute "Huey Long." He launches into spontaneous monologues regarding his ridiculously varied career, relating a discussion about song theft with John Lennon at Live Peace Toronto, inventing fanciful gonorrhea titles for Helen Reddy records he produced, listing cancers he's survived (prostate, bladder). "The secret to long life," he tosses off with his trademark blasé contempt, "is to be an asshole." He's entertaining more often than you'd expect.
Slumgum plays "Happy Birthday" for Fowley; he responds by teaching the band a chord progression on the spot and leading them through a groove as he spouts beatnik nonsense. It's good!
"I'll die before any of you," shrugs Fowley. "And when you get to heaven/hell/purgatory, I'll be waiting for you in a club just like this."
PHOTOS OF KIM FOWLEY & CLAIRE (MAIN PAGE) AND HANS FJELLESTAD - JIE MA - G.E. STINSON (TOP) BY FUZZY BJÖRK.