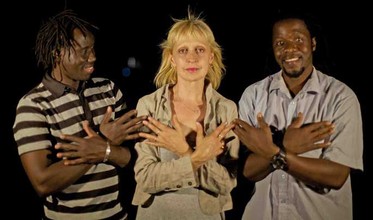 Leni Stern, "Sabani" (LSR). Longtime survivors often show a combination of depth and lightness -- depth because they've seen the bottom, and lightness because the earth can't hold them anymore. Stern's journey into African music reaches a point of peaceful knowledge with this mostly acoustic set, performed with a few African musicians in Mali. The rhythms are subtly complex, the songwriting clean, as Stern ponders and loves. And dances. Digital download here.
Art Pepper, "Blues for the Fisherman" (Widow's Taste 4-CD). The latest archival release produced by alto legend Art Pepper's wife, Laurie, encompasses FOUR discs of a 1980 live recording session at Ronnie Scott's in London. Pepper's in a bluesy mood, and he's got a familiar crack band, restless and sparky: pianist Milcho Leviev, bassist Tony Dumas and drummer Carl Burnett. Laurie's exhaustive project is valuable not just for the music, but for the extension of the Pepper biography "Straight Life" she offers in the detailed liner notes. Great stories and pix here, including a snap of a friend of a friend, Marianne Faithfull, looking utterly wasted and wounded. To buy this (cheep), to get free downloads, to read discussions and lots of other stuff, visit the Art Pepper site here.
Lee Konitz, Brad Mehldau, Charlie Haden, Paul Motian, "Live at Birdland" (ECM). Although saxist Konitz was wearing out the same floorboards as Charlie Parker during bebop's prime, he's no straight traditionalist. So it's no surprise that when he and these genii from the extreme reaches of jazz got together to celebrate bop-related classics ("Lover Man," "Oleo," "Solar"), the results were far from rote. Spacious, quietly playful, intermittently fascinating.
Matthew Shipp, William Parker, Beans, Hprizm, "Knives From Heaven" (Thirsty Ear). Freedom & electronix meet hip-hop in another mindbend from the great Thirsty Ear label. If you play it quietly, this is background music for the kind of disjointed, determined, coffee-addicted lives we actually live right now. If you play it louder, it could make you quit your job.
Wadada Leo Smith's Organic, "Heart's Reflections" (Cuneiform 2-CD). Perennial trumpet abstractionist Smith displays his groove side with this 14-member electronic ensemble -- extended caravan journeys colored with strange animals, ambushes and ominous smoke on the horizon. Good driving music.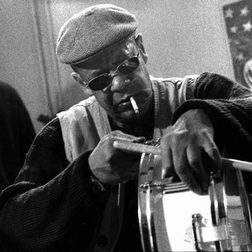 "Sonic Liberation Front Meets Sunny Murray" (High Two). The modern multicultural free jazz of Kevin Diehl gets reinforcement from original freedom fighter Sunny Murray -- Cuban, African, Native American and whatever unite on the cellular level. Recorded in 2002 and 2008, the multipercussion interaction is insidious, particularly on drummer Murray's compositions.
Mike Keneally Band, "Bakin' @ the Potato" (Exowax DVD+CD). Between spates of Keneally's poetically personal lyrics and tweaky melodies, you get epical structures and tons of gnarly shred from the guitarist-keyboardist-vocalist and his ace band -- bassist Bryan Beller, guitarists Rick Musallam & Griff Peters, drummer Joe Travers. Fusion as life. (Mostly the same material in both formats, but the DVD has a few extra tunes.)
Ochion Jewell, "First Suite for Quartet" (Mythology). A lilt, a tinkle, a wistful thought. Jagged modernism, jungly rumble. NYC saxist Jewell and his mates (Qasim Naqvi, Sam Minaie, Amino Belyamani) show that the truest, most personal comprovisation continues to get channeled through CalArts' music school. Listen free here.
David Strother, "Soundings.Live." L.A. violinist Strother took his folkhearted melodic conceptions to non-concert locations and jammed with the people, the vehicles and the ozone. And he came up with some very lovely, very touching interactions that'll make you see your next trip to the pet store differently. Listen free here.