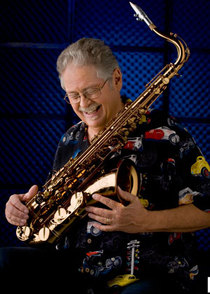 Fri. Aug. 12 -- Don't expect stodgy swing from the 11-piece Tall and Small Band, led by saxist Pete Christlieb and trombonist Linda Small. The harmonies are modern and the groove has an edge. At LACMA, 5905 Wilshire Blvd., LA 90036; 6-8pm; FREE; Friday summer jazz schedule here.
Sat. Aug. 13 -- Drummer Joe LaBarbera (Bill Evans, Art Pepper, Art Farmer and everyone) leads an intelligently swinging all-star quintet featuring trumpeter Clay Jenkins, saxist Bob Sheppard, pianist Gerald Clayton and bassist Tom Warrington. A Jazz Bakery Movable Feast presentation at the Marjorie Branson Performance Space of Boston Court, 70 N. Mentor Ave., Pasadena 91106; 8:30pm; $25, students $15; (626) 683-6883; www.bostoncourt.com.
Wed. Aug. 17 -- Pianist Thollem McDonas thinks quicker than God, but his pressure-packed melodic constructions don't leave you in the dust. He's duetting with magna-drummer Alex Cline, too! Good eats here, and it's open for dinner tonight. At Royal-T, 8910 Washington Blvd., Culver City 90232; 8pm; $10, $5 students; (310) 559-6300; www.royal-t.org.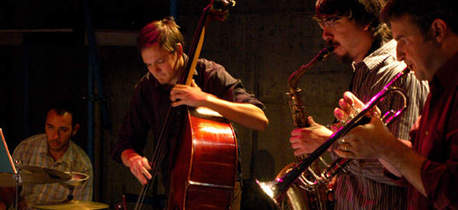 Thurs. Aug. 18 -- At the forefront of turning jazz inside-out in ways both appealing and challenging stand Empty Cage Quartet, i.e. saxist Jason Mears, trumpeter Kris Tiner, bassist Ivan Johnson and drummer Paul Kikuchi. At the Hammer Museum, 10899 Wilshire Blvd., West L.A. 90024; 8pm; FREE; (310) 443-7000; www.hammer.ucla.edu.
Thurs. Aug. 18 -- They're young, they've got chops, they draw from classical and jazz traditions, and Afrospirit vocalist Dwight Trible digs them enough to join in: It's the quartet of Colin Woodford, Otto Ehling, Adam Ratner & Carter Wallace on drums, piano, guitar & bass. A Jazz Bakery Movable Feast and Culver City Music Festival presentation in the courtyard of Culver City City Hall, 9770 Culver Blvd., Culver City 90232; 7pm; FREE.
Thurs. Aug. 18 -- Brit rockers Uriah Heep always managed to make easy living sound so scary with their minor keys and eerie vocal harmonies. They ain't been to L.A. in 10 years, but they've still got original guitarist Mick Box and Spiders From Mars bassist Trevor Bolder (a Heepster since 1976). Singer David Byron, who died in 1985, was always the one I liked least; Bernie Shaw, front man since 1986, is a lot less creepy. As evidenced by a new alb released in April, Heep's still crafting somewhat glossier prog. With Neon Max, SoulJourners and OhSoWild. At the Key Club, 9039 Sunset Blvd., West Hollywood 90069; 8:30pm; $22; www.keyclub.com; (310) 274-5800.
You can't read Brick Wahl's jazz picks in LA Weekly anymore, because he decided to go sane, but you can still read Don Heckman's jazz picks here and MoshKing's metal listings here. Read John Payne's plutonic Bluefat.com here.