The citywide Angel City Jazz Fest is on yer ass right now, and concludes next week with its John Anson Ford Amphitheater blowout (Pan Afrikan Peoples Arkestra, Rudresh Mahanthappa, et al.) on Saturday October 1 and its Roscoe Mitchell-Alex Cline event at REDCAT on Sunday October 2. Congrats to organizers Rocco Somazzi and Jeff Gauthier on the festival's fourth spectacular year of adventure music, this one sporting a "world jam" theme. I'm marking festival events below with ***. Rob a Wal-Mart and buy tickets for all your friends at the Angel City web site.
*** Fri. Sept. 23 -- The way pianist Larry Karush spins together a balanced web of world music truly boggles the mind. Read my February review here. Also: The Shutz Vtet, winner of Angel City's Young Artist Competition. At LACMA, 5905 Wilshire Blvd., LA 90036; 6-8pm; FREE; Friday summer jazz schedule here.
Fri. Sept. 23 -- It's been a long time since Sonny Rollins blew tenor with a lot of intensity, but he still blows with a lot of joy. A UCLA Live presentation at Royce Hall; 8pm; $30-$105; www.uclalive.org.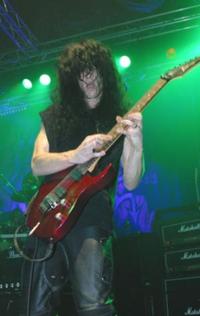 Fri. Sept. 23 -- The polar responses to Morbid Angel's current "Illud Divinum Insanus" indicate that extreme guitarist Trey Azagthoth is keeping it fresh, so give him a break. The slower tempos and grungier textures make their own statement, and if voxman-bassist David Vincent's return for MA's first album in eight years doesn't fulfill expectations of those who crave pure original Florida death metal, well, people change and even grow, sorry. My biggest complaint also applies to many other metal bands: Do NOT use internet translation programs for your Latin album titles and band names; this one makes no grammatical sense. I had eight years of Latin; hit me up and I'll do it for free. Great support from Sadistic Intent, Abigail Williams, Dreaming Dead. At House of Blues, 8430 Sunset Blvd., West Hollywood 90069; 7:30pm; $37; (323) 848-5800; www.livenation.com.
Fri.-Sun. Sept. 23-25 -- The jazz Hammond organ tradition = Joey DeFrancesco, in a trio with drummer Ramon Banda and guitarist Rick Zunigar. At Catalina Bar & Grill, 6725 Sunset Blvd., Hollywood 90028; 8 & 10pm; $22-$25; (323) 466-2210; www.catalinajazzclub.com.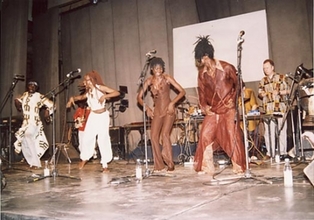 *** Sat. Sept. 24 -- From Burkina Faso, the grooving-singing-dancing ensemble Burkina Electric border on too much danceable African glee for me, but add the complications of percussionist Lukas Ligeti (son of avant composer György Ligeti) and the otherworldly electronifications of the wonderful DJ Spooky to their mix, and you got a collaboration with exciting depth. At the EchoPlex, 1154 Glendale Blvd., Echo Park 90026; 9pm; $20-$25; www.attheecho.com.
Sat. Sept. 24 -- The Luckman Jazz Orchestra knows how to keep the tradition vibrant with radically personal arrangements backed with experience and understanding. Tonight they tackle the book of Horace Silver, and it will be riotous and righteous. Read my new LA Times stories on LJO director Charles Owens here and here.. At Cal State L.A.'s Luckman Fine Arts Complex, 5151 State University Drive, L.A. 90032; 8pm; $25-$35; (323) 343-6600; www.luckmanarts.org, www.ticketmaster.com.
Sat. Sept. 24 -- Microtonal alert: John Schneider, stroker of alternatively fretted guitars, plays music of Lou Harrison, Terry Riley, Ben Johnston and himself. A presentation of SASSAS's Sound series at Kings Road Park Pavilion, 1000 N. Kings Road, West Hollywood 90069; 5pm (a good hour at this tidy garden-adjacent location), FREE; www.sassas.org.
Sat. Sept. 24 -- Pianist Alan Pasqua and guitarist Larry Koonse perform the music of Bill Evans to celebrate the release of Pasqua's new Evans album; these two have the perfect sensitive aesthetic for the job. At Vitello's Restaurant, 4349 Tujunga Ave., Studio City 91604; 8pm; $20 cover plus $13 minimum; (818) 769-0905; www.vitellosrestaurant.com.
Sat. Sept. 24 -- UFO deliver the hard-rock goods, the way singer Phil Mogg and company have been doing for over 40 years. Read my 2009 live review here. With four openers, including Scarred. At the Key Club, 9039 Sunset Blvd., West Hollywood 90069; 8pm; $25; 18+; www.keyclub.com; (310) 274-5800.
Sat.-Sun. Sept. 24-25 -- The Watts Towers Jazz Festival and Day of the Drum always have the best vibe of the hot season, relaxed and open. This year the Day of the Drum is Saturday, closing with a percussion-summit tribute to Stevie Wonder at 4pm. Jazz day is Sunday, closing with The Pan African Peoples Arkestra, celebrating its 50th year, at 3:30pm. At the Watts Towers, 1727 E. 107th St., Watts 90002; 11am-5pm; FREE; full schedule here.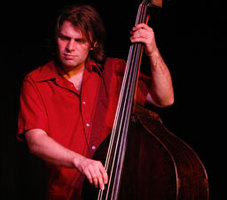 *** Sun. Sept. 25 -- If you haven't yet inhaled the fragrance of Todd Sickafoose's Tiny Resistors, get a whiff of the textual invitation and compositional holography that have become a template for future jazz. Delightful stuff. Opening is the exotic conceptual vocalist Theo Bleckmann. At REDCAT, 631 W. Second St., downtown 90012; 8:30pm; $20; www.redcat.org. As I write, the REDCAT web site is not accessible from every computer, but don't worry about getting advance tickets; you can buy 'em at the venue on show night.
Tues. Sept. 27 -- Raspthroater Angela Gossow and Arch Enemy tear it up with hair-raising twin-guitar Swedish melodic metal -- one of the world leaders. What a bill, too, with Dez Farfara's scorching DevilDriver, the South Ohio axmanship of Skeletonwitch, and Taiwanese openers Chthonic, who display a healthy respect for classical/classic metal whilst growling their guts out. At Club Nokia, 800 W. Olympic Blvd., downtown 90015; 7pm; $21.50; www.ticketmaster.com.
Wed. Sept. 28 -- You're kidding, UFO and Saxon in the same week? Gonna be a lot of rockin' L.A. sexagenarians calling in sick. The Brit bludgeoners showed some welcome polish with their 2009 album, "Into the Labyrinth," which I reviewed here. With three openers. At the Key Club, 9039 Sunset Blvd., West Hollywood 90069; doors 7:30pm; $20; 18+; www.keyclub.com; (310) 274-5800.
Wed. Sept. 28 -- Today's mainstream can be damn appealing when it comes from Houston pianist Robert Glasper, who lays out the pretty stuff but can also stir up some credible abstraction. He's worked with a lot of rappers, but you'd never guess it. The trio features bassist Derrick Hodge and drummer Chris Dave. A presentation of the Jazz Bakery's Movable Feast at the Musicians Institute, 1655 N. McCadden Place, Hollywood 90028; 8:30pm; $25, students $15; www.jazzbakery.org.
Read Don Heckman's jazz picks here and MoshKing's metal listings here. Read John Payne's plutonic Bluefat.com here.