The citywide Angel City Jazz Fest concludes this weekend; climb on the megatastic "world jam" train. I'm marking festival events below with ***. Tickets? Why, you can get those at the Angel City web site.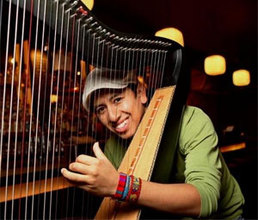 *** Fri. Sept. 30 -- You don't run into many dudes who absolutely rip on harp, but Edmar Castaneda tears around the strings like a demon as he blends strains of flamenco, Latin jazz and even avant gnarl. His band is drummer Dave Silliman, saxist Shlomi Cohen and singer Andrea Tierra. Opening vibraphonist Nick Mancini rolls his NYC-to-LA aesthetic of challenge and beauty, augmenting his shocking technical flights with pianist Otmaro Ruiz via the drums of Kevin Yokota and the bass of Garret Lang. You're gonna vibrate after this one. At the Colburn School's Zipper Hall, 200 S. Grand Ave., downtown 90012; 8pm; $25, students $18.
Fri. Sept. 30 -- Bassist-singer Esperanza Spalding brings a fresh sense of poetry and theater to her beautifully crafted, Latin-tinged jazz, plus she's young and cute. So what's not to like? Read my LA Times live review here. At the Orpheum Theater, 842 S. Broadway, downtown 90014; 8pm; $28-$60; all ages; (877) 677-4386; www.laorpheum.com, www.ticketmaster.com.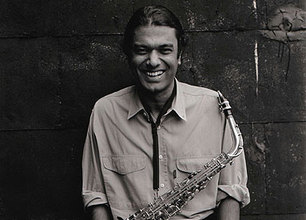 *** Sat. Oct. 1 -- Here it is, Angel City's 6-hour orgy of global sounds in a truly delightful outdoor amphitheater setting; forecasts predict that it won't dip below 70 degrees until about 7pm, and never get below the mid-60s, clear and with a mystic crescent moon hanging above. Opening is the tumultuously surgin' Pan Afrikan Peoples Arkestra (5pm), celebrating the 50th year of the late Horace Tapscott's master project under the energetic direction of longtime windman Michael Session and featuring the vocal flights of Dwight Trible. Things quiet down for the spiritual piano-trumpet meditations of avantists Satoko Fujii & Natsuki Tamura (6:15). Any band that calls itself The Kandinsky Effect (7:00) has got my attention, and this American-French trio has garnered many a plaudit for its all-encompassing open-air melodicism. Armenian-Parisian pianist Tigran Hamasyan (8:00) is one of those classically influenced dazzlers, and he's got a crack quintet featuring saxist Ben Wendel. India-derived saxist Rudresh Mahanthappa's Samdhi (9:30, pictured) closes with some of the most bent-angled abstractions to catch critical ears in a long time, and he can even groove. Plus: DJ music, belly dance, spoken word, crafts, etc. You can get food and beer/wine there, too. At the John Anson Ford Amphitheater, 2180 Cahuenga Blvd. East, Hollywood 90068; doors 4pm; $45, students $18, children $12. I was apprehensive about the stacked parking last year, but it turned out to be no problem.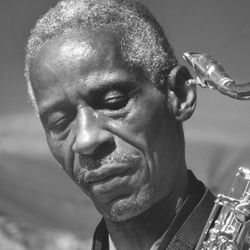 *** Sun. Oct. 2 -- The great Chicago windman-composer Roscoe Mitchell, stalwart of the influential AACM, visits with a trio featuring windman James Fei and percussionist William Winant. And to open, Alex Cline presents a special interpretation of a work very close to him, Mitchell's 1969 "For People in Sorrow"; percussionist Cline leads a deep all-star ensemble featuring Oliver Lake, Vinny Golia, Dan Clucas, Dwight Trible, Jeff Gauthier, Maggie Parkins, Mark Dresser, Myra Melford, Zeena Parkins and G.E. Stinson, conducted by Will Salmon. Damn. At REDCAT, 631 W. Second St., downtown 90012; 7pm; $30, students $25; www.redcat.org.
Sun. Oct. 2 -- Pandit Hariprasad Chaurasia, master of the North Indian bamboo flute, takes you on the inward journey. At the Skirball Cultural Center, 2701 N. Sepulveda Blvd., LA 90049; 8pm; $30; www.skirball.org.
Sun. Oct. 2 -- A cut above the usual stoner rock: Weedeater, Saviours, Bison B.C., two more. At the Key Club, 9039 Sunset Blvd., West Hollywood 90069; 6:45 pm; $15; 18+; www.keyclub.com; (310) 274-5800.
Mon. Oct. 3 -- Warbringer represent today's young thrash; stand not in their pathway. With Lazarus A.D., three more. At the Key Club, 9039 Sunset Blvd., West Hollywood 90069; doors 7 pm; $13; 16+; www.keyclub.com; (310) 274-5800.
Wed. Oct. 5 -- Adventurous grooves and a relaxed vibe make Slumgum a great quartet to kick back to, and supersinger Dwight Trible sure is a surprising and intriguing augmentation. Mix it up, peeps! Open for exotic dinner, too. At Royal-T, 8910 Washington Blvd., Culver City 90232; 8pm; $10, $5 students; (310) 559-6300; www.royal-t.org.
Thurs. Oct. 6 -- Jacob Fred Jazz Odyssey carry their eruptive ambition to the realm of concept album with their new "Race Riot Suite," simultaneously old-timey, modern and autobiographical. A horn section featuring Peter Apfelbaum augments the quartet to reproduce the record. At the Mint, 6010 Pico Blvd., LA 90035; 9pm; $15; (323) 954-9400; www.themintla.com.
Thurs. Oct. 6 -- Evergrey mine the emotionally churning side of Gothenberg metal. Many other Swedes such as Sabaton keep getting the militaristic aggression out of their system via melodic chant-along metal instead of messy physical combat, and we must applaud that. With Powerglove, Blackguard, The Absence (the last is one of those twin-guitar bands I like). Helluva lot of heavy at the Key Club this week. At the Key Club, 9039 Sunset Blvd., West Hollywood 90069; doors 7:30 pm; $22; 18+; www.keyclub.com; (310) 274-5800.
Read Don Heckman's jazz picks here and MoshKing's metal listings here. Read John Payne's plutonic Bluefat.com here.