Sat. Oct. 22 -- The superb and wildly inventive pianist Larry Karush plays original works in various configurations with an ensemble featuring regular collaborators Randy Gloss and Brad Dutz (percussion), plus Danilo Lozano (flute) and Hamilton Price (bass). At Occidental College's Bird Hall, 1600 Campus Road, Eagle Rock 90041; 7:30pm; $10.
Sat. Oct. 22 -- You're sure to get the full spectrum of shred, weirdness and sensitivity when former Zappa axman/singer/keyboardist Mike Keneally leads a simpatico quintet with guitarists Rick Musallam & Griff Peters, plus bassist Bryan Beller and drummer Joe Travers. Dig it and pick up his current album, which was recorded right on these boards. At the Baked Potato, 3787 Cahuenga Blvd. West, Studio City 91604; 9pm; $30 for the whole night; (818) 980-1615; www.thebakedpotato.com.
Sat. Oct. 22 -- Trumpeter Elliott Caine says he plays real jazz, and he ain't wrong. Check his post-traditional quartet. At Colombo's Restaurant, 1833 Colorado Blvd., Eagle Rock 90041; 9:30pm-midnight; no cover; (323) 254-9138.
Sat. Oct. 22 -- Fun free outdoor event: Food trucks, picnicking, a mess of percussionists and CalArts alumni pianists performing Stravinsky and Antheil. At CalArts' S. Mark Taper Foundation Courtyard, 24700 McBean Parkway, Valencia 91355; 7pm; FREE.
Sat. Oct. 22 -- Reet artistic mashman Gerry Fialka interviewed me a month back, and now he's curating this uncontainable show called Beyond Gesamtkunstwerk, throwing film, poetry, music and dance into the blender and slurping it raw. I have no idea what to expect from this. And how often can you say that? At Beyond Baroque, 681 Venice Blvd., Venice 90291; 7:30pm; $7 or whatever you can shell out; mind-boggling description here; (310) 822-3006.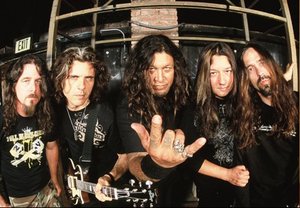 Sat. Oct. 22 -- The school of bicoastal early-'80s thrash metal pal it up: Anthrax, Testament, Death Angel. Despite how awesome Eddie Trunk says Anthrax's new "Worship Music" is (reunited with singer Joey Belladonna), it feels like stillborn, lukewarm semimelodic metal to me, but I was never that huge on the New York ragers. Testament (pictured) with Alex Skolnick burning the frets, though, cannot fail, and Bay cronies Death Angel rip. At Club Nokia, 800 W. Olympic Blvd., downtown 90015; 7pm; $26-$42; www.ticketmaster.com.
Sat. Oct. 22 -- I coulda swore that Judas Priest, Black Label Society & Thin Lizzy were playing the Gibson on the 25th, but looks like the muscle restricted "L.A.-area" shows to this one. Solid gold if you can make the drive, of course, although this is the first tour in 30-some years without Priest guitarist K.K. Downing, who's retired, and long may his petunias bloom. (Last world tour for Priest, too, or so goes the hype.) Zakk Wylde's BLS? Unstoppable. And this tributelike post-Lynott version of Thin Lizzy (featuring classic members Brian Downey and Scott Gorham) is actually a lot of fun. Cheap general-admission tickets seem to be still available. Strange feel to the whole thing. At San Manuel Amphitheater, 2575 Glen Helen Parkway, San Bernardino 92407; 6:30pm; $5; (909) 880-6500; www.livenation.com.
Sat. Oct. 22 -- Brit O.P.s The Vibrators knocked out one of the classic albums of 1977, "Pure Mania." (Where does the Redwood keep finding these bands?) And Billy Bones (formerly of L.A.'s Skulls) still drools and clowns with proper dignity. At the Redwood Bar & Grill, 316 W. Second St., downtown; (310) 245-0273; www.theredwoodbar.com.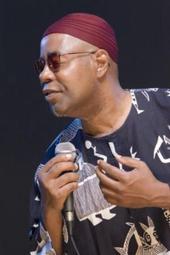 Mon.-Tues. Oct. 24-25 -- Give singer Dwight Trible enough time, and he'll completely disarm the Earth. Friends say, Ain't he way over the top? Doesn't he mean it too much? What's all this stuff about Love and God? All I can say is, Yeah, but the guy just blows down your defenses. He does! And his new "Cosmic" has that same wide-open sway and celebratory Afro-groove. When, on "In the Beginning GOD," he wrenches "no sun, no sky, no basketball, no baseball, no FOOTBALL" out of his lungs, I hardly know what to think. Is he saying things were BETTER before LeBron James and Ben Roethlisberger? Better before HUMANITY? Before creation? One can hardly argue, but that's rad, dude. And he and the band ride it on out. Nice half-time (pun intended) cover of "Ooh Child," too. Dwight's doing a couple of nights. See if you don't find a tear in your eye sometime along the way, in spite of yourself. Righteous mates: pianist Mark deClive, violist Miguel Atwood-Ferguson, bassist Trevor Ware, drummer Dexter Story. At the Blue Whale on the third floor of Weller Court Plaza, south of East First Street between South Los Angeles Street and South San Pedro Street, Little Tokyo 90012; 8:30pm & 10pm; $10; validated parking underneath off Second Street at the sign of the P in a circle; (213) 620-0908; www.bluewhalemusic.com.
Wed. Oct. 26 -- Keith Jarrett, Jack DeJohnette, Gary Peacock. The trio of great Miles vets, each a bandleader, getting busy in the most sensitive intellectual beautiful way. A UCLA Live presentation at Royce Hall; 8pm; $35; www.uclalive.org.
Wed. Oct. 26 -- Am I really plugging a version of The Sweet that features only the bass player (R.U. Ready Steve)? Aw, what could it hurt? Royal catalog: "Fox on the Run," "Action," and what was that one, "Tollroom Tits" or something. Got a latter-day live album just out. Plus more bands. At the Key Club, 9039 Sunset Blvd., West Hollywood 90069; 8 pm; $10; www.keyclub.com; (310) 274-5800.
Thurs. Oct. 27 -- Fluidly raging guitarist Gus G. got to stay in his modern melodic metalship Firewind when he joined Ozzy. Proggier, stranger and more intense: superaxman James Malone's Arsis. Plus publicity hounds White Wizzard, croakin' melodian twin-guitar Eurothrashers Nightrage. At the Whisky, 8901 Sunset Blvd., West Hollywood 90069; doors 6pm; $20; www.whiskyagogo.com; (310) 652-4202.
Thurs. Oct. 27 -- Chops to the max: the increasingly unacronymic CAB, featuring drummer Virgil Donati, keysman Dennis Hamm, bassist Bunny "B" Brunel, guitarist Alex Machacek. At the Baked Potato, 3787 Cahuenga Blvd. West, Studio City 91604; 9:30 & 11:30pm; $20; (818) 980-1615; www.thebakedpotato.com.
Thurs. Oct. 27 -- The hard-charging culturalists at the $2 Shows organization have corralled a night of exceptional local explorers: The Brad Dutz Quartet, Slumgum, Brian Walsh's Set Trio, Deux Sons. Seriously: the best for the cheapest. Presented in partnership with the community-arts outreachers OneLove.org. At Royal-T, 8910 Washington Blvd., Culver City 90232; 8pm; $2; (310) 559-6300; www.royal-t.org.
Read Don Heckman's jazz picks here and MoshKing's metal listings here. Read John Payne's plutonic Bluefat.com (new ish with Alejandro Jodorowsky, Nick Cave, et al.) here.