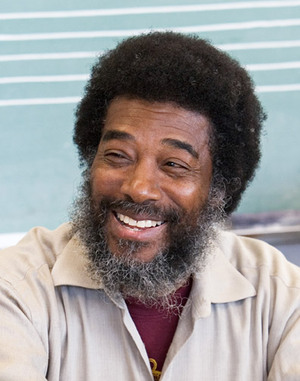 *** Fri.-Sun. Oct. 28-30 -- Wadada Leo Smith presents "Ten Freedom Summers," a collaboration between the latest configuration of his Golden Quartet (pianist Anthony Davis, bassist John Lindberg and drummer Susie Ibarra) and nine musicians from Southwest Chamber Music conducted by Jeff von der Schmidt. Each of the three entirely different nights will offer abstract portraits of seven significant figures/events in the civil-rights movement, for a total of 21 parts. Epic hardly begins to describe it, and if you're paying attention, Smith's multilayered modern music, original in every sense, is transformative. Read my review of the first night here. And read my LA Times article (which late programming changes caused to be inaccurate in a few details) here. At REDCAT, 631 W. Second St., downtown 90012; Fri.-Sat. 8:30pm, Sun. 7pm.; $38, students $28; www.redcat.org.
Fri. Oct. 28 -- Great way to launch 'Ween Weekend: Halloween Holocaust featuring 12 (why not 13?) metal bands, closing with Exmortus (10pm), Chemi-Kill (10:30), Witchaven (11:00) and the brilliantly named Death Valley Meth Lab (11:45). At Cobalt Café, 22047 Sherman Way, Canoga Park 91303; doors 6pm; $12; all ages; www.cobaltcafe.com.
Fri. Oct. 28 -- Art-tech composer George Sarah and his string trio figure in the Dark Carnival event featuring 12 bands, a costume contest, stuff like that. At Villains Tavern, 1356 Palmetto St., downtown 90013; starts 6pm or so, Sarah at 9pm; FREE; 21+; (213) 613-0766; www.villainstavern.com.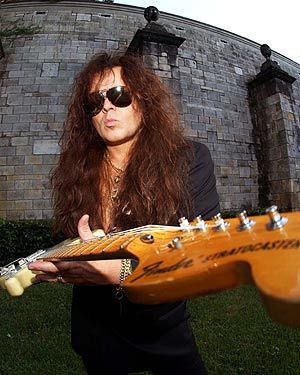 Sat. Oct. 29 -- Yngwie Malmsteen invented classical shred-metal and cannot fail to amaze, even if he's got Ripper Owens singing with him again, which is not a plus in my book. At Club Nokia, 800 W. Olympic Blvd., downtown 90015; 8pm; $22-$97; www.ticketmaster.com.
Sat. Oct. 29 -- Tool drummer Danny Carey plugs in the acid-fried instro-fusion with Volto, featuring keysman Kirk Covington, bassist Lance Morrison and guitarist John Ziegler. At the Baked Potato, 3787 Cahuenga Blvd. West, Studio City 91604; 9:30 & 11:30pm; $25; (818) 980-1615; www.thebakedpotato.com.
Sat. Oct. 29 -- Even if you're weary of "Celebrating Coltrane," you might take a second look upon noticing Javon Jackson in the sax spot, Miles-Trane drummer Jimmy Cobb on the drum stool, the omniscient Mulgrew Miller on piano and the sax-friendly Nat Reeves (Jackie McLean, Kenny Garrett, Pharoah Sanders) on bass. A Jazz Bakery presentation at the Nate Holden Performing Arts Center, 4718 Washington Blvd., LA 90016; 8:30pm; $30, students $20; www.jazzbakery.org.
Sat. Oct. 29 -- You know David Cotner? Smart writer, musical universalist, conceptual artist. His "primitive, disorienting hard rock" band Black Love won't be yer ordinary thing. At Antebellum Gallery, 1643 Las Palmas Ave., Hollywood 90028, 9pm; $5; 21+; (323) 856-0667.
Sat. Oct. 29 -- Quite the deal: Guitarist Tim Young (Wayne Horvitz, Beck, Sam Rivers) leads a stretchy sextet featuring drummer Danny Frankel, bassist Devin Hoff, singer Eryn Young, wind player Leah Paul and sitar-guitarist John Schuller. At the Blue Whale on the third floor of Weller Court Plaza, south of East First Street between South Los Angeles Street and South San Pedro Street, Little Tokyo 90012; 9pm-midnight; $10; validated parking underneath off Second Street at the sign of the P in a circle; (213) 620-0908; www.bluewhalemusic.com.
Sun. Oct. 30 -- You'll dig the rasty noise, steamin' bop and clangin' tango interspersed within the perceptive sensitivities of violinist Jeff Gauthier's new Cryptogramophone CD, "Open Source." The core of Gauthier's Goatette, pianist David Witham and drummer Alex Cline, teams up tonight with softly insinuating trumpeter John Fumo and inward-grooving bassist Scott Walton to celebrate the release. At Royal-T, 8910 Washington Blvd., Culver City 90232; 7:30pm; $10, $5 students; (310) 559-6300; www.royal-t.org.
Sun. Oct. 30 -- Singer Dave Vanian, guitarist Captain Sensible and The Damned have been celebrating Punkoween every day for 35 years, so they know how. At House of Blues, 8430 Sunset Blvd., West Hollywood 90069; 8pm; $30; 18+; (323) 848-5800; www.livenation.com.
Mon. Oct. 31 -- All Glenn Danzig, all the time: This blowout Danzig Legacy show incorporates sets by Danzig ("Mother"), Samhain ("Black Dream") and a span with guitarist Doyle doing Misfits material ("Die, Die My Darling"). Longtime G.D. loyalists can sure shut up about reunions now. Heavy, and on Glenn's favorite day of the year. At Gibson Amphitheater, 100 Universal City Plaza, Universal City 91608; 7:15pm; $27-$84; www.livenation.com.
Mon. Oct. 31 -- Former punk (Flyboys), postpunk balladeer (Plugz) and Nuevo Romantic (Choir Invisible) John Curry picks up the ukulele and plunks into early-20th-century pop in The Edwardo Show. Quite amusingly, too, with Flyboy Scott Lasken on bass, Joe Berardi on drums and Mike Bolger on trumpet & accordion. Costumery encouraged. At Perch, on the 15th floor of the Pershing Square Building, 448 S. Hill St., downtown 90013; 9pm; no cover I think; www.perchla.com.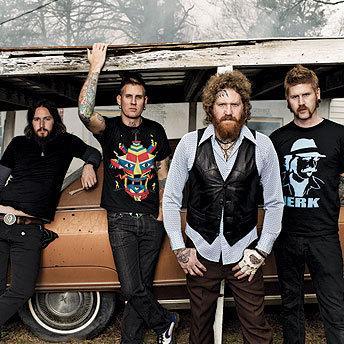 Tues. Nov. 1 -- Mastodon continue to evolve outa long-form prog and into concise songwriting with vocal melodies on their new "The Hunter," while retaining Brann Dailor's crazy drumming and the maelstrom sense of group push/pull that brought them an audience; I bet they'll still freak out quite a bit live. With the rad metallic abstractions of Dillinger Escape Plan, plus Red Fang, Black Tusk and, I dunno, Green Incisor. At the Wiltern, 3790 Wilshire Blvd., LA 90010; 8pm; $33-$42; (213) 388-1400; www.livenation.com.
Wed. Nov. 2 -- Cavalera Conspiracy (for Sepultura/Soulfly acolytes). Otep (for fans of poetic theatrical blast). And two more. At the Key Club, 9039 Sunset Blvd., West Hollywood 90069; doors 7pm; $28; 18+; www.keyclub.com; (310) 274-5800.
Wed. Nov. 2 -- Sad to report that after a solid debut and a super DVD, Chickenfoot's second studio album has toe fungus. It's all Sammy Hagar's fault, of course, with the most simpering balladry, the most clichéd boogerations, and even a couple of well-intentioned but lame-o forays into social commentary. Still, with the mightily bellowing Hagar supported by formidable guitarist Joe Satriani, Van Halen bassist Michael Anthony and killstomp drummer Kenny Aronoff (check his heavy work on Tony Iommi's "Fused"; he's temporarily subbing for the massive Chad Smith), Chickenfoot will thrive onstage. At Avalon, 1735 Vine St., Hollywood 90028; 7pm; $63; (323) 467-4571; www.avalonhollywood.com; www.ticketmaster.com.
Read Don Heckman's jazz picks here and MoshKing's metal listings here. Read John Payne's plutonic Bluefat.com here.