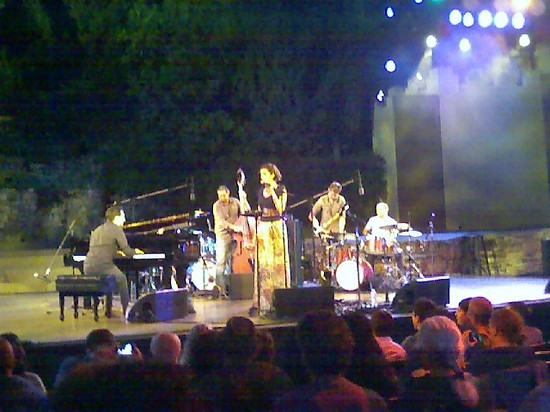 9/24: We trotted down, down, down the Stench Stairway (the cement bum-loo between Sunset Boulevard and the Glendale Boulevard underpass) and rushed into the refreshing environs of the EchoPlex, where a small crowd got to hog Burkina Electric & DJ Spooky all to themselves. B.E. were five West Africa-based humans in B&W print pajamas: Mai Lingani whoopgrowling dramatically in several languages whilst jerking her spring-loaded limbs, flanked by the Fey Dancer and the Macho Dancer, a guitarist twinkling Afro-pop arpeggios, and incongrous middle-aged Lukas Ligeti (son o' Gyorgy!) assaulting some electronic percussion device with his mallets. While the frontfolk provided slick visual focus, Ligeti more than held his own by piling wild counterbeats and noise bursts onto the programmed drums. Those loud, bottom-heavy polyrhythms kept us twitching in unexpectedly delightful ways until Spooky took to the turntables. And I dunno how Spooky does his thing -- a combination of subtle FX probably -- but he earned his Subliminal sobriquet with a set of fogbound elektro-dub and dance jolt centered on the tried & true grooves of James Brown, forcing our ass to do the thinkin', which it might as well.


10/1: We strolled into the John Anson Ford Amphitheater on a balmy evening, and the evil just drained out of us into the hawk-circled sky.
What a wonderful environment, perfectly suited to the Pan Afrikan Peoples Arkestra, which stretched out into limitless Mingus boogie and swaying Horace Tapscott waltz, with each solo tripping our heads more than the last, most notably the heart-stabs of trumpeter Richard Grant. The Ark's vocal auxiliary, The Great Voice of UGMAA, put on an especially colorful and entertaining display of soul & scat, with Dwight Trible wringing tears from the very birds in the trees with his yearning "Little Africa." Fifty years of PAPO, and may it run 50 more.
If you're gonna do a duo, it should own the scope of the piano-trumpet pair Satoko Fujii & Natsuki Tamura. Possibly still under the influence of the March tsunami in Japan, the two maintained a mood of quixotic dirge interspersed with intense agitation. She banged the keys with her elbow and scraped the strings like a zither; he brought stately emotion and creative note-shaping to the tango fantasia. Kept our attention.
Busy but subtle, drummer Caleb Dollister was the star of the Euro-jazz trio The Kandinsky Effect (pictured on main page). While saxist Warren Walker jaked his knees behind simple lines, and electric bassist Gael Petrina plucked a driving groove, the real improv was going on kitside via Dollister's lighthanded sticks. Not a lot of group pyrotechnics, but tangy touches of electronic FX -- an easy group to like in a festival setting.
Although pianist Tigran Hamasyan (pictured) wasn't the closer, both he and the Armenian audience that dominated the bowl were of the opinion that he was the headliner. So he stretched out his set of Eastern-folk-flavored fusion longer than anybody else, leaping from his stool as he fired off volleys of crisp improvisation that would have been more impressive if they would have ventured beyond two chords. Augmenting Hamasyan's snap-grooving trio, saxist Ben Wendel spieled out snaky unisons and harmonies with tall & lovely vocalist Areni Agbabian. Energizing at first, Hamasyan's more-of-the-same ended up wearying.
I'd been sick (Stench or French, I'll never know), so I lacked the gas to stay for the India twist & surge of saxist Rudresh Mahanthappa. But I went home and soaked up the variegated intensity of his upcoming record "Samdhi" (with psychedelic highlights from guitarist David Gilmore), and I recommend it.


10/2: What are you gonna do with AACM legend Roscoe Mitchell? Considering his immense influence and philosophical inspiration, you better bend a knee to the guy once in a while. Which is what Alex Cline did at REDCAT before a set by Mitchell's trio.
As the musicians trooped up to perform Cline's arrangement of Mitchell's 1969 "For People in Sorrow," a wave of emotion seized me, contemplating each of these players' importance to L.A. music and American avant music at large. Talkin' about people who've not only shouldered their axes, but helmed local labels (Vinny Golia, Jeff Gauthier) and booked local venues (Gauthier, Cline, Will Salmon, G.E. Stinson), and if you think that sh*t ain't a cross, think again. Legends: saxist Oliver Lake, bassist Mark Dresser. Women who rule: harpist Zeena Parkins, pianist Myra Melford, violist Maggie Parkins. Universally respected non-household names: trumpeter Dan Clucas, singer Dwight Trible.
Larry Ward intoned an excellent poem about triumph over grief through sound ("Music is a wild thing"), Zeena Parkins plucked some quiet notes, and the world started to rotate. You could have watched any one of these artists and stayed involved as one tonal cluster shifted into another. Lake scolded. Clucas punched. Stinson, Cline's "other guitar-playing brother," stung distorto blues. Sister Dang Nghiem contributed strange mournful chant on a projection screen via recorded performance. Cline, on his galaxy of percussion, kept it moving, the way he always does. When everything subsided to silence, the silence was correct. Standing ovation.
Roscoe Mitchell was a frail little man with a ton of dignity, truly, truly loved here. His trio set (one long composition I think) was dedicated to maybe the most significant musical forces of our time -- texture and drone. As he and James Fei sketched commentary and spare harmony on woodwinds, the weight of the sound fell on William Winant, who scraped, stroked and stabbed a million colors from timpanis, suspended bass drum, xylophone, marimba, gongs, cymbals and so much other stuff I couldn't keep track. We the audience were suspended. Where were we going? What were we supposed to feel? In keeping with long-established AACM principles, Mitchell wasn't going to help us with that; he was gonna make us look inside, the way he looks inside himself. It was beautiful. It was uncomfortable. The extended stasis was almost unbearable. If Coltrane liberated us, Mitchell made us scrutinize our golden chains.
We didn't like it. We weren't supposed to. We gave Mitchell another standing O. Of course.
PHOTOS BY FUZZY BURKINA.



Read Matt Duersten's valuable coverage of the fest here and other places around Stompbeast.