Four recent warheads from the fortress of ultraheavy progdog instrumentality. In 20 years, sages will look back on 2011 as the pinnacle of techjam history.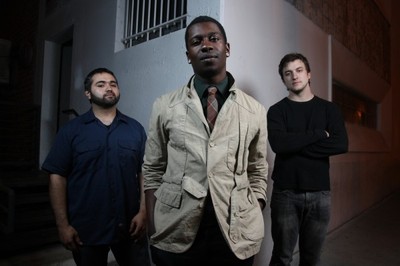 Animals As Leaders, "Weightless" (Prosthetic). Apologies to Thomas Adés and whomever, but why obsess over modern classical music when you can load up on eight-string guitarist Tosin Abasi? He's got all the technique, all the knowledge from Bach on up, all the compositional chops, and with only axman Javier Reyes and drummer Navene Koperweis to help, he damnwell CRUSHES you the way Wagner only dreamed (and our brutal century demands). With "Weightless," Abasi refines the studio-crafted raw energy of Animals As Leaders' 2009 debut into 12 concise projectiles that blast with apocalyptic urgency without dropping the flag of melodic triumph. Gargantuan seismology trades off with a palette of gauze-to-glitch shadings, and each sound pierces your earballs like a gem cutter thanks to the group's precision production. If the emotions and the aesthetic seem alien, go look in the mirror.
Blotted Science, "The Animation of Entomology" (Eclectic Electric). Can you be stifled and exhilarated at the same time? Watchtower guitarist Ron Jarzombek says yeah. His second Blotted Science stompdown with Cannibal Corpse bassist Alex Webster pushes and twists like a skewered centipede in fast-forward, taking you on a hairblown ride that'll make you grateful this is only a 25-minute EP. New drummer Hannes Grossman stopstarts like a cannery machine, while the deep-tissue bass and occasional planetscape melodies remind you that this isn't JUST the most technical metal in the world. Ogres battle steely locusts; lightning flashes between meteor showers; vultures wheel in patient menace. Again, gawdamn. Read my review of Blotted Science's 2007 "The Machinations of Dementia" here.
Derek Sherinian, "Oceana" (Music Theories). In case you thought keysman Sherinian was just a white boy with a headful of jet fuel and dicey time signatures -- well, he still is, but he also got dem blues, as he shows on half these tunes. There's rumble boogie, downtown chug, Frankenstein funk and even (on the leadoff "Five Elements") semi-acoustic woogie, with pard Simon Phillips slapping the skins hairily throughout. Maybe I miss the total rock nuttery of Zakk Wylde's previous Sherinian contributions, but the sampling of guitar stars (Tony MacAlpine, Steve Lukather, Joe Bonamassa, Doug Aldrich) makes for a whine & cheez taste treat, and the title collab with Steve Stevens (nice sliding fretless bass from Tony Franklin) hits a benchmark for textural balladry and melodic hooks.
Bruce Arnold, "Heavy Mental" (Muse-eek). Jazz/classical guitarist Arnold cranks the fuzz and works the wah for a spontaneous excursion through "12 Tone Boogie" and various obeisances to '70s hard rock and heavy blues. Bassist Andy Galore and drummer Kirk Driscoll trundle along with a grin, and Arnold sounds as if he ain't had this much electric fun since he was 12. Check it out here.