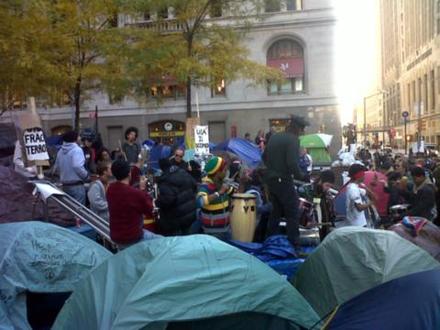 I didn't realize how close Zuccotti Park is to Ground Zero -- a few blocks. Turns out these folks have less than three days left in their two-month Occupancy before they will be evicted.
Aside from some narrow pathways, the whole 80-yard cement park is completely packed with tents. The drum circle, led by the skinniest wild-haired shirtless little dude, rocks heavily (shades of Santana's "Soul Sacrifice" at Woodstock), the beats echoing off the surrounding skyscrapers, as '60s veterans to the side nod in approval. Crosby & Nash played there a couple days before, I hear. The adjacent side street has about 20 police vehicles lined up.
It's peaceful and varied -- signs about the economy, war, Native American rights, whatever. Lots of food tents with edible-looking beans, rice, chicken. No bad smells, everybody bundled up because of the cold -- it must have been a bitch when the big blizzard hit a few weeks earlier.
The vibe: positive and determined. Cause for optimism. Next year, let's GET OUT THE VOTE.

THE PREVIOUS NIGHT AT THE STONE: TIM BERNE'S LOS TOTOPOS.
We walk up outside John Zorn's tiny slice of a performance space, breath fogging the 40-degree air, and there's a shaggy youngish guy who looks like a refugee from Occupy, standing around in a newspaper-thin T-shirt. Once we're inside, the guy scoots up and settles at the piano -- he turns out to be Matt Mitchell, one-quarter of Los Totopos, and he's been trying to get himself really cold so he won't feel stifled while playing the Stone, whose stage quickly becomes a sweatbox even in winter. I'm thinking about the rivers of perspiration Berne told me about when he recorded the rockin' fine Cryptogramophone album "The Veil" with Jim Black and Nels Cline as BB&C; that Stone show was in the summer.
Aside from hulking scruffcheeked alto saxist Berne, the other two are clarinetist Oscar Noriega (a bearded mini-brujo who also plays with Endangered Blood), and drummer Ches Smith (who looks like a 1965 Byrd). With the aid of sheet music, they chase each other through Byrne's difficult tunes, which as usual are based on the kind of nonstandard scales that could become nettlesome if he didn't have crack musicians to add dimension, which he always does.
As Berne and Noriega fugue, unify and counter each other, Mitchell and Smith set up a loose rapport that seems based on a mutual love of Captain Beefheart's "Click Clack." Mitchell's skull apparently contains two brilliant brains to support his flickering chordal touch, and Smith has one foot that he props up on his snare to get alternate tonalities between prods of his trashy little gongs. Noriega switches from bass clarinet to B-flat for an actually sweet solo. Berne slides through his jagged lines like an octopus through a shipwreck. He jokes that Doritos is suing him to desist from using the name Totopos (means corn chips); almost had us on that one. Smith dings xylophone on the rudely halting closer, "Jesus Christ Minibar."
I love it. But I'd have loved it more if they had beer.
PHOTOS BY DEBBIE DREW