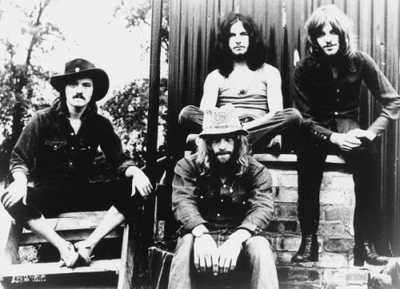 Black Country Communion, "Live Over Europe" (J&R Adventures DVD+CD). What should be and what never is: Heavy blues-rock always oughta roar the way Glenn Hughes, Joe Bonamassa, Jason Bonham and Derek Sherinian do together. Black Country Communion had two albums' worth of classic riffs, soul and passion to lavish on this project, and they were rewarded with enormous sound (Kevin Shirley) and sweaty visuals (Philippe Close). Magnificent. (Read my live review from the Grove of Anaheim -- same tour -- here.
Deep Purple With Orchestra, "Live at Montreux 2011" (Eagle Eye DVD). When most rock bands team up with an orchestra, it's browknit time. When Deep Purple stringed up this year, it was an over-the-top goof that kept on giving -- they can't deny it, with that smile on their face. Read my live review from the Greek Theater 24 days earlier here.
"Barry Richards TV Collection Vol. 1" (Resurrection Productions DVD+CD). Here's a golden salvage operation. DC DJ Barry Richards hosted a ton of major rockers from 1964 to 1975, and this package collects lost performances and interviews: Little Richard, Dr. John, Emmitt Rhodes, even a '64 Beatles blab. The main attraction is clips from Richards' 1970-71 public-access TV show, with fierce rockage by Alice Cooper, Humble Pie (pictured above), Fats Domino, Rory Gallagher and Bob Seger, as well as super blues-rock blasts by the more obscure Zephyr (with Tommy Bolin), Crow, the Illusion, Jamul and more. Despite often raw restorations, the energy kicks you in the face. If programming like this existed in Spokane, I would have bought a TV. Order here.
Hypocrisy, "Hell Over Sofia" (Nuclear Blast DVD+2CD). Peter Tägtgren, Scandinavian metal's top producer (Dimmu Borgir, Children of Bodom, Amon Amarth, etc.), has the ears to determine what sounds good in a reverberative live setting, and it ain't intricate thrash. So here his band Hypocrisy allows the stomp, sludge and mournful keyboards to dominate, and Horgh's double-kick to breathe -- and the result, Björn, is BIG.
Megadeth, "Thirteen" (Roadrunner). The return of bassist Dave Ellefson has pumped leader Dave Mustaine's biceps. Even if he hobbled a few songs with standard injections of bathos, political paranoia and personal hatred, this sh*t bucks like a Brahma, especially via the tortured Spanish metal of "Sudden Death" and the tangling pummel of "Never Dead" -- both associated with video games. Lead guitarist Chris Broderick has earned universal admiration for his diamond-pointed shredding, but Megadeth's rush peaks with the more emotional improvisations of Mustaine, who has also dumped out his tackle box for a sharp assortment of songwriting hooks ("Public Enemy Number One").
Machine Head, "Unto the Locust" (Roadrunner). The gears musta been turning in Robb Flynn's head since 2007's terrific "The Blackening" nabbed a Grammy nom. He was gonna make damn sure that Machine Head's next stab struck home, and the labor pays off with this ambitious, finely crafted assault. Epic yet personal, "Into the Locust" proves that vintage Bay Area thrash can accommodate everything from church chant to children's chorus to strings while rocking like hell. And it FLOWS, without a wasted moment. Very, very well done.
My Ruin, "A Southern Revelation." Last winter, L.A.'s finest riff & scream outfit holed up in Tennessee with nothing to do but focus, and they nailed it like a crucifixion. Mick Murphy's leads hit a pinnacle of technical imagination, and Tairrie B. scathes with a level of vitriol that exceeds even her own standards. (Just for a change, I'd love to hear her sing about gardening or astronomy.) Also taking a rare stab at lowdown melody on the Van Halen boogie buster "Mean Street," Tairrie pulls it off with a back-porch finesse that shames Diamond Dave's carny proclivities on the '81 original. When you can't stand another second of good cheer, "A Southern Revelation" will clear the carols outa your cranium. (A train wreck involving My Ruin's label enables you to download the album for FREE here, but you can donate there, too.)