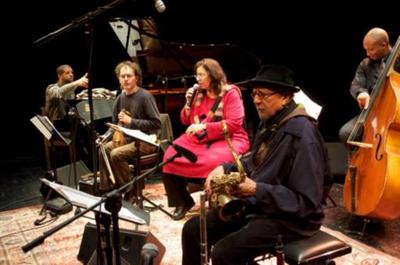 Charles Lloyd with Maria Farantouri, "Athens Concert" (ECM 2CD). Here's a church service beyond time and cult. Lloyd's burnished New Quartet (featuring Jason Moran) expands to embrace two Greek instrumentalists and singer Farantouri, whose warmth and sensitivity match the saxist's own. The Greek source material reaches back as far as the 3rd century to touch a peace earned by tears and struggle.
Keith Jarrett, "Rio" (ECM 2CD). Jarrett was stoked about this live-in-Brazil solo release, and you can hear why: His piano improvisations have rarely sounded this humble, as if he wants to offer his audience a simple gift he knows they'll love. Their overwhelming response shows he got it just right.
The Jeff Gauthier Goatette, "Open Source" (Cryptogramophone). Exotic grooves from Alex Cline's drums and Joel Hamilton's bass. Scented bouquets from Jeff Gauthier's violin, David Witham's keys and John Fumo's trumpet. Grainy energy from Nels Cline's guitar. How does the tunes' diversity hang together so naturally? Several decades of shared air.
Rudresh Mahanthappa, "Samdhi" (ACT). Alto saxist Mahanthappa proved his grit at this year's Angel City Jazz Festival with enough fire, melody, texture and rhythm to slingshot him beyond avant-geek circles. Electronix, even! This is 21st-century world music for everybody.
Dwight Trible, "Cosmic." Souljazz singer Trible (another beacon of this year's Angel City Fest) has been waging a campaign to get his latest played on the radio, and a car commute is the perfect place to hear it: When he exhales his ballads about love, God, peace and Africa, your road rage will float right out the window. Trible's ace collaborators include pianist John Beasley, percussionist Munyungo Jackson and windman Justo Almario.
Adam Rudolph's Go: Organic Orchestra, "Can You Imagine . . . the Sound of a Dream" (Meta). Befitting composer-conductor Adam Rudolph's relocation to the East Coast, a six-man world-drum section drives the Organic Orchestra's heaviest, scariest, most aggressive production. From tribal stomp to dissonant ritualistic suspense, "Dream" taps a huge palette splashed by a spontaneously inspired 47-member ensemble that includes Peter Apfelbaum, Ralph Jones, Sara Schoenbeck, Ned Rothenberg, J.D. Parran, Graham Haynes and Kenny Wessel. Dark magic.
Nils Petter Molvaer, "Baboon Moon" (Thirsty Ear). Trumpeter Molvaer explores a more reflective dimension of his FX-drenched big riddims and desert sunsets. Beautiful, truthful, and the most comprehensively human thing he's done. Ya big ape.
Paul Kikuchi, "Portable Sanctuary Vol. 1" (Present Sounds). Empty Cage Quartet drummer Kikuchi's meditation method: frame, empty, focus. Quartet mates Stuart Dempster (trombone), Jesse Olsen Bay (guitar) and Alex Vittum (electronics) take the inward journey a note at a time, listening to the silences.
PHOTO BY DOROTHY DARR, FROM CHARLESLLOYD.COM.