Fri.-Sat. Dec. 16-17 -- Call it the new mainstream, and that's no knock considering the taste and smarts on display: the quintet of Walter Smith III, Larry Koonse, Gerald Clayton, Harish Raghavan, Kendrick Scott. At the Blue Whale on the third floor of Weller Court Plaza, south of East First Street between South Los Angeles Street and South San Pedro Street, Little Tokyo 90012; 9pm-midnight; $10; validated parking underneath off Second Street at the sign of the P in a circle; (213) 620-0908; www.bluewhalemusic.com.
Fri.-Sat. Dec. 16-17 -- Burble joyfully into your eggnog with the drums-guitar-organ trio of Bill Stewart + Peter Bernstein + Larry Goldings, who've churned out a new record together. At Vitello's Restaurant, 4349 Tujunga Ave., Studio City 91604; 8 & 9:30 pm; $25 cover plus $13 minimum; (818) 769-0905; www.vitellosrestaurant.com.
Sun. Dec. 18 -- Peppermint candy & Elliott Caine go together like red & white, as the trumpeter martials his crack post-trad quintet. At the York Bar and Restaurant, 5018 York Blvd., Highland Park 90042; 7:30-10pm; no cover; (323) 255-9675.
Wed. Dec. 21 -- Most of the founding members of the respected circa-1980 California reggae group The Rastafarians plug their roots back into our local soil for the first time in eons. L.A. ska twitchers Raskahuele open. At the EchoPlex, 1154 Glendale Blvd., Echo Park 90026; $10; www.attheecho.com.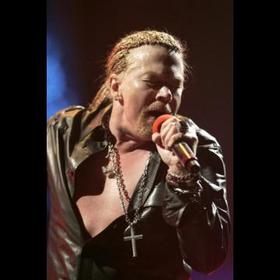 Wed. Dec. 21 -- The Axl Rose circus still known as Guns N' Roses puts on an expensive orgy for those of us who failed to OD on brownstone in 1988. Read my review of 2008's "Chinese Democracy" here and my 2006 LA Times live review here. At the Forum, 3900 Manchester Blvd., Inglewood 90305; 9pm; $37-$94; www.ticketmaster.com.
Read Don Heckman's jazz picks here and MoshKing's metal listings here. Read John Payne's plutonic Bluefat.com here.