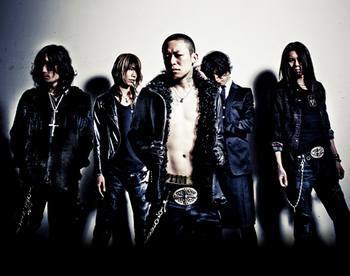 Fri. Dec. 23 -- Star Japanese heavy rockers Dir En Grey offer a full-tilt paganistic introduction to the solstitial festivities, draining your hostilities while staging a colorful motherhumpin show almost too big for a club. (Come early, because the Asian fans throng deep for DEG, who play arenas in Nippon.) Get a minute's compression of their active aesthetic here. At House of Blues, 8430 Sunset Blvd., West Hollywood 90069; doors 8pm; $32.50; (323) 848-5800; www.livenation.com.
Fri. Dec. 23 -- With a melody in his heart and a lot of ideas in his head, saxist Bob Sheppard will leave nobody dissatisfied, especially with easy-trippin' John Beasley at the piano and Jeff D'Angelo (bass) and Steve Hass (drums) holding down the groove. (Sheppard plays here with Billy Childs' quartet Dec. 30-31; reserve now for New Year's Eve, and I'll see ya there.) At the Blue Whale on the third floor of Weller Court Plaza, south of East First Street between South Los Angeles Street and South San Pedro Street, Little Tokyo 90012; 9pm-midnight; $10; validated parking underneath off Second Street at the sign of the P in a circle; (213) 620-0908; www.bluewhalemusic.com.
Tues. Dec. 27 -- I was lucky enough to get sent an advance of guitarist Timothy Young's upcoming "Gravitational Lensing," and the damn thing knocked me flat. The kozmik skull on the cover proved an accurate harbinger of what lay within: monster metal instrumentals interspersed with well-shaded semiclassical arpeggiations, approached with ripping abandon or plangent sensitivity. No geek, Young can grab you and shake the calcification outa your bones, employing his considerable chops and tone mastery with an economy and playfulness that make you forget about technique. I was impressed by his expansion of the jazz vocabulary when I saw him with violinist Michael White earlier this year, but I didn't know until now that Young has also played with luminaries from Beck to Mike Patton to Wayne Horvitz to John Zorn and a whole lot more who can pick anybody and picked him. Adding to the excitement, his trio both live and on record features Kneebody bassist and drummer Kaveh Rastegar and Nate Wood. Also on the bill are Nate Wood's band and The Youngs, featuring Timothy Young and singer Eryn Young on dramatic, well-crafted songsmithery. At Little Temple, 4519 Santa Monica Blvd., eastern Hollywood 90029; 9pm; $7; (323) 660-4540; www.littletemple.com.
Read Don Heckman's jazz picks here and MoshKing's metal listings here. Read John Payne's plutonic Bluefat.com here.