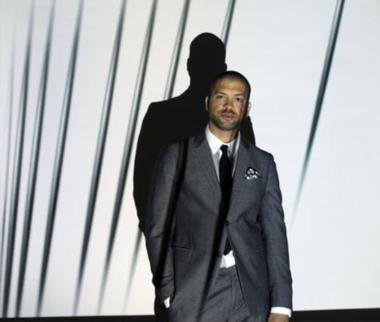 Jason Moran plays with dead people. Maybe he sees them, too; certainly he channels them. He also plays with people who aren't there.
As DJ and mash-up methodologies have shown, time and space present few obstacles to the modern musician. The technologies of writing and recording have long allowed the dead to speak to us. More and more, by interacting with and combining their communications, we're talking back.
So Moran turned a solo piano show into a century of multiple collaborations by bringing in outside recordings, again demonstrating his disdain for limits. He's plied the edges of jazz since the mid-1990s, when he broke in with funky sax abstractionist Greg Osby, and many others have tapped his versatile genius since then, including Cassandra Wilson and, for the last five years, Charles Lloyd. And when he has gone solo, he has mixed it up with loops, opera, dance, classical, big concepts. (In a fortuitous development, he just became the director of the jazz program at New York's Kennedy Center.)
Moran let a recording of Gladys Knight's "No One Could Love You More" warm up the house for him, then jumped in with her, later doing the same with vintage clips from Mississippi Fred McDowell and Billie Holiday. He also used a loop of a brief Thelonious Monk tapdance as the rhythmic foundation for his take on Monk's "Little Rootie Tootie," and brilliantly melded with a young Turkish woman's phone conversation to create a slice-of-life composition that really grabbed the house.
Moran eschewed electronic assistance in demonstrating some stride-piano and harmonic lessons he learned from an early mentor, the great Mingus pianist Jaki Byard, and showed special affection for a gorgeous ballad given to him by the composer Butch Morris. He dug deep into the classic "Body and Soul," caressing and sifting its fullness until he could cycle a few notes of it into a suspended mantra. And he brought out his young cousin, flutist Sarah Johnson, to duet with him on one of his sad, pretty ballet segments and on her own "Lavender," a wistfully perky piece with an African subtext. She and he were both well up to the challenge.
Charles Lloyd often compliments a person by calling him or her "a sensitive," and Moran represents the essence of that. Despite his affection for blues and boogie-woogie, the earth doesn't pull much at him; he played the roots' auras rather than their essences, as when he interpolated "Motherless Child" into his blues improvisation, his left hand probing softly down to the lowest keys to locate the most spiritual resonance of pain. Moran's greatest gift is his way of bringing things together -- not only different forms, but different collections of notes, as when a coarse moonbeam of dissonance shone out from the middle of a complex chord, both defining and uniting the potential conflicts. It takes a lot of knowledge, and a very delicate touch, to pull that off.
During a post-concert talk with University of Pennsylvania prof Guthrie Ramsey, Moran told the story of how he thought Miles Davis was full of it for saying he heard the squeak of shoes on a basketball court as music -- until Moran grew up and began hearing music everywhere too. He also remembered how one of his twin sons once shushed him during a torrid improvisation with drummer Tom Rainey and bassist Mark Helias at New York's The Stone. Glad the kid wasn't around this time.
I think a video of the concert may become available sometime or other here.