Fri. Jan. 13 -- Whom would really good guitar players like Eric Clapton, Bert Jansch and John 5 hire when they wanted another really good picker on their album? Howbout Albert Lee? No argument. At McCabe's, 3101 Pico Blvd., Santa Monica 90405; 8pm (sold out) & 10pm; $22.50; (310) 828-4497; www.mccabes.com.
Sat. Jan. 14 -- Guitarist-keysman-singer Mike Keneally, a restless and endlessly productive postfusional force, leads a quartet with guitarist Rick Musallam, bassist Bryan Beller and drummer Joe Travers. At the Baked Potato, 3787 Cahuenga Blvd. West, Studio City 91604; 9:30 & 11:30pm; $20; (818) 980-1615; www.thebakedpotato.com.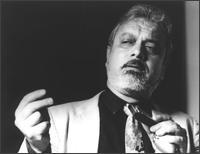 Sat. Jan. 14 -- It took Kirk Silsbee to clue me that Louie Lista, singer of the Sheiks of Shake, died last month. My band shared bills with the Sheiks several times, and fondly I recall their Delta chug, with Louie, the Edward G. Robinson of the blues, growling out the incantations and huffing on waydeep harmonica. My favorite song was "Infant Terrible." Kirk says there'll be a musical tribute tonight, with performers including Paul Barrere, Carlos Guitarlos and David Colomby. SoS drummer Paul Body has posted a 1982 recording here. In the Kibitz Room at Canter's Deli, 419 Fairfax Ave., L.A. 90036; 8:30pm-2am.
Sat. Jan. 14 -- Outsider music where it should be: off the beaten path. Five performers, and I don't know any of 'em except Wild Don Lewis' Small Drone Orchestra, which is Don alone on bowed bass and synth. At Home Room, 3121 Beverly Blvd., L.A. 90057; 6:30pm; FREE.
Sun. Jan. 15 -- Dwight Trible singing in church: That makes a heaven of a lotta sense. Pick up his fine new CD and check out his seasoned ensemble with pianist John Beasley, bassist Trevor Ware and drummer Paul Lagasy. Mamie Louise Anderson also does a dramatic reading. At Bryant Temple AME Church, 2525 W. Vernon Ave., South L.A. 90008, 5pm; free but donations accepted.
Sun. Jan. 15 -- Elliott Caine swings that trumpet with his versatile quintet; you drink. At the York Bar and Restaurant, 5018 York Blvd., Highland Park 90042; 7:30-10pm; (323) 255-9675.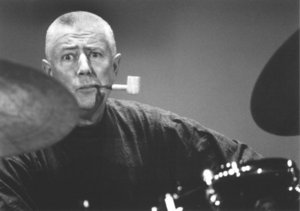 Mon. Jan. 15 -- Here's a heavy occasion: Dutch drummer Han Bennink, a leading light of the Euro avant for nearly half a century, pushes a quartet with Mark Dresser (the world's most technically accomplished bassist), Mary Oliver (viola/violin) and Michael Dessen (trombone). Gonna go way out there and back. At the Blue Whale on the third floor of Weller Court Plaza, south of East First Street between South Los Angeles Street and South San Pedro Street, Little Tokyo 90012; 9pm-midnight; $10; validated parking underneath off Second Street at the sign of the P in a circle; (213) 620-0908; www.bluewhalemusic.com.
Wed. Jan. 18 -- Let's think of three new words that the fusional acronym CAB will stand for. Chuck A Bomb? Cooking Against Bigotry? Can Anyone Be? Top entry wins something like jellyfish. With boggling drummer Virgil Donati, keysman Dennis Hamm, bassist Bunny Brunel and guitarist Alex Machacek. At the Baked Potato, 3787 Cahuenga Blvd. West, Studio City 91604; 9:30 & 11:30pm; $25; (818) 980-1615; www.thebakedpotato.com.
Thurs. Jan. 19 -- One of the more brilliant ideas I've heard lately is Guitar World and Musicares' Roast of Zakk Wylde, who is funnier than hell all by himself, but consider the addition of roasters such as Sharon Osbourne, Ozzy Osbourne, Duff McKagan, Scott Ian, Corey Taylor, Chris Jericho, Jim Norton, Brian Posehn and Jim Florentine. At the Grove of Anaheim; reserve or donate (charity benefits) here.
Thurs. Jan. 19 -- John Tottenham, who has written more compellingly about idleness than any other poet in the history of mankind, reads a few words from his new "The Inertia Variations." As few words as he can get away with, in fact. Author Anthony Ausgang reads too. This is the Literary Event of the Decade, as Tottenham accurately titles it. At Book Soup, 8818 Sunset Blvd., West Hollywood 90049; 7pm; FREE.
Thurs. Jan. 19 -- Did you say lap-steel guitarist Paul Lacques and Double Naught Spy Car will be chasing around the surf & crank instrumental raceway every Thursday this month? Better make that a double. In the bar of Taix Restaurant, 1911 Sunset Blvd., Silver Lake 90026; 10:30pm; free; www.taixfrench.com.




Read Don Heckman's jazz picks here and MoshKing's metal listings here. Read John Payne's plutonic Bluefat.com here.