Fri. Feb. 10 -- Some Veterans of Everything can still show originality and sensitivity, and saxist Pete Christlieb is one, here in a quartet with pianist Theo Saunders, bassist Pat Senatore and drummer Kendall Kay. That's from 9pm onward; from 6:30 to 8:30 it's the duo of phenomenal pianist Otmaro Ruiz with bassist Tom Warrington. At Vibrato Grill, 2930 Beverly Glen Circle, way up the canyon in Bel Air 90077; (310) 474-9400; www.vibratogrilljazz.com.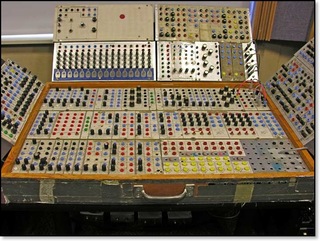 Fri.-Sat. Feb. 10-11 -- Back 'round 1977, my friend Chris August was art-directing a new electronic-music magazine called Synapse. The mag's instigators, Doug Lynner and Bryce Robblee, had a duo, Mobius, that utilized a pair of homemade synthesizers from Serge Modular Systems. Designed by CalArts renegade and Stockhausen pupil Serge Tcherepnin, these analog proto-synths (which had no keyboards and folded up into bulky wooden suitcases) were operated mainly by interconnecting oscillators and noise generators via patch cords; the theory was that the instruments could re-create virtually any sound. As I observed Doug and Bryce's hyperkinetic plugfests, it occurred to me that there must be a more efficient way to do this, but the music sure was different. Although Serge synths never competed with Moogs or Korgs (machines dismissed by purists as mere whoopee cushions), specialists around the world have continued to mess with Serge modules, and one, the Netherlands' Thomas Ankersmit, has actually authored a new composition for Serge box; he'll be performing it on Saturday's "Ambient Night" on a bill with electro sculptors Thomas Köner & Ulrich Krieger. Friday's "Noise Night" features the always intriguing conceptions of L.A.'s Damion Romero, along with the duo of Zibigniew Karkowski (a Xenakis disciple who was studying in Gothenberg at the same time black metal was birthing) & Bay Area freaker Xopher Davidson. Thank you, CalArts and a bunch of Dutch arts funds. At REDCAT, 631 W. Second St., downtown 90012; 8:30pm; $20; www.redcat.org.
Sat. Feb. 11 -- Ravi Coltrane, a saxist and composer of deceptive ease and intellectual challenge, leads a quartet with pianist David Virelles, bassist George Sanders and drummer Kendrick Scott. Mega-bassist Christian McBride closes the event with his trio mates, Christian Sands (piano) and Ulysses Owens (drums). Although Geri Allen had to cancel, replaced by McBride, this remains a standup night. A UCLA Live presentation at Royce Hall; 8pm; $20-$65; www.uclalive.org.
Sat. Feb. 11 -- Continuing to hype their comprehensive retrospective exhibit (here thru Feb. 25), The L.A. Free Music Society presents another blowout all-day festival of extreme electronic and conceptual music. Performers include Extended Organ (with special respect to recently deceased former member and noted visual artist Mike Kelley), Marnie Weber, Feedback Waveriders (sans Vinny, reviewed by me here), Vetza & Joe Potts, and more. At The Box, 805 Traction Ave., downtown 90013; noon-7pm; free but donations welcomed; www.theboxla.com.
Sat. Feb. 11 -- What does floorboard-splintering drummer Chad Smith do for fun when he takes a breather from touring with Red Hot Chili Peppers? Gets together with his slick, funky, soulful & explosive pals in Bombastic Meatbats, namely guitarist Jeff Kollman, bassist Kevin Chown and keysdude Ed Roth -- basically Glenn Hughes' band from a few years back. That's what. At the Baked Potato, 3787 Cahuenga Blvd. West, Studio City 91604; 9:30 & 11:30pm; $25; (818) 980-1615; www.thebakedpotato.com.
Sat. Feb. 11 -- Gushing waves of echo-laden mass that can remind you of Mayhem or Joy Division, Brooklyn's Tombs gonna get their pudrid slime all over you. Part of a big Relapse Records showcase that also features furious death thrash from Exhumed, rumbling horror from Black Tusk, and evil support from Revocation and Royal Thunder. At the Roxy, 9009 Sunset Blvd., West Hollywood; 1pm; limited FREE tix by RSVP only here.
Sun. Feb. 12 -- Another metallic mini-fest to stuff your weekend. Recently delivered of a smokeworthy new album, L.A.'s own sludge powerhouse Behold! The Monolith closes a mixer (wha?) also featuring Consuming Fire, Doomsayers, Rogue Stallions, Advent and Necronum. At the Airliner, 2419 N. Broadway, Lincoln Heights 90031 (near the 5 south of the Pasadena Freeway); 8:30pm; $5 if you have a penis, otherwise free; 18+; drink specials; food.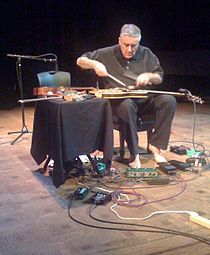 Sun. Feb. 12 -- Beyond progressive: Fred Frith (Henry Cow, Art Bears, et alii ad infinitum) does unusual things with a guitar in what looks like a solo performance. A SASSAS presentation at Center for the Arts, 2225 Colorado Blvd., Eagle Rock 90041; 7:30pm; $15; advance purchase recommended at www.sassas.org.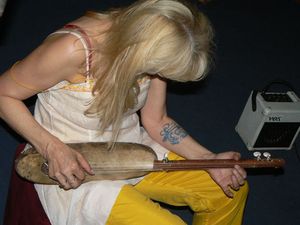 Tues. Feb. 14 -- Guitarist-singer Leni Stern, who's been digging into King Solomon's mines for golden treasures of Malian music these last several years, turns up again with a n'goni under one arm, a Strat under the other, and a retinue of fantastic African musicians. The crew this time includes multiskilled bassist Mamadou Ba (a constant presence for a few years now), talking-drum thwapper Kofo (who rocked the house at Stern's last visit to this room) and a new addition on djembe & percussion, Alioune Faye. Stern has been getting strong plaudits for her new acoustic trio album, "Sabani," and never fails to surprise with her twists of scale and emotional connectivity. At the Blue Whale on the third floor of Weller Court Plaza, south of East First Street between South Los Angeles Street and South San Pedro Street, Little Tokyo 90012; 9pm-midnight; $10; validated parking underneath off Second Street at the sign of the P in a circle; (213) 620-0908; www.bluewhalemusic.com.

Wed. Feb. 15 -- When did they sneak Chris Poland's Ohm into the listings? Distinctive post-fusion, and cheapish. At the Baked Potato, 3787 Cahuenga Blvd. West, Studio City 91604; 9:30 & 11:30pm; $15; (818) 980-1615; www.thebakedpotato.com.
Wed.-Thurs. Feb. 15-16 -- Prepare to think about music, not just listen to it, during this centenary John Cage Fest. CalArts' New Century Players present large-scale Cage works as well as compositions by other artists who've used his methods. I plan to use his theories to drive the termites out of my deck. At REDCAT, 631 W. Second St., downtown 90012; Wed. 7pm, Thurs. 8:30pm; $20; www.redcat.org.
Thurs. Feb. 16 -- Chucho Valdes abstractifies Cuban piano in ways I like. I wish I had a damn mojito in my fist, but the presence of L.A.'s own flamethrowin' salsa king Poncho Sanchez on the bill (with ace trumpeter Terence Blanchard in the band) will fill the void. What, you say it's sold out? Well, check in on the day of the show. At Walt Disney Concert Hall, 111 S. Grand Ave., downtown 90012; 8pm; limited availability, call (323) 850-2000; www.laphil.org.
Thurs.-Fri. Feb. 16-17 -- Zappa drummer Chad Wackerman has computer-fingered guitarist Allan Holdsworth tagging along; the stellar band includes bassist Jimmy Johnson and keysman Jim Cox. At the Baked Potato, 3787 Cahuenga Blvd. West, Studio City 91604; 9:30 & 11:30pm; $25; (818) 980-1615; www.thebakedpotato.com.
Read Don Heckman's jazz picks here and MoshKing's metal listings here. Read John Payne's plutonic Bluefat.com here.