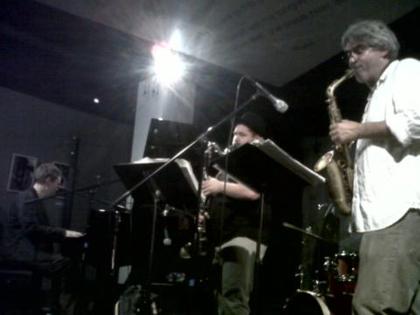 New York saxist Tim Berne is catching up with L.A. pals at the bar, smiling, casual as can be in rumpled white shirt and stretched-out cords. Oh yeah, he remembers he's gotta play, so he strolls up, shaking hands here and there along the way, and edges his 6'/190 behind his music stand, setting an unfinished glass of amber liquid on a stool where he can reach it. Berne picks up his alto, the lacquer of which has worn down to a dull pewter (metal mouthpiece almost the same shade), and his quartet spins into some nuclear physics with an ease born of two years' woodshedding.
To his right, homburg on back of head, short/round Oscar Noriega plays B-flat clarinet like an extension of his lips, and bass clarinet like an amplification of his body. I can't see Matt Mitchell very well; his piano sounds more decorative and less comprehensive than I remember, but no less brilliant. I'm right next to blank-faced skinny farm boy Ches Smith, so I can scrutinize the three gongs (like corroded iron hoplite shields the size of skillets) from which he extracts rude tones; his trapsman technique involves resting hands and other objects on the skins and sliding them around so his sticks can knock out an ever-changing range of bangs and clacks.
You will rarely see an old-young audience so intent, leaning forward on their vinyl cube seats and honoring the house's no-blab rule as they try to absorb what's coming at them. Got to try, because the music fights every expectation: the nonstandard intervals of the riff notes, the oblong lurch of the rhythms, the blindfold development of the compositions. The lines of Berne and Noriega make you feel as if you're observing the same dance from two angles a half-second apart, with Mitchell providing intuitive auras and Smith cutting out frames and freezing them to break up the long flow of the forms.
The experience can exhilarate and exhaust. One set's worth of ingenious involution satisfies me -- word is that the second ran twice as long.
Besides, claustrophobia is setting in: Again counter to expectations for such superabstract expressions, the place is packed all night.
Anyway, I've babbled enough about this group lately -- here, for instance, and here. Zip it, me.
As I was telling Berne's old friend Bill, I have been tracking this sax sojourner's obscurity for 30 years. It's funny to see the captain of the chess team finally gaining favor in the land of power lunches.
PHOTO BY DEBI DUZ
Check my colleague Matt Duersten's take here.