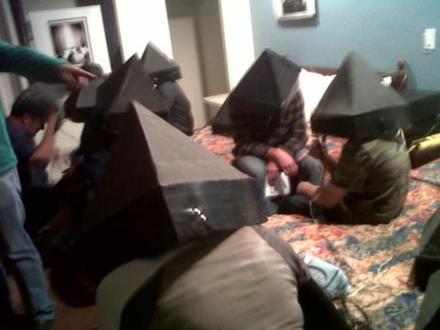 Enough bustle concentrated around this sorry Eagle Rock motel that a guy driving down Colorado Boulevard rolled down his window at a stop light and asked, "What's going on?" "Avant-garde music!" I announced, realizing that this was the first time I'd ever seen such art affect traffic. Well, it was free.
Quite a bit of the music was hard to access physically as well as aesthetically because the several ever-active rooms could accommodate only a few humans. This made less difference in the case of conceptual pieces such as Bruce Nauman's "Violin Tuned D.E.A.D." (where the violinist played quick semichordal blasts of those notes every few seconds until his bow frayed to a mandarin beard), or John Cage's "Variations IV" (where random circular overlappings determined the positions of speakers hooked up to turntables, a computer playing a video of "The Prisoner" and what-all). In the true Cageian tradition, thinking out the idea trumped actually hearing it, so no sweat. A tribute to the '70s West Hollywood music series "Currents" presented mostly a bunch of Pierre Schaeffer, Carl Stone et al. recordings; its unique attraction turned out to be the unusual warmth of the room on a cold night. Was that the one where we got to torture a miked cactus?
The crowd/space factor amplified if you were trying to hear a quartet that followed Pauline Oliveros' written instructions on meditating/remembering/performing, or to experience L.A. Free Music Society's re-creation of a 1976 event where listeners put speaker-equipped black pyramids on their heads to enjoy recorded bleeps and whirrs. (No reports of head lice.)
Don Littleton was carrying out a drum as I arrived, which meant I had missed a balcony performance of a quintet (Justo Almario, Kamau Daaood, Roberto Miranda, Littleton, and Don Cherry's son David Ornette Cherry) taking off on the music of Ornette Coleman's first album, "Something Else!!!!." Damn!!!! But I did get to stand in the courtyard and focus my adoration on the second-floor walkway, where the Calder Quartet filled out a 1949 draft of a string piece by Arnold Schoenberg, who wrote it during his L.A. residency. The eerie drones and tart harmonies filled the chilly air with alienated modern beauty like kumquat perfume.
Since the Los Angeles audience for weird music is small, a lot of the attendees -- eccentric except a few children, too young for overt bentness -- knew one another. With help from the "Pacific Standard Time" arts fest, the Getty, L.A. Art, the L.A. Department of Cultural Affairs, L.A. County Arts Commission, Good Works Foundation and, yes, Bank of America, SASSAS (Society for the Activation of Social Space through Art and Sound) brought a particular community of outsiders together, and maybe made some friends. Thank you. And visit www.sassas.org to contribute.
The electricity kept cutting out here and there. Part of the concept, it must've been -- a time machine not only to the avant-musical past, but to the third-world future of next Thursday, when concepts will have to struggle by without plugging in.
PHOTO BY DEBBIE DUZ