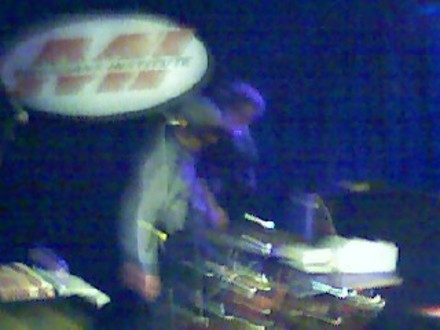 Who'd think they could do so much -- three middle-aged humans with M initials, wearing glasses? Maybe, in an hour and a half, they should have done less, because this was a lot to take in.
First the individuals, from left to right, then the whole.
Diminutive pianist Myra Melford, clad in feminine black, embraced/assaulted the piano every which way: single-note repetitions of childlike simplicity, virtuosic two-hand overlapping runs, intense hunt-and-peck stabs, churning densities, old-fashioned parlor lyricisms, under-the-lid string plucks, kalimba-like plonk effects from objects placed on the wires, vicious pounds of elbow and fists.
Kindly tall uncle Mark Dresser plucked, bowed and slid around his upright bass, adding extra dimensions to his signature overtone/harmonic techniques with subtle echoes and volume variations via foot pedals.
Matt Wilson, the joker in the cowboy shirt, stirred his drum kit abstractly like a virtual Sunny Murray. Or, when the music started to float away, he kicked his bass drum like a steel-toed hardhat and knocked together a dance foundation where even prissy cousin Percy could've done the funkybutt. Or he found lap and suspension applications for a small gong. Or, in a delicate moment, he draped strings of tiny tuned cymbals over one forearm and dinged them in perfect melodic accompaniment to Melford's tune.
And now the important part: All this was not gratuitous showmanship. Each musician contributed songs -- Spanish, African, Latin, old American, scientific -- nearly all with something wordless to say about human meat & mire. The sterile auditorium filled up with the sweetest love, the deepest sadness, the most fiery accusations, the heartiest aspirations. Each player made solo speeches, as it were, but we experienced neither ego on the one hand nor self-effacement on the other -- not even unity, exactly. What it sounded like was cooperation.
Maybe cooperation is easier if you're all white and educated, or if you're a brilliant musician. But we're starting to notice that most everybody likes to sing. So it's pretty obvious that some people out there need to form bands.
This show was a presentation of the Jazz Bakery's Movable Feasts.
PHOTO OF MARK DRESSER AND MYRA MELFORD (LEAVING THE STAGE) BY FUZZY BOURGEOIS