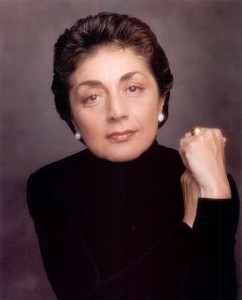 Eteri Andjaparidze was the right choice for the job of interpreting Alexander Scriabin's quietly revolutionary circa-1900 music. She entered and performed in near darkness, so the sound spoke for itself; we had to wait until her closing bows to meet the pianist we might have imagined anyway: a wiry 55-year-old with a thicket of black curls and a proudly intense face.
Scriabin wrote music that resonated with his birdlike bones. As much as I dig Vladimir Horowitz's vigorous 1950s takes, the composer can't have envisioned Vlad's brand of impalement. But the soulful touch of a Russian woman was just the medium to conjure ghostly harmonies that would have puzzled peasants when written, and that would still scrape modern earholes if less delicate fingers got all over them.
The soft stuff dominated the program: a "caresse dancée," a "reverie," a "fragilité," a "poem languide," some "nuances." Andjaparidze began with the somber torment of "Vers la flamme," and ended by bouncing on her bench to pound out the passionate climax from Sonata No. 4. Although she had that kind of oomph in her arsenal, she showed special skill in bringing out the subtle wanderings of Scriabin's inspired mind, and using the sustain pedal to blend tone sequences you wouldn't find in any scale book. She showed drama, too, raking fingers through her hair and suspending her hands at the conclusion of segments. Even her layered black dress came with some theater; only when the lighting shifted at the end did we discover that it was diaphanous from mid-thigh to floor, and that she had damn good legs.
The hook of "Spectral Scriabin" was Jennifer Tipton's lighting, which nodded to the composer's famous theories of color and sound without getting too specific. A circle or a group of overlapping circles were projected behind the pianist, fading slowly in and out in shades of cream, red or violet, supporting the pensive/longing/hallucinatory moods and never distracting. If anyone expected a light show in the Grateful Dead mode, it didn't materialize, but no sweat. Maybe the concept put a few extra butts in the seats for an hour of great music that doesn't get played much. And it was played very, very well.
Although I didn't agree with Mark Swed's review in LA Times, he brought out some useful historical context. Read it here.
Read Theodore Bell's review (fine insights into the visuals) here.
Read the New York Times' review from last November here.