Fri. April 27 -- Kenny Burrell & Los Angeles Jazz Orchestra Unlimited display the Hall of Fame guitarist and longtime UCLA educator in a big-band format, firehosing the latest compositions of his teaching pards Charley Harrison and Bobby Rodriguez, plus a birthday tribute to the immortal Duke Ellington, whose 20th-century incarnation will be 113 on Monday. At LACMA, 5905 Wilshire Blvd., LA 90036; 6-8pm; FREE; Friday summer jazz schedule here.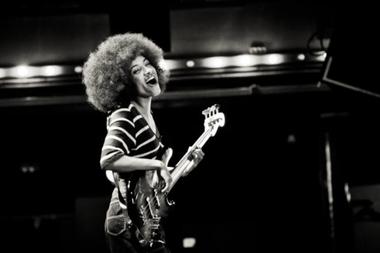 Fri. April 27 -- Honest, I had no idea how big Esperanza Spalding was gonna get so quick with her singing, bass-plucking, poeticizing and super-'fro -- tabbed by Obama, Grammied to pieces, jamming with Prince, traveling the Amazon with Leni Stern. Heading in a less jazzy, more R&B direction with her current "Radio Music," she's set to become the next Diana/Christina/Adele if she wants to, which I actually think she does not! Read my October 2010 LA Times live review here. Photo by Carlos Pericas. At the Henry Fonda Music Box Theater, 6122 Hollywood Blvd., Hollywood 90028; 8pm; $54; (323) 464-0808; www.ticketmaster.com.
Fri. April 27 -- Sweet mix of jazz tradition and modern California sensibility: Joeless Shoe, with saxist Matt Otto, guitarist Jamie Rosenn and drummer Jason Harnell. At the Blue Whale on the third level of Weller Court Plaza, south of East First Street between South Los Angeles Street and South San Pedro Street, Little Tokyo 90012; 9pm-midnight; $10; validated parking underneath off Second Street at the sign of the P in a circle; (213) 620-0908; www.bluewhalemusic.com.
Sun. April 29 -- George Sarah (THC, Stereotaxic Device) puts together an electro groove with real songcraft & feel, and he's got David J (Bauhaus, Love & Rockets) with him, as well as Gingger Shankar and his reliable string quartet for that touch o' class. New record to toss at ya. At Amoeba Music, 6400 Sunset Blvd., Hollywood 90028; 5pm; (323) 245-640; FREE.
Wed. May 2 -- Dub Club (the most outstanding and consistent reggae resource west of Brooklyn) presents a blowout night of mighty DJs Deadly Dragon Sound, Secret Circuit and the peerless Echodelic house selecters, plus underground vet Jamaican singer Carl Meeks and NYC dancehall voxster Screechy Dan. At the EchoPlex (and in the Echo upstairs), 1154 Glendale Blvd., Echo Park 90026; doors 9pm; $10 cheap; www.attheecho.com.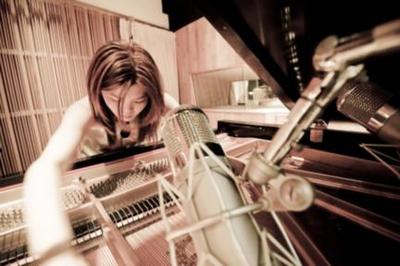 *** Thurs. May 3 -- SUPER SPOTLIGHT: Surely by now you must know about Motoko Honda, a composer and pianist of special passion, sensitivity and electronic acumen. She's put together another new suite, "Dreams of a Flower," featuring the best L.A. extremists: drummer Alex Cline, violinist Jeff Gauthier, cellist Maggie Parkins, bassist Steuart Liebig and trumpeter Daniel Rosenboom, with live visual manipulations by Jesse Gilbert and dance from Roxanne Steinberg. It'll get out there just far enough to snap back and stick your heart. By the way, for meditation purposes, keep an ear out for "Edge Study," Honda's 2011 record with trumpeter Bruce Friedman; it centers the soul with sustained tones, simple in form but complex in resonance. (Honda photo by Charles DeGuzman.) To make this a complete no-miss, the opener is coolly devastating singer-songwriter Mia Doi-Todd, who arrives with a suitcase full of accolades and a duo partner in percussionist Andres Renteria. At Aratani/Japan America Theater, 244 S. San Pedro St., downtown 90012; Doi-Todd 8pm, Honda 10pm; $25; (310) 271-9039; buy tickets here.
Thurs. May 3 -- You be wanting the fusionistic shred, you be getting it from the reacronymmed CAB, starring drummer Chad wackerman, guitarist tony macAlpine, keysman Austin peralta and bassist Bunny Brunel. Singed eyebrows guaranteed. At the Baked Potato, 3787 Cahuenga Blvd. West, Studio City 91604; 9:30 & 11:30pm; $20; (818) 980-1615; www.thebakedpotato.com.
Read Don Heckman's jazz picks here and MoshKing's metal listings here. Read John Payne's plutonic Bluefat.com here.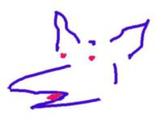 Remember "Dogphotoman," the Greg Burk musical mystery novella you used to get on this site for free? You can now pay 99 cents for it as a Kindle eBook! Click here. Readable on any computer by downloading the free Kindle reader.