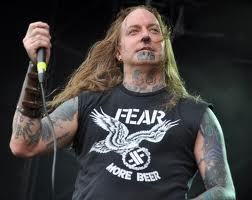 Fri. April 6 -- For soul-scouring metal, Dez Farfara's DevilDriver brings the steel wool. With jagged progressive belch from The Faceless, and a star lineup of name modern deathrash featuring Dying Fetus, Job for a Cowboy, 3 Inches of Blood, Impending Doom. At House of Blues, 8430 Sunset Blvd., West Hollywood 90069; 6pm; $25; (323) 848-5800; www.livenation.com.
Sat. April 7 -- Pianist Josh Nelson's quartet like their urban semitraditionalist bourbon with a twist of citrus. At the Blue Whale on the third level of Weller Court Plaza, south of East First Street between South Los Angeles Street and South San Pedro Street, Little Tokyo 90012; 9pm-midnight; $10; validated parking underneath off Second Street at the sign of the P in a circle; (213) 620-0908; www.bluewhalemusic.com.
Tuesday April 10 -- When the metal hordes were rushing to jettison all traces of melody and sex, Italy's Lacuna Coil opted to keep that stuff around, and the conservation has worked out well for their wallets. With Otherwise, Darksun, Ashentide. At the Key Club, 9039 Sunset Blvd., West Hollywood 90069; 8pm; $25 (plus an $8 soda charge if you're under 21); 18+; www.keyclub.com; (310) 274-5800.
Wed. April 11 -- Evil props, evil togs, evil axes and a scream booth number among the attractions at "Golden Gods: The History of Heavy Metal," claimed to be the first museum exhibit dedicated to evil music. Brought to you by Revolver Magazine and Satan, the display opens today, and it'll be up for almost a year. See if you can find any mention of this on the museum's web site; I succeeded, but it wasn't easy. At L.A. Live in the Grammy Museum, 800 W. Olympic Blvd., Suite A245, downtown 90015; 11:30am-7:30pm (opens 10:30am on weekends); $13; www.grammymuseum.org; www.ticketmaster.com.
Wed. April 11 -- In a bizarre coincidence, The Golden Gods Awards, with performances by Marilyn Manson, Slash, Evanescence, Sixx:A.M, et al., is busting out the walls at the Grammy-adjacent Club Nokia tonight, but of course it's sold out. Click here and weep.
Wed. April 11 -- The meaty metal of Crowbar and the semimelodic harshness of Prong (two heavy biggies dating back to the '90s) headline a bill that includes Witchburn and five other bands. At the Whisky, 8901 Sunset Blvd., West Hollywood 90069; doors 6pm; $15; www.whiskyagogo.com; (310) 652-4202.
Thurs.-Fri. April12-13 -- With roots that go back to the '60s, Brit organ grinder Brian Auger presents a different band on each of these two nights. At the Baked Potato, 3787 Cahuenga Blvd. West, Studio City 91604; 9:30 & 11:30pm; $20; (818) 980-1615; www.thebakedpotato.com.
Read Don Heckman's jazz picks here and MoshKing's metal listings here. Read John Payne's plutonic Bluefat.com here.
Those who've missed Brick Wahl since he quit writing his jazz column for LA Weekly last year can get a taste of past and present ruminations at his new site, here.
Remember "Dogphotoman," the Greg Burk musical mystery novella you used to be able to read for free on this site? You can now pay 99 cents for it as a Kindle eBook! Click here.