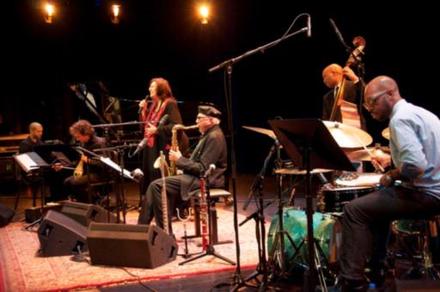 It musta felt good to be home, because Charles Lloyd radiated energy -- spieling a hipster rap the way he used to, dancing like a bear on a roof, practically shaking the seeds out of his maracas, all the while puffing forth his nonpareil woodwind whirl. The local "family" setting helped, but charging his batteries a week before in his other hometown, Memphis, must have kicked him up another notch.
Over the last couple of years, Lloyd has also been refreshed by the wellsprings of his collaboration with Greek singer Maria Farantouri. We observed what he likes about the partnership: the spiritual exchange with a comparable voice, and an opportunity to swing beyond his usual jazz-blues-Latin orbit. When the two performed Greek folk songs and hymns together, he clearly relished taking on the foreign scales and rhythms -- approaching them at his own angle, not trying to duplicate the forms from (as he said) the missionary position.
Farantouri and Lloyd built bridges toward each other. Farantouri's bridge was Socratis Sinopoulos, a shy, curly-haired feller who hunched over his lyra (three-stringed upright violin), drawing out precise, elegant complements to Farantouri's soulful vocals. Lloyd's bridge was his New Quartet, which has fermented to an exquisite balance in its six-year existence. Drummer Eric Harland particularly got off on a format that encouraged him to explore new relationships between fingers and skins.
Until a defiant wedding dance late in the evening, Farantouri's segments retained the somber atmospheres she must have experienced in her exile during the circa-1970 dominance of the Greek military junta. Pianist Jason Moran mostly restrained his harmonic embellishments to meld with the Mediterranean drone -- except in one special moment, when he piled every note of a song into one geysering chord. On flute, tenor and oaky tarogato, Lloyd created an Athenian blues, amplifying European folk with Mississippi-mudbank grace notes.
The Eastern intrigue inflected the music even during Farantouri's break, when the Lloyd Quartet lashed the saxist's lilting classic "Dream Weaver" into a frenzy of schizoid torment behind Moran's chordal smashes and bassist Reuben Rogers' wild yet sensual plucking -- a mourning cry, maybe, for the hippie dream. And the California wistfulness of the Beach Boys' gorgeous "Caroline, No" took unscheduled detours into despair and giddy nausea. Joy and transcendence, exemplified in Lloyd's lightning tenor ascensions, nevertheless emerged triumphant as he and Farantouri swayed together at encore's end.
In African cap and beige suit, Lloyd conducted the performance like a gospel revival -- a deeply rooted influence he doesn't always show. That's no knock: Despite modern cynics' impression of perspiring Southern preachers as hysterical frauds, quite a few such parsons really, truly believe.
PHOTOS FROM THE 2011 LLOYD-FARANTOURI EUROPEAN TOUR BY DOROTHY DARR