Fri. May 11 -- Grammy-laden keyboardist Billy Childs could play a genre for every night of the week, and tonight it's contemporary/fusion with windman Katisse Buckingham, bassist Jerry Watts and drummer Joey Heredia. At the Baked Potato, 3787 Cahuenga Blvd. West, Studio City 91604; 9:30 & 11:30pm; $25; (818) 980-1615; www.thebakedpotato.com.
Fri.-Sun. May 11-13 -- Kenny Garrett has more soul in one sax pad than you've got in your whole iPad. At Catalina Bar & Grill, 6725 Sunset Blvd., Hollywood 90028; 8:30 & 10:30pm; $25-$30 ($62 buffet brunch next Sunday); (323) 466-2210; www.catalinajazzclub.com.
Sun. May 13 -- You know what I like to see? "Mature" artists continuing to grow. Like Julie Christensen, who comes up with a different twist every few years, this time digging into the soul/blues topsoil with her new "Weeds Like Us." Listening to the gospel-dippers "Call Me Up" and "Restless," I thought, damn, she sure nailed that Staples Singers thing, and then I noticed that the album was produced by Jeff Turmes of Mavis Staples' Band. Christensen plucks some storytelling jewels from the mines of contemporary folk (Dan Montgomery's busted-up "Outside"), sifts in some heart-tuggers of her own, and you've got something you can leave on Repeat all day. Great echoing, twanging and gliding guitars. First noticed on the same 1980s L.A. stages as Christensen, Cindy Lee Berryhill made quite an impression with her blond blues; these days she wears a straw cowboy hat and keeps fertilizing the roots. At McCabe's, 3101 Pico Blvd., Santa Monica 90405; 7pm; $16; (310) 828-4497; www.mccabes.com.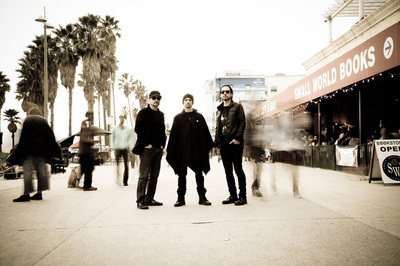 Tues. May 15 -- Since Slayer drummer Dave Lombardo digs noise (he even made a record on the avant-jazz label Thirsty Ear), it's no surprise that his band Philm would sign to Mike Patton's Ipecac Records. But the trio with Gerry Nestler (vox/guitar) and Pancho Tomaselli (bass) has way more going than that. Philm's new "Harmonic" deals out some of that Ministry blast, rappish groove, psychedelia and even Framptonlike jazzy lead guitar. A textural feast. Also tonight: St. Cello's Fall, Goldsboro, It's Casual. At the Viper Room, 8852 Sunset Blvd., West Hollywood 90069; doors 7:30pm, Philm around 11pm; $15; (310) 652-7869; www.viperroom.com.
Tues. May 15 -- The finest in NYC intelligent space groove: Ben Perowsky's Moodswing Orchestra, featuring Pablo Calogero, Tim Lefebvre and Danny Frankel. At the Blue Whale on the third level of Weller Court Plaza, south of East First Street between South Los Angeles Street and South San Pedro Street, Little Tokyo 90012; 9pm-midnight; $10; validated parking underneath off Second Street at the sign of the P in a circle; (213) 620-0908; www.bluewhalemusic.com.
Tues.- Sun. May 15-20 -- Mega-drummer Jack DeJohnette (Miles Davis, Charles Lloyd & all) doesn't turn 70 every year, and when he celebrates with iconic fusion pals Chick Corea and Stanley Clarke, well, y'know . . .. At Catalina Bar & Grill, 6725 Sunset Blvd., Hollywood 90028; two sets; $45-$75; (323) 466-2210; www.catalinajazzclub.com.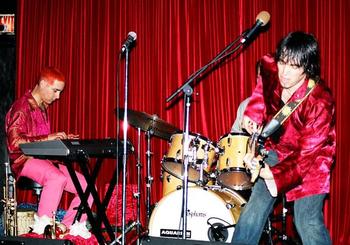 Thurs. May 17 -- Imported Israeli space groovers Maetar have presented their latest album with classic R&B drummer James Gadson. No surprise, the accurately named "The Gift" is just as lovable as their others, and even more carefully crafted. When I stuck it in my car player at random, at first I couldn't figure out where this relaxing, expansive creativity was coming from. Then I just smiled. Check out their electronic press kit, which includes sincere tributes from Jackson Browne (!), Kiss' Gene Simmons (!!), and even some old music journalist. At the Talking Stick Coffee Lounge, 1411 Lincoln Blvd., Venice 90291; 7-10pm; cheap or free; www.thetalkingstick.net.
Thurs. May 17 -- Germany's Rammstein marched through the 1990s as pre-eminent techno-shout theatrical rockdance invaders. Now, Schweinhundt, they've got a greatest-hits album to flog! At Honda Center, 2695 E. Katella Ave., Anaheim 92806; 8pm; $63-$107; www.ticketmaster.com, www.hondacenter.com.
Read Don Heckman's jazz picks here and MoshKing's metal listings here. Read John Payne's plutonic Bluefat.com here.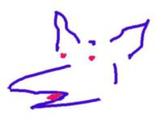 Remember "Dogphotoman," the Greg Burk musical mystery novella you used to get on this site for free? You can now pay 99 cents for it as a Kindle eBook! Click here. Readable on any computer by downloading the free Kindle reader.