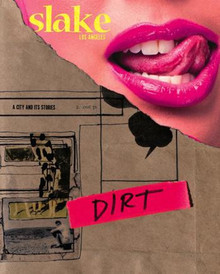 Fri. May 4 -- Slake Quarterly, the lit that won't quit, sure knows how to throw a party. This time, in celebration of the new "Dirt"-themed issue, you get John Curry's Edwardo Show bringing back '20s ukulele and '60s pop, plus dance from Kristin Campbell Taylor and friends, art, DJs, hot dogs, free pie served by Suicide Girls, and FREE BEER from local micro Golden Road. With all this decadence for so cheap, I strongly recommend that you reserve advance tix here. At Atwater Crossing, 3245 Casitas Ave., Atwater Village 90039; 7:30pm; $8; free parking in lots. (Slake also has a contributors reading event at Stories Bookstore on Thursday May 10 at 7:30pm.)
Fri. May 4 -- Violist Miguel Atwood-Ferguson is turning just 32? He's got composition and arrangement chops like he's 50, drawing from every genre for a palatable yet ambitious blend ranging from Jaco to Rachmaninoff. And he's blowing it out with a 15-member ensemble including Mia Doi Todd (watta voice), windman Brian Walsh, trumpeter Daniel Rosenboom and pianist Vardan Ovsepian. At the Blue Whale on the third level of Weller Court Plaza, south of East First Street between South Los Angeles Street and South San Pedro Street, Little Tokyo 90012; 9pm-midnight; $15; 21+; validated parking underneath off Second Street at the sign of the P in a circle; (213) 620-0908; www.bluewhalemusic.com.
Fri. May 4 -- The jazz first Fridays continue with drummer Dexter Story's tribute to Miles Davis, featuring pianist Sam Barsh and drummer Trevor Ware. Relaxed scene. At Joe's Restaurant, 1023 Abbot Kinney Blvd., Venice 90291; 7-11pm; no cover but food order required; reservations recommended; www.joesrestaurant.com; (310) 399-5811.
Fri.-Sat. May 4-5 -- Wayback Brit prog organist Brian Auger's Oblivion Express is back with Ali Auger on vox, Karma Auger on drums (are you sensing a theme?), Julian Coryell on guitar and Les King on bass. It's the rhythmic urban thing to do. At the Baked Potato, 3787 Cahuenga Blvd. West, Studio City 91604; 9:30 & 11:30pm; $20; (818) 980-1615; www.thebakedpotato.com.
Sat. May 5 -- Trumpeter Daniel Rosenboom (just saw him wail with Motoko Honda) leads his grooving, writhing intellijazz septet with windmen Gavin Templeton, Jon Armstrong & Brian Walsh, pianist Rory Cowal, bassist Hamilton Price and drummer Matt Mayhall. At the Blue Whale on the third level of Weller Court Plaza, south of East First Street between South Los Angeles Street and South San Pedro Street, Little Tokyo 90012; 9pm-midnight; $10; validated parking underneath off Second Street at the sign of the P in a circle; (213) 620-0908; www.bluewhalemusic.com.
Sat. May 5 -- Pete Lockett presents a world percussion monsoon with Hands On'semble and more. At CalArts' Taper Courtyard, 24700 McBean Parkway, Valencia 91355; 7pm; FREE.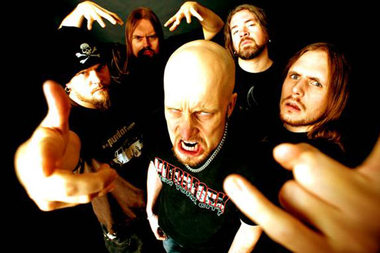 Sat. May 5 -- Swedish math gloomsters Meshuggah always turn me upside-down with their broken beats and ghostly 8-string guitars; as usual, my initial reaction to their new "Koloss" was WTF, then I kept coming back and getting intrigued by undiscovered layers of tango and waltz weirdness (return business is the greatest signifier). Then you got Baroness, from Georgia, where they always seem to dredge up the steamiest, heaviest prog that ain't forgot its roots in tunesville. And when you observe that Poland's Decapitated, resurrected from tragedy to remain one of the world's top death-metal explosions, is opening, well, then you know you're looking at a hell of a bill. At House of Blues, 8430 Sunset Blvd., West Hollywood 90069; 8pm; $29; (323) 848-5100; www.livenation.com.
Sun. May 6 -- Kansas tech monsters Origin top a bill with San Diego's Cattle Decapitation, my absolute favorite vegan metal band, whose imminent "Monolith of Humanity," a brilliant combination of harsh fury and epic texture, you can stream in its entirety here and whose gooey extended video by Mitch Massie you can watch here. It's an "Occupation Domination" festival, with Decrepit Birth, Aborted, Rings of Saturn and a bunch more. At the Whisky, 8901 Sunset Blvd., West Hollywood 90069; noon onward; $20; all ages; www.ticketweb.com; (310) 652-4202.
Sun. May 6 -- Come on, Ted Nugent? How could that fail to rock? He's politically influential, too. And probably old pros Styx and REO Speedwagon will turn in solid buttshake live, even if you find their biggest AOR ballads boring. The Midwest is the cradle of industrial heaviness, after all (yeah, even before Birmingham UK). At the Greek Theater, 2700 N. Vermont Ave., Los Feliz 90027; 6:30pm; $40-$105; www.greektheatrela.com.
Sun. May 6 -- Bay Area percussionist Garth Powell has known Monday Evening Concerts curator Alex Cline forever, so it's only natural that they should team up for a drums & gongs & stix duo extravaganza, after Powell's trio Zen Widow (with windster Gianni Gebbia and pianist Matthew Goodheart) whip up their own dust devil. You know this monthly series is always great, right? At Center for the Arts, 2225 Colorado Blvd., Eagle Rock 90041; 7pm; $10; (626) 795-4989.
Tues. May 8 -- Violinist Jeff Gauthier's group (with known confederates Steuart Liebig on bass and Brad Dutz on drums) does that virtuosic-melodic-electric-improv thing, while Norton Wisdom paints and mutates. Special guest: Eddie "Snakepit" Edwards, the outest avantist around; glad to have him back on the scene. And there could be another special guest on keyboards. Cryptic! Jazz at the Joint, 8771 W. Pico Blvd., L.A. 90035; 8pm; cheap; (310) 275-2619.
Thurs. May 10 -- You can't call your metal band Dragonforce unless it's geeky, but yes, they can shred. With Holy Grail and Huntress, a courtly/knightly bunch indeed. Wear your buskins. At the Troubadour, 9081 Santa Monica Blvd., West Hollywood 90069; doors 6:30pm; $25; www.troubadour.com.
Thurs.-Sun. May 10-13 -- Kenny Garrett has more soul in one sax pad than you've got in your whole iPad. At Catalina Bar & Grill, 6725 Sunset Blvd., Hollywood 90028; 8:30 & 10:30pm; $20-$30 ($62 buffet brunch next Sunday); (323) 466-2210; www.catalinajazzclub.com.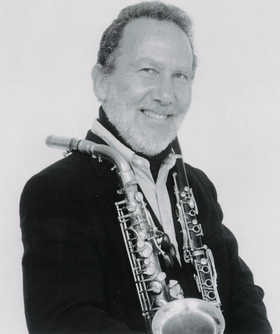 RIP: I interviewed Jackie Kelso a couple of times, and there was no one more generous with his time, no one with a better memory, no one who was a better spokesman for the Central Avenue scene he inhabited 60 years ago, and no better swing-to-bop alto saxophonist, with a tone like polished maple. (He played in George Harrison's Concert for Bangladesh, you know.) Kelso had turned 90 only a couple of months before he died last week, and I'm glad UCLA's Oral History Project got in some hours with him.
Read Don Heckman's jazz picks here and MoshKing's metal listings here. Read John Payne's plutonic Bluefat.com here.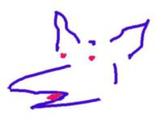 Remember "Dogphotoman," the Greg Burk musical mystery novella you used to get on this site for free? You can now pay 99 cents for it as a Kindle eBook! Click here. Readable on any computer by downloading the free Kindle reader.