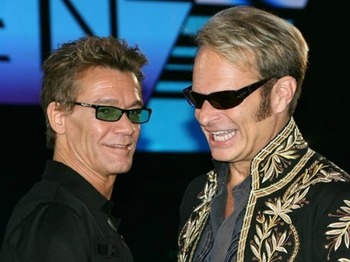 Fri. June 1 -- Since Van Halen have postponed most of their tour due to exhaustion (says David Lee Roth), this will be one of the last chances for a while to grok the pop/metal megamonsters as they ride a wave of approval for their recent album of new/old tunes. Funksters Kool & the Gang add to the atmosphere of late-'70s partymania. Scam a scalper for a ticket -- "Hello, this is Michael Anthony. I'd love to join my old bandmates for a surprise appearance, but I can't get in. I'll gladly pay you after the show . . ." Read my LA Times review of VH's 2007 circus here. At Staples Center, 1111 S. Figueroa St., LA 90015; 7:30pm; $30-$150, sold out of course; www.ticketmaster.com.
Fri. June 1 -- Classic Weather Report drummer Alphonse Mouzon lays down the groove with a bluesy, not-that-fusionistic quintet. At LACMA, 5905 Wilshire Blvd., LA 90036; 6-8pm; FREE; Friday summer jazz schedule here.
Sat. June 2 -- Beach Geezers? Beach Gramps? Even if I weary of the surfin' schtick, I can't deny that The Beach Boys made some damn sophisticated music, and on this tour they've been playing "Do It Again," "Sail On Sailor," "Heroes and Villains" and "God Only Knows" (Carl Wilson revisits us via video). With Carl and Dennis surfing the eternal clouds, a lineup featuring Brian Wilson, Mike Love, Al Jardine and Bruce Johnston is as good as you could do. And it's 50 years since their first album. Scam a scalper: "Hello, this is Paul McCartney. I always wanted to be a member of the Beach Boys, and I hoped to surprise them at the Bowl, but I can't get in . . ." At the Hollywood Bowl, 2301 Highland Ave., Hollywood 90068; 8pm; $40-$170, probably sold out; (323) 850-2000; www.ticketmaster.com.
Sat. June 2 -- I've got an idea, Peter Case: In addition to your own fine rough-hewn folk/rock tunes from the days of the Nerves and the Plimsouls and beyond, play some Brian Wilson classics and compete with the BBs. Come on, I know you love 'em. At McCabe's, 3101 Pico Blvd., Santa Monica 90405; 8pm; $20; (310) 828-4497; www.mccabes.com.
Sat. June 2 -- Gerry Fialka and many multidisciplinary friends "re-create" jazz hipster Mezz Mezrow's landmark book "Really the Blues" in song & visuals. High-concept art prevails. At Beyond Baroque, 681 Venice Blvd., Venice 90291; 7:30pm; FREE; (310) 822-3006.
Sun. June 3 -- Thrash till you crash with a massive metal fest headlined by Destruction, Warbringer, Vital Remains, Bonded by Blood, plus seven more. At the Whisky, 8901 Sunset Blvd., West Hollywood 90069; 4pm; $20; www.whiskyagogo.com; (310) 652-4202.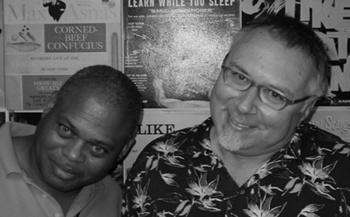 Sun. June 3 -- Challenging duos indeed. First, tuba man William Roper blats and grapples with the trombone of Michael Vlatkovich as Chobraty (pictured). Then, hyperkinetic pianist Thollem McDonas immerses himself in the percussive tides of drummer Alex Cline. At Center for the Arts, 2225 Colorado Blvd., Eagle Rock 90041; 7pm; $10; (626) 795-4989.
Tues. June 5 -- Singer Julie Christensen, pushing her terrific new soul & roots album "Weeds Like Us," squeezes out a heartful set before a screening of Tom Weber's "Troubadour Blues," which trails the traveling boots of songriders such as Peter Case and Dave Alvin. At the Coffee Gallery Backstage, 2029 N. Lake Ave., Altadena 91001; 8pm; $15; reservations (626) 794-2424; cash or checks only; no booze; www.coffeegallery.com.
Wed. June 6 -- Roper & Vlatkovich's Chobraty also slime the walls in a lunchtime blowfest. At First Baptist Church of Glendale, 109 N. Louise St., Glendale 91206; noon; (818) 249-5108; check the "Noon Concerts" series and lunch availability here.
Wed. June 6 -- Slumgum is flowing jazz you don't have to get all keyed up about or intellectualize too much, but the content is there if you ain't too drunk to dig it. At the Blue Whale on the third level of Weller Court Plaza, south of East First Street between South Los Angeles Street and South San Pedro Street, Little Tokyo 90012; 9pm-midnight; $10; validated parking underneath off Second Street at the sign of the P in a circle; (213) 620-0908; www.bluewhalemusic.com.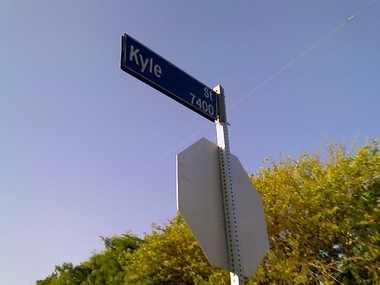 Kyle C. Kyle, drummer in my band as well as the Skulls, the Willys, Wild Stares, W.A.C.O., Listing Ship, Motels and many more, is ill and could use some help getting established in convalescence. Send a donation if you can.


Read Don Heckman's jazz picks here and MoshKing's metal listings here. Read John Payne's plutonic Bluefat.com here.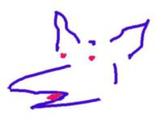 Remember "Dogphotoman," the Greg Burk musical mystery novella you used to get on this site for free? You can now pay 99 cents for it as a Kindle eBook! Click here. Readable on any computer by downloading the free Kindle reader.